How to make rose paper bouquet, FREE template
This rose paper bouquet is a new arrangement of the paper rose, paper hydrangea and paper baby breath flowers that I have shared all full tutorials and templates. I hope it could inspire anyone who wanna DIY paper flower bouquet.
I do not use any special tools, just trying to make this handmade bouquet from very simple materials and tools. Please have a glance at the following image to know several key steps to make this paper bouquet.
>>>> PIN ME <<<<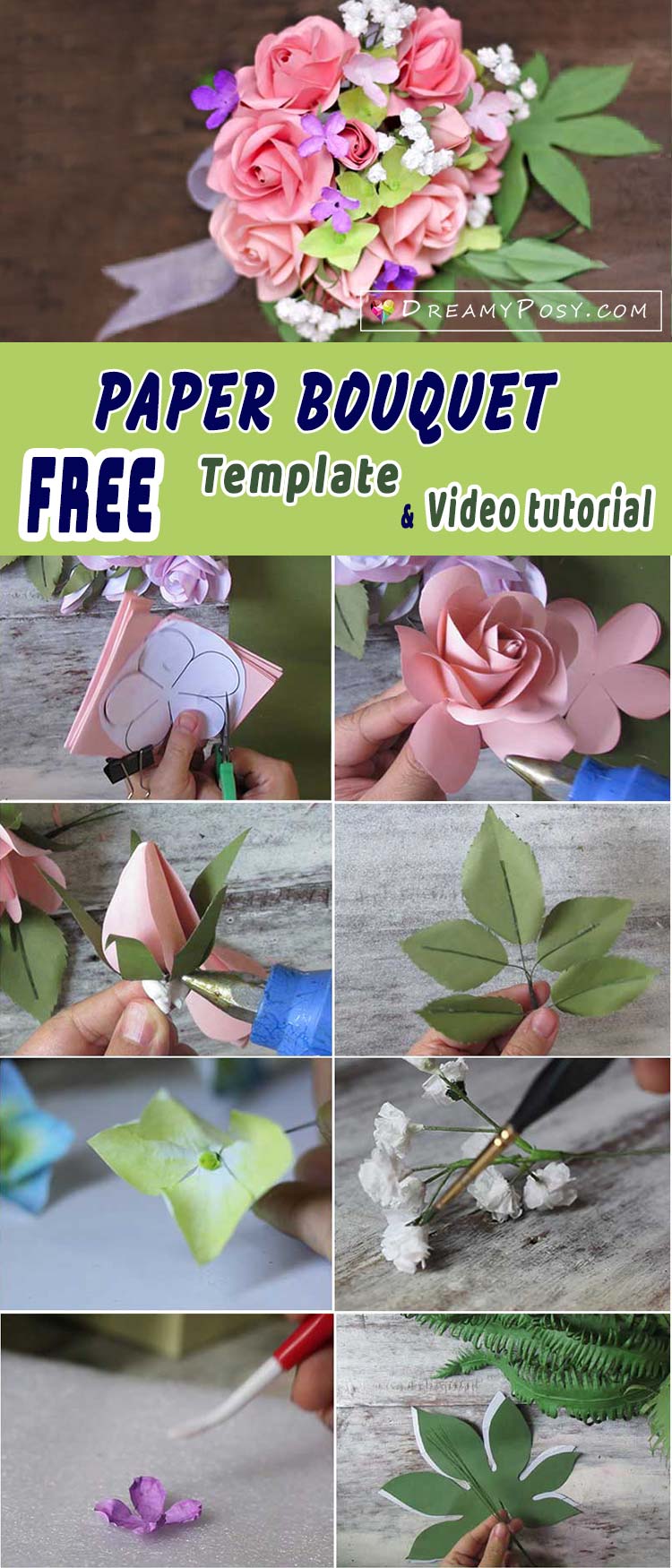 Step by step instruction to make rose paper bouquet:
Grab the paper color (pink and green), printer color and facial tissue as well as the glue gun and scissors.
Download my free template for paper rose, paper hydrangea, and paper lilac
Please follow this easy  tutorial on how to make small paper roses: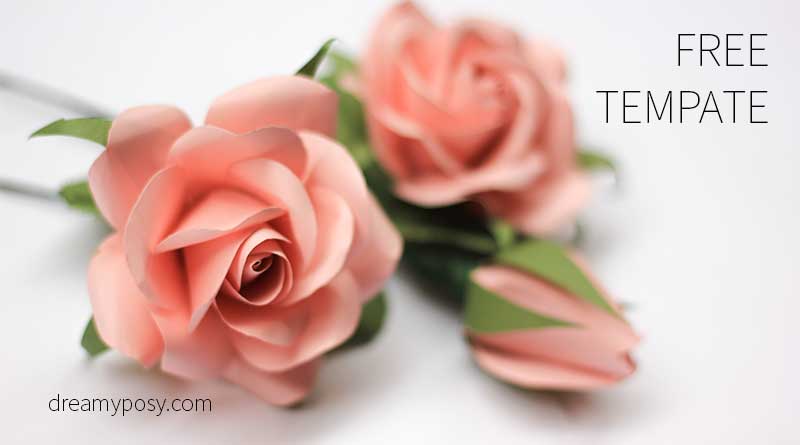 4.  For making the paper Hydrangea tutorial, made from printer paper, please have a look at this post for step by step video instruction.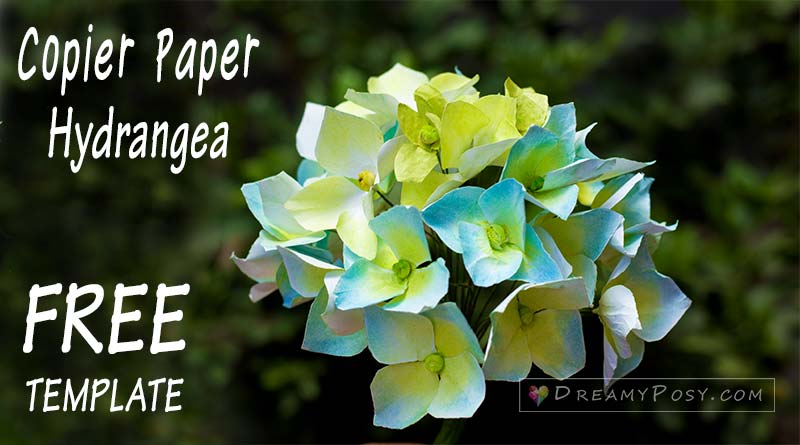 5.  Here is the tutorial to make the paper Baby's Breath (paper Gypsophila) from facial tissue paper, this easy video instruction will show you all the steps.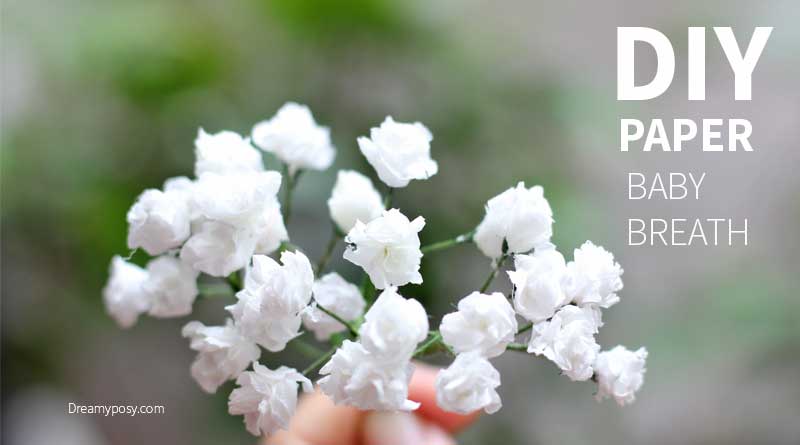 6. To make the paper Lilac from printer paper, please click Paper lilac flower here. Download the free template and watch it from 3:53 of the video.
7.  I also prepared the greenery tutorial to arrange with this bouquet.
This is perfect for a paper bridal bouquet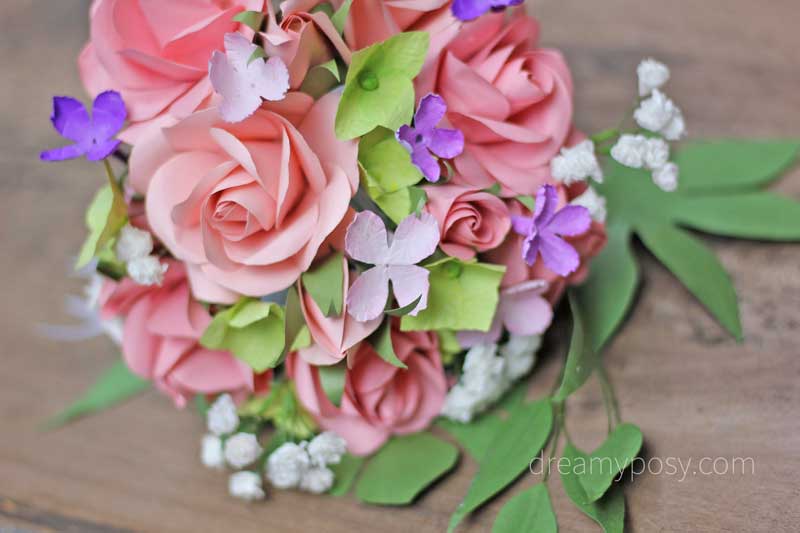 And  you might like to make a matching paper boutonniere here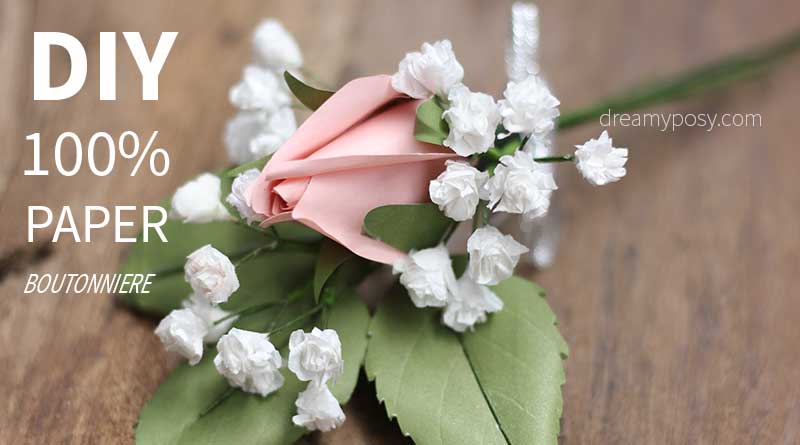 Materials to make rose paper bouquet:
(affiliate links)
Tissue paper (for baby breath)
Wire gauge 20
Wire gauge 26 (to make leaf)
White glue
Scissor
We provide completely free templates and tutorials on this blog, and work hard to earn our living from the advertisements you see on each page.
Kindly help by sharing our posts and pictures with your friends, but please do not share our templates directly.
We really appreciate your support and look forward to your requests and comments.
xoxo