2 easy ways to make paper 3D hearts, free template
Paper 3D hearts are more than just a craft. They are a symbol of love, hope, and happiness. They can be given as gifts to express your feelings for someone special, or they can be used to decorate your home or office to create a warm and inviting atmosphere.
I remember the first time my daughter and I made this paper 3D heart. My daughter was helping me to glue the heart while I was preparing for shooting the photos. We cut out hearts from red and orange paper and hung them all over the house. She was so proud of our work, and she said that she loved the way the hearts looked when they were lit up at night.
Last year, she made this low-poly paper 3D heart for her boyfriend. She decorated it with glitter and ribbon, and she wrote a special message inside. He was so touched by the gift, and he told her that it was the most touching and caring thing anyone had ever given him, he understood the time and effort she took to make such a hand-made paper heart.
3D paper hearts are a simple craft, but they can have a big impact. They are a way to show someone how much you care, and they can bring a smile to anyone's face.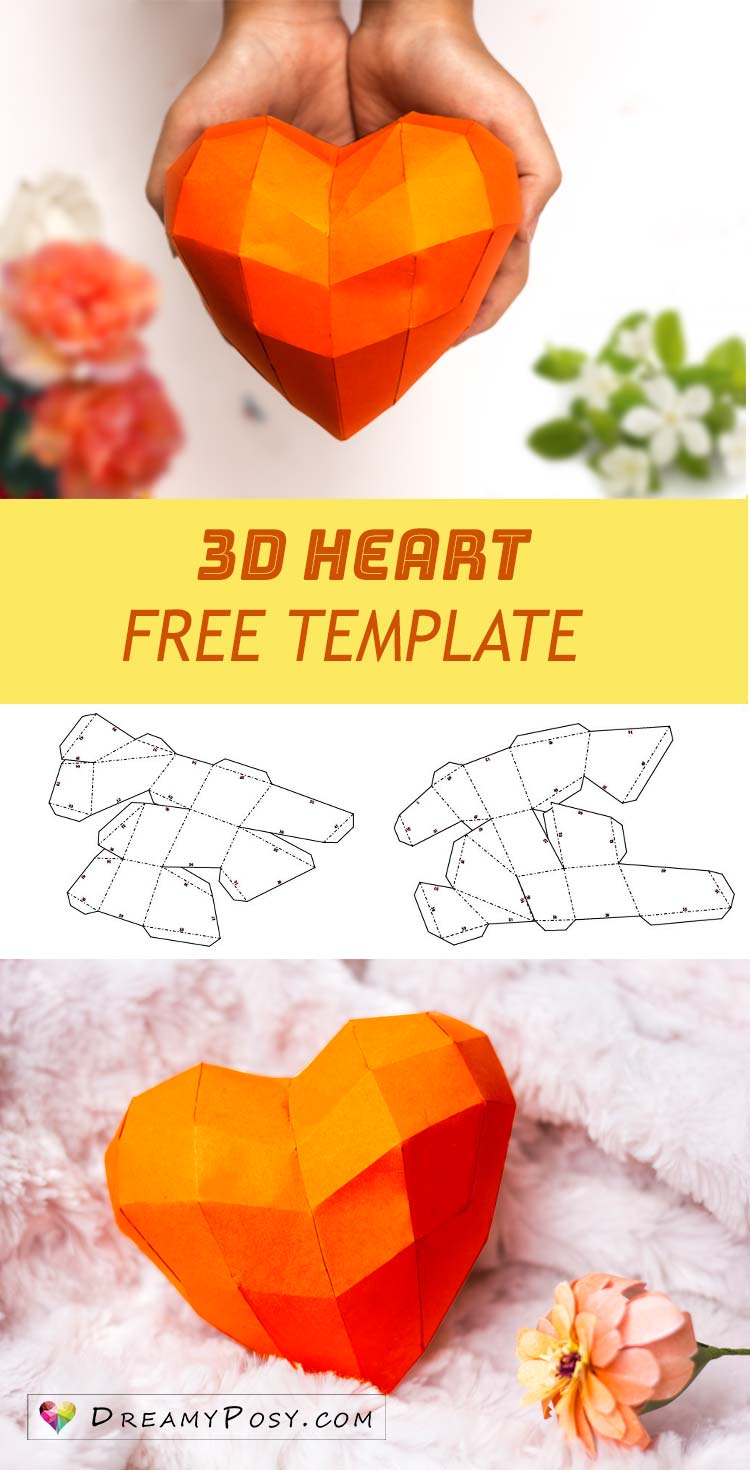 I hope you will enjoy making 3D paper hearts. They are a fun and easy way to express your love, hope, and happiness.
All you need is some paper, scissors, and glue and follow our instructions.
 Step-by-step video tutorial to make the 3D heart paper:
How to make a paper 3D heart?
There are many ways to make 3D paper heart but in this post, I'll share with you 2 ways to make beautiful hearts.
Just follow our step-by-step instructions to make a paper 3D heart.
The first way to make simple 3D paper hearts:
Step 1: Cut two or more heart shapes from the colored paper using the scissors. We have prepared a lot of free heart templates here for you.
Step 2: Take one of the heart shapes and fold it in half vertically. Crease the fold line well.
Step 3: Unfold the heart shape and repeat steps 2-3 to the rest of the heart shapes.
Step 4: Apply glue along one side of one of the heart shapes.
Step 5: Carefully place the second heart shape on top of the first, lining up the creases and edges.
Step 6: Apply glue along the remaining side of the first heart shape and carefully bring the two sides together. Press firmly to secure the glue.
Step 7: Once the glue has dried, gently push the center of the heart shape down to create a 3D effect.
Step 8: Arrange and assemble many 3D hearts into a big 3D heart like in this picture by glue gun.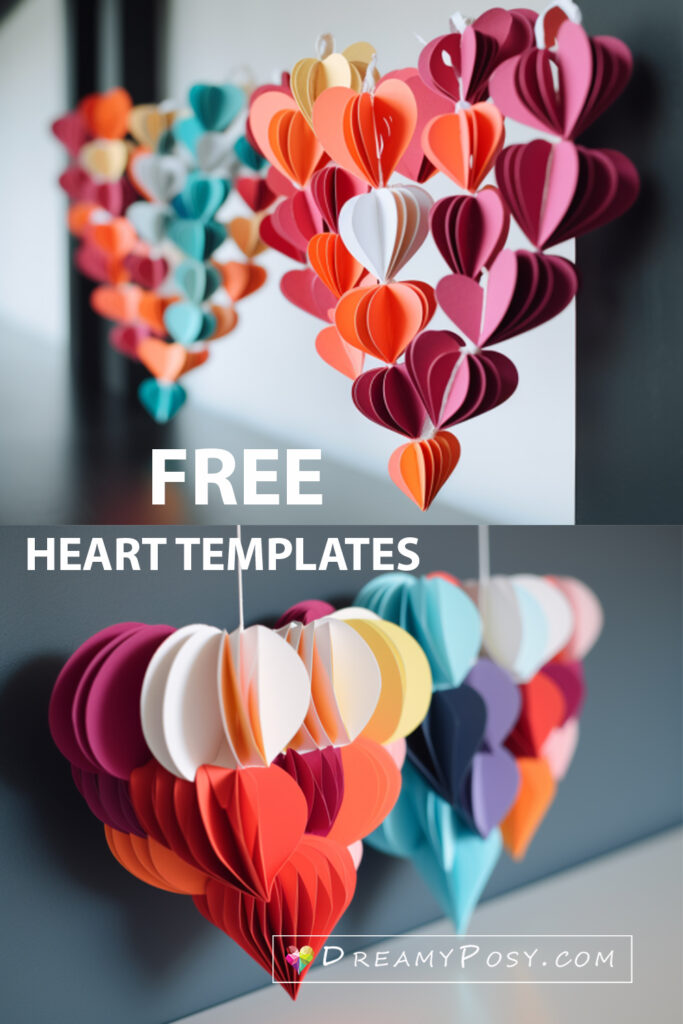 Congratulations! You have now successfully created a 3D paper heart! You can also experiment with different sizes and colors of paper to create a unique and personalized heart.
The second way to make a 3D low-poly paper heart
Grab the cardstock, quick dry glue, and scissors.
Download and print the free templates on the 65lb cardstock (180gsm). We use A5 size for this project, but you could print a larger size.
Cut and fold with the help of a ruler ( find my new tip and technique in my new tutorial to make paper high heels)
Glue the tabs which have the same number ID together, to form the 3D heart shape.
You could leave 1 tab unglued to open and put a piece of paper with your love message in the heart model.
By changing your size, paper texture, paper color, embellishments, ribbons, or whatever you could think of, you would have your own style heart.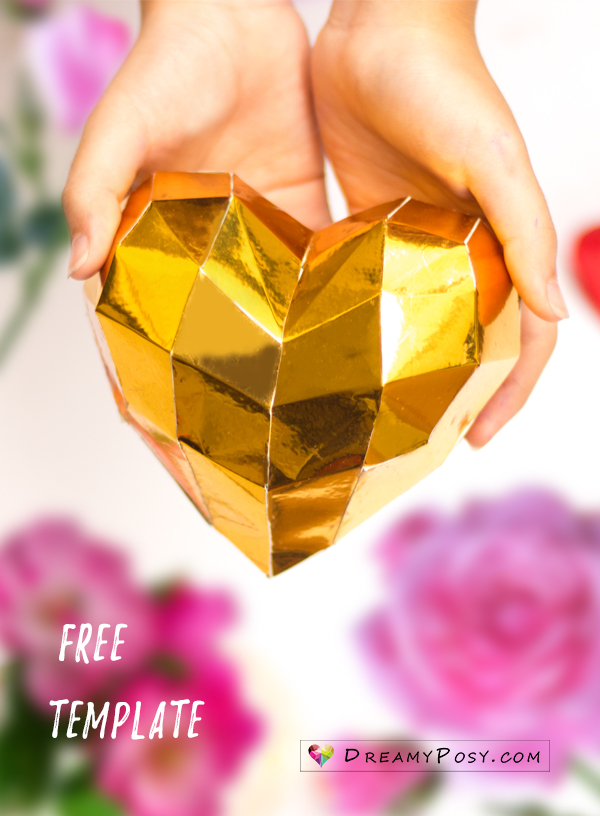 What you need to make a paper 3D heart:
Here are some additional tips for printing JPG heart templates:
If you want to make a large or giant 3D heart, you will need thick cardstock (80lb or 250gsm or above)
If the template is too large to fit on a single sheet of paper, you can print it out on multiple pages.
You can use photo editing software to add text or other decorations to the template.
You can use a color printer to print the template in different colors.
You can use glitter or metallic paper to add a touch of sparkle to the template.
For normal cardstock, please consider using the fine point glue to glue the tabs a cleaning finished heart, but for the glitter/metalic cardstock, please use a fine point glue gun.
You can add decorations to your heart, such as glitter, stickers, or ribbon.
See more >> Paper heart frame, free template.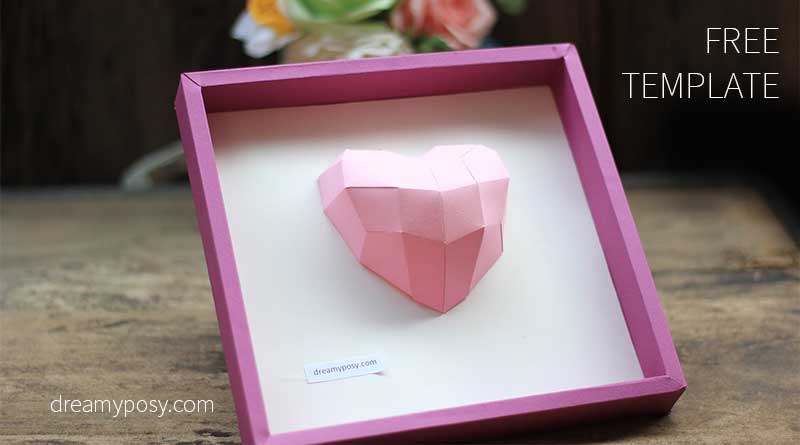 See more >> Heart box with free template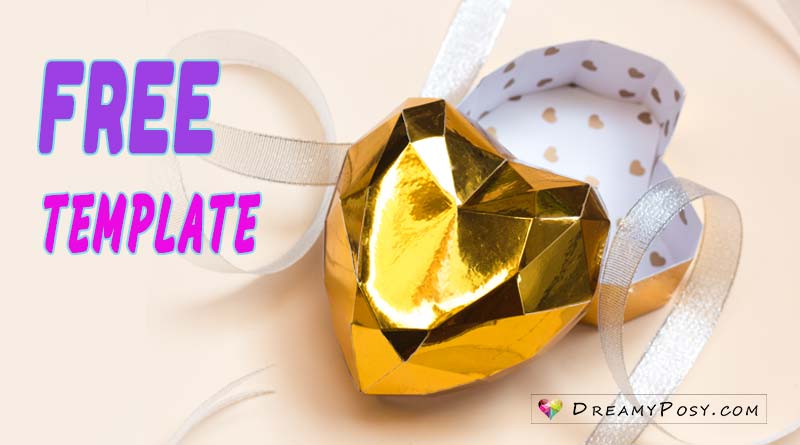 Loves,
Ann.