How to make paper gardenia and fringed flower, FREE template




Today tutorial is a paper flower centerpiece, a beautiful combination of paper white gardenia, paper purple lilac and tissue baby breath flowers.
As my observation, a flower arrangement will be more beautiful if you combine big – medium and small flowers with color harmony together. Fortunately, we could easily have our own favorite paper colors by using pastel chalk and watercolor. Actually, we could use almost any kinds of color on plain printer paper, so we are free to follow our inspiration.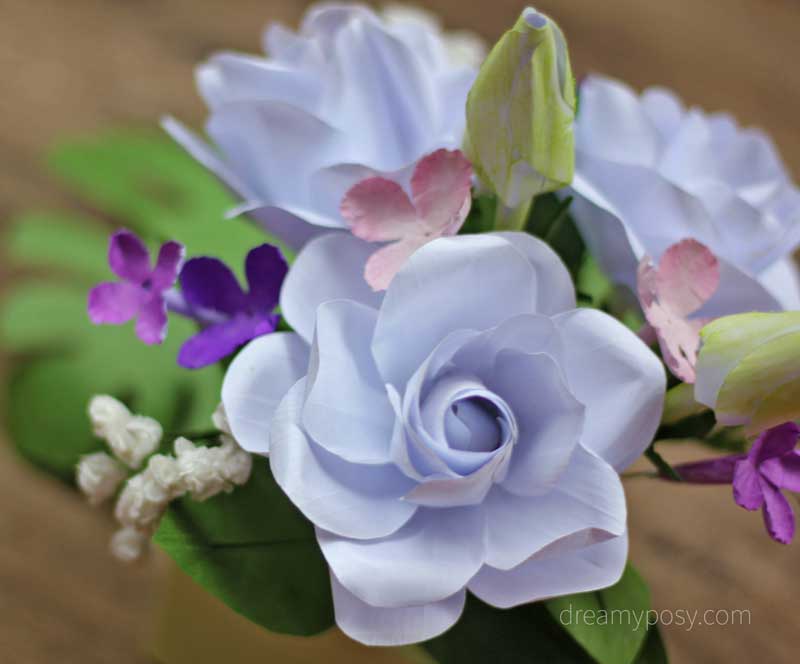 But first thing first, an arrangement will be perfect only if each flower be perfect. And perfect is the result of keep practicing :))
Video tutorial:
What you will need:


Printer paper
Green color paper  (optional as you could color the printer paper)
Tissue paper
Pastel chalk (lime green)
Watercolor (green and purple, pink)
Wire gauge 20
Wire gauge 26 for leaf making
Floral green tape
DreamyPosy.com's  paper flower and paper vase template

I really want to write down all the detail instruction here but due to my bad English, I tried to be as clear as I could in the video tutorial. Should you need any further information or any inspiration, just leave the comment here or find me on any social network you want. DreamyPosy focuses on making beautiful things just from printer paper, stay tuned with me 🙂