Large Poppy from printer paper tutorial, FREE template
Here is the large poppy flower tutorial and template in the collection of giant flower tutorials that I will share you later on. Stay tuned with me then you could make your own Wonderland from very simple materials.
I always make large paper flower, instead of giant flowers, because I live in a tiny apartment, and it's hard to find a big space enough for taking a giant photo :).
For the standing stem, you could use small PVC pipe and its socket to hang your flower. PCV pipe could be easy to curve/bend with heat.
It's much easier to see a video tutorial, please have a look at this small poppy flower as I use the same techniques for the giant one.
Step by step instruction to make giant/large flower:
Download the FREE template and cut the petals with. You could print this template on A3 or A2 size to make the giant flowers. Please consider using heavier paperweight for bigger size.
Form and curve the petals, using the same techniques of making small  paper Poppy tutorial from the coffee filter and regular paper.
Use the newspaper to form the core of stamen. Newspaper was used as it's softer than printer paper, so the round form will be smoother.
Use masking tape to wrap tide around the core
Create the vein of stamen by using hot glue gun
Use floral tape to wrap and use your nail to sharpen the vein of stamen, color the vein with oil pastel.
Cut 2 strips of printer paper, 7cmx 21cm, using the same techniques of making small poppy from coffee filter in the video tutorial, to make the filament and anther.
Glue the filament around the core stamen.
Glue the petals with the stamen, pls glue tie at the point that my fingers placed, in the pic 9 and pic 10 bellows.
Use these as your backdrop or standing free 🙂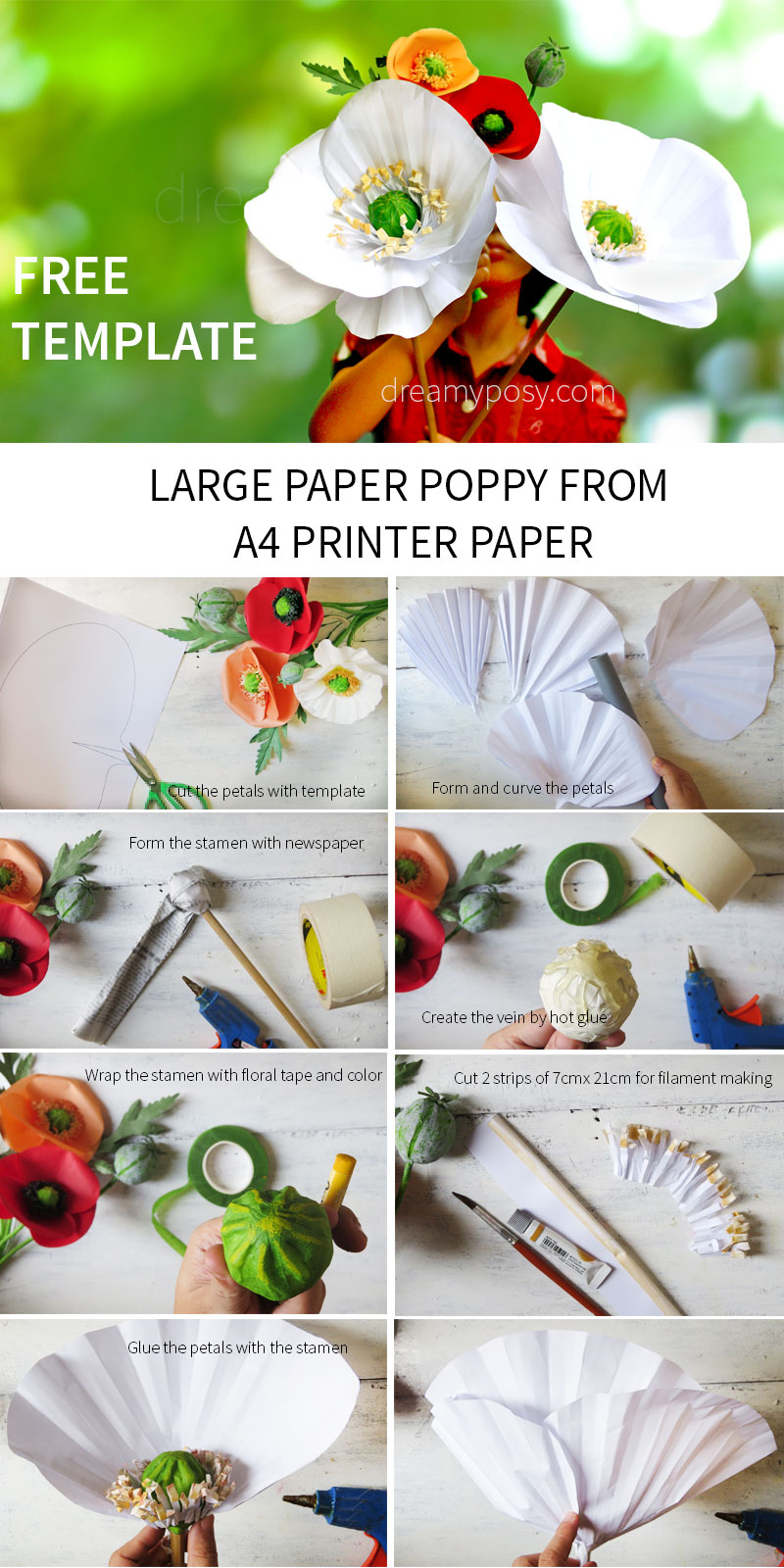 What you will need to make giant/large flower:
Masking tape
Newspaper
20w glue gun
Scissors
I love doing these simple crafts from my heart, and I would like to share them with you for FREE. Please help to support me by your sharing, subscribing and comments.
Thank you and love you all.