How to make Hydrangea paper flower from printer paper, FREE template
This realistic Hydrangea paper flower was made just from printer paper, believe it? Yes, I also share here the FREE template and step-by-step video tutorial.

Sponsored links:
Video tutorial to make Hydrangea paper flower:
I just found that we could do a lot of things just from ordinary papers.  Crepe paper is easier to make flowers, but its color is quickly fade away in just 2 months.
Hydrangea has many beautiful colors: pink, blue, purple… and now you could easily DIY any of your favorite colors.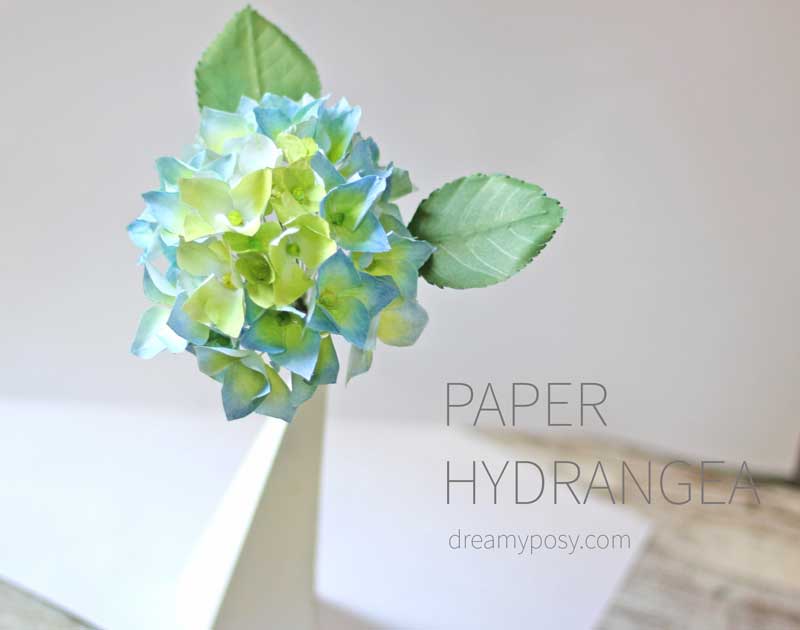 What you will need to make Hydrangea paper flower:
Printer paper
Pastel chalk
Wire gauge 24
Wire gauge 20
White glue
Scissor
DreamyPosy's template for paper flower and paper vase
Tips:
Cut the wire gauge#24 into 6″ (15cm) section. If this section is shorter, it's harder to arrange all the small flowers together naturally.
For coloring the petal, I use dry cotton fabric. You could use tissue paper instead.
 This flower is arranged from around 30 flower pieces (the smaller green ones in the center, and the bigger blue ones around). But the flower would be more realistic if it includes 50 or 60 flower pieces.
I have to confess that I'm not good at writing, even do not know how to express all in detail, but I love to share all I know via video.  Please drop me any comment, share, like, I really appreciate your support.
DreamyPosy will focus on making beautiful things just from regular paper only. Please follow me on Youtube, Facebook, Pinterest, Instagram, Twitter

Sponsored links: