Paper greenery tutorial, FREE template
I'll share you here FREE template and tutorial to make several common tropical leaves. Your paper flower bouquet/posy will be much more beautiful with the paper greenery appearance.

Sponsored links:
Although I know this tutorial will not get a high view and low SEO effectiveness for my website, but I still wanna share everything to help your paper flower bouquet or paper flower posy be fancier.  I really appreciate if you could support me by your subscribe, share, comment and like. 🙂
In the above photo, the greenery has been arranged with many other paper flowers that I have shared FREE templates and tutorials previously like Daffodil, Zinnias, Peruvian Lily, Lily, Hibiscus.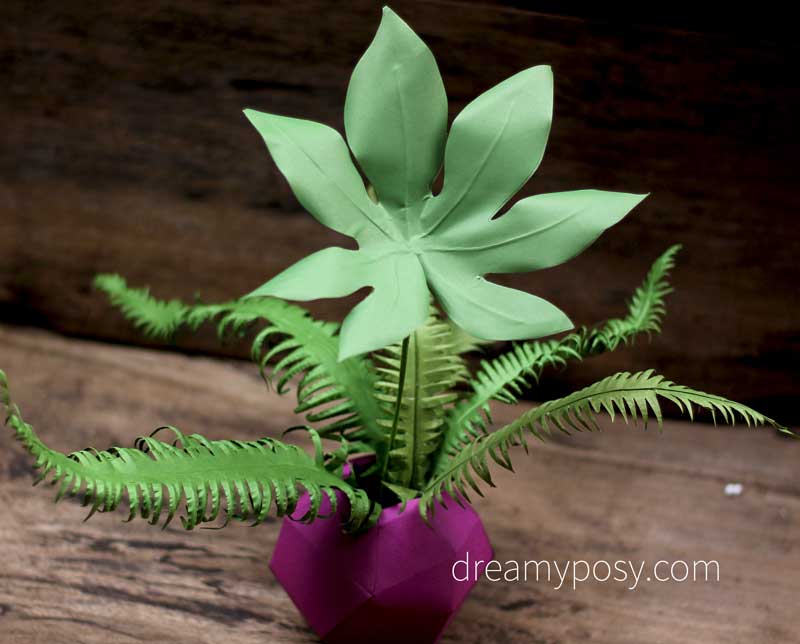 I would like to suggest some picture that you could make your own lovely desk decor with paper sword ferns vase. This purple paper vase template has been shared in Paper Orchid tutorial.
Video tutorial to make paper greenery:
Step by step instruction to make paper greenery:
For the Aralia leaf
Cut 2 layers of green paper, one is glued with 2 side adhesive tape
Cut along the DreamyPosy's template
Use 7 wire gauge26 to make the leaf vein as video instruction
Glue 2 layers of the leaf together
Use floral tape to wrap the leaf branch
For the Philodendron leaf:
Cut 2 layers of printer paper with DreamyPosy's template
Use the paper glue for one layer
Use wire gauge26 to make the leaf vein
Mix the green watercolor and white glue to color the leaf. (White glue will help the leaf more glossy)
Use your nail and the edge of scissor to curve the leaf.
For the paper sword fern:
Cut a shape of sword fern as instructed
Glue a green wire gauge 26 to the middle of the leaf
Use the sugar sculpture tool to help to leaf more realistic
What you will need to make paper greenery
(affiliate links)
– Printer paper
– Green color paper (optional as you could color the printer paper)
– Wire gauge24
– White glue
– Green watercolor
– Sugar sculpture tools
– DreamyPosy.com's templates for  Aralia leaf, philodendron leaf.
Please help to support me by your subscribe, share, comment and like. Thank you for watching.

Sponsored links: