How to make paper wide rose, FREE template
This is the free step by step tutorial and template to make a coffee filter rose. So easy and so realistic. It's perfect for your personalized gift.
Video tutorial to make coffee filter rose:

Step by step instructions to make coffee filter rose:
Grab the coffee filter paper and other materials and my FREE template. As you could see that I have tried with many different types of paper. You could use printer paper and pastel chalk instead. I found that coffee filter and watercolor has the best effect.
Color the fashion sketch picture with watercolor, or pencil, or comic marker, any kind you are comfortable with.
For the flower
Cut the petal along the template.
For blending the petal, use clean water to wet first. Then use diluted pink color for the first layer. Use the non-diluted pink at to top of petal and use clean water to blend it with the previous layer.
Use a wire gauge20 with a head, wrap a small strip of tissue paper to shape the stamen and use hot glue gun to cover it all.
Cover the stamen with yellow acrylic color, or yellow watercolor mix with white glue.
Cut a 5cmx3cm rectangle of the coffee filter, color, glue, and cut as an eyelash as video instructed.
Glue the eyelash with the stamen, then the petals with the stamen.
Glue the sepal with the flower
Wrap the floral tape at the sepal
For the bud
Cut the petal and color as the flower petals
Use the tissue paper to wrap up a bud shape
Attach the petal with the tissue paper shape by white glue
Use the round stylus to shape the sepal
Glue the sepal with the bud and wrap with floral tape
For the rose hips:
I'm not happy with this way to make rose hips, so I decided not to post it. But you could use the easy and simple cold porcelain recipe that I've shared on step 4 of paper Hibiscus tutorial here to make it and color by the nail polish.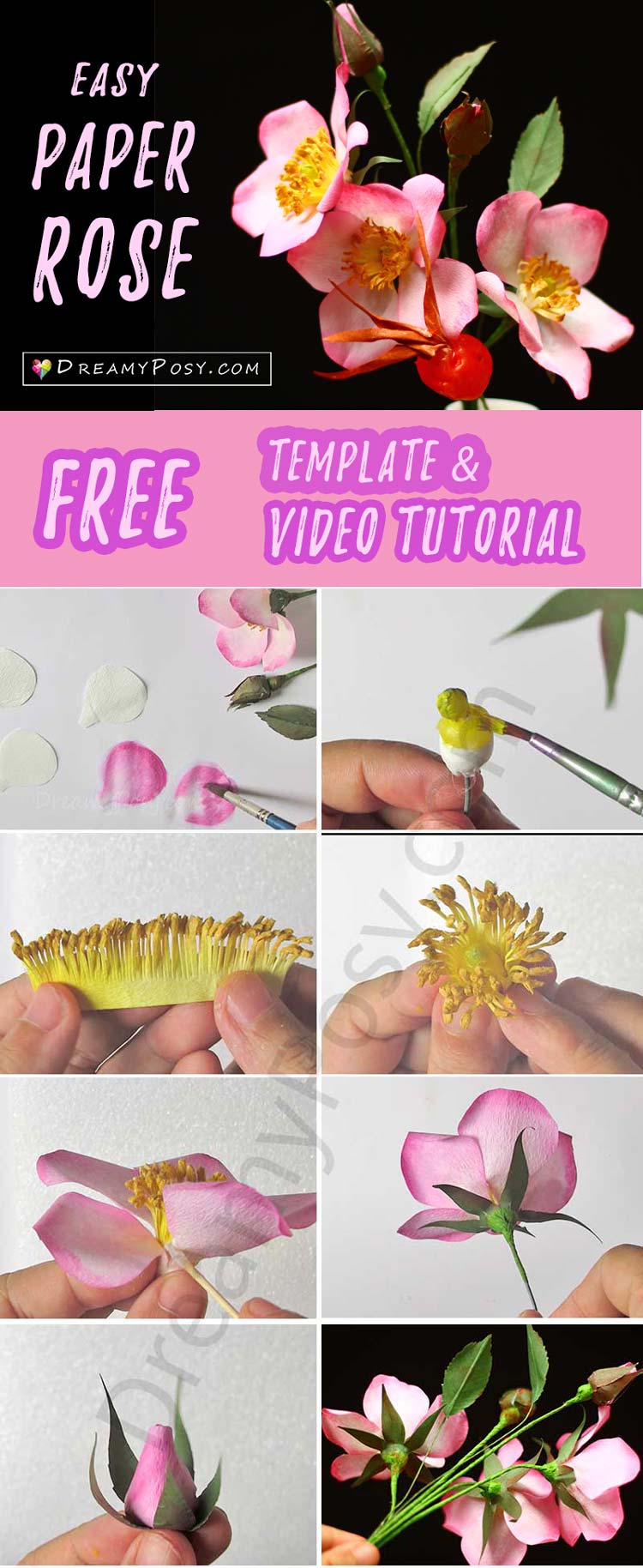 Materials to make:
(affiliate links)
Watercolor
Green paper color (optional as you could easily color the printer paper)
Scissors
White glue
DreamyPosy's template for wide rose flower and fashion sketch picture.
I love doing these simple crafts from my heart, and I would like to share it all with you for FREE. Please help to support me by your share, subscribe, comment and like. I really appreciate if you consider to support me when you shopping with my Amazon affiliate links above.
Thank you and love you all.