Paper flower for beginners, FREE templates for tiny, small and giant flowers, free DXF|PNG|SVG.
Finding paper flower templates for Cricut, Sihouette, and scissors cutting?This is the collection of free SVG, PNG and DXF paper flower templates for beginners.
Plus step by step video and written instruction that you could easily follow.
The templates are in PNG|SVG|DXF formats.
I'm sorry that I made these templates quite long time ago when I just started to learn about SVG and cutting machine, so the templates were so awful and the technique is so simple.
Now I am trying to update the new technique tutorials and ensure that the old templates works fine.
All you have to do are cutting, fold/curve the petal and glue. So this is definitely for the beginners.
You might want to check out this post to find other  50+ free paper flower templates and tutorials, please click and enjoys.
There are different ways to make paper flowers, so with one template, you could make different flower styles.
Tiny paper flower templates
Cutting:
For these tiny paper flowers, it's much easier to use a cutting machine like a Cricut, or a small punch, or a die-cut.
What I share below are some SVG tiny paper flower template for Cricut or cutting machine in general.
I will try to update more. Please come back often.
Instructions
It's quite time consuming to make the tiny flowers, but when you see your small flowers are pop-up between those pretty tiny ones, you will find it's worthy.
Previously, I used to glue each tiny flower to the wire gauge #24 like this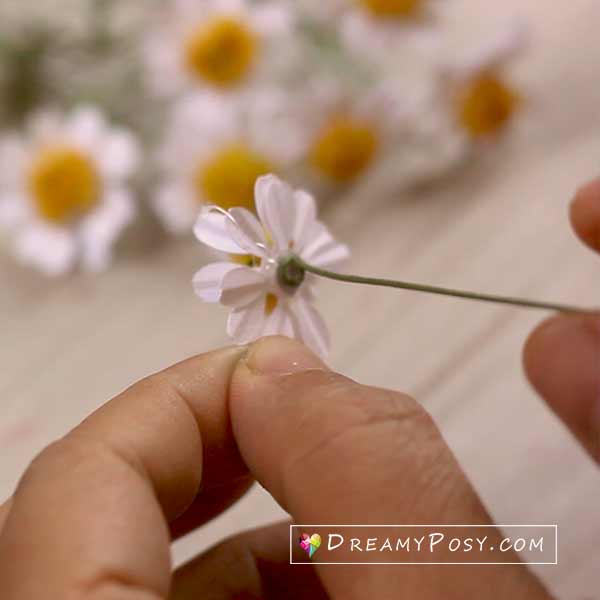 But now I have several other ways to make those quicker. I will try my best to share with you all soon.
Templates
Here is the PNG template that you could save directly to your device and send it to your cutting machine. I don't have PDF template for this as it is impossible to hand cut this.
And click the button to get the SVG and DXF files.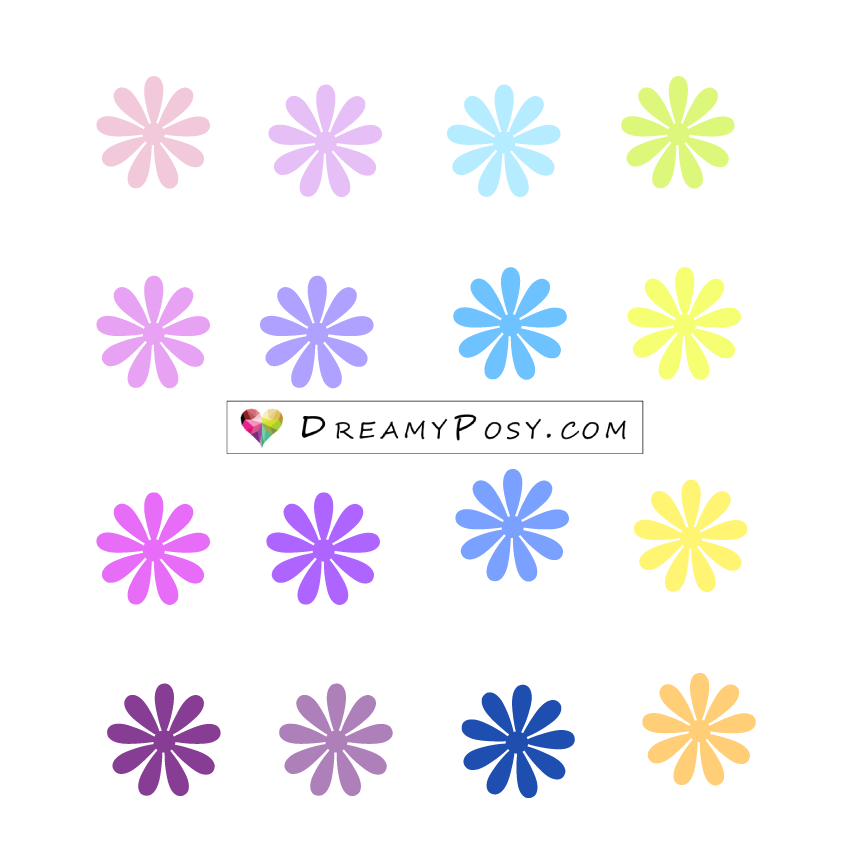 Or you could find this tiny flower template in paper flower fillers post.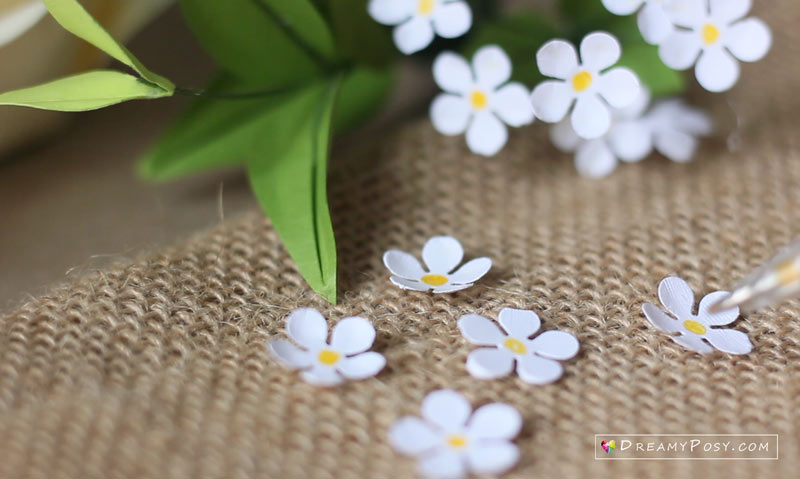 I just use a felt pen to color the center of these tiny flowers. So quick and simple.
Medium paper flower templates
Here are the previous flowers I made from flower template #1 and flower template #2, just add a little fold at the top tip of the petals.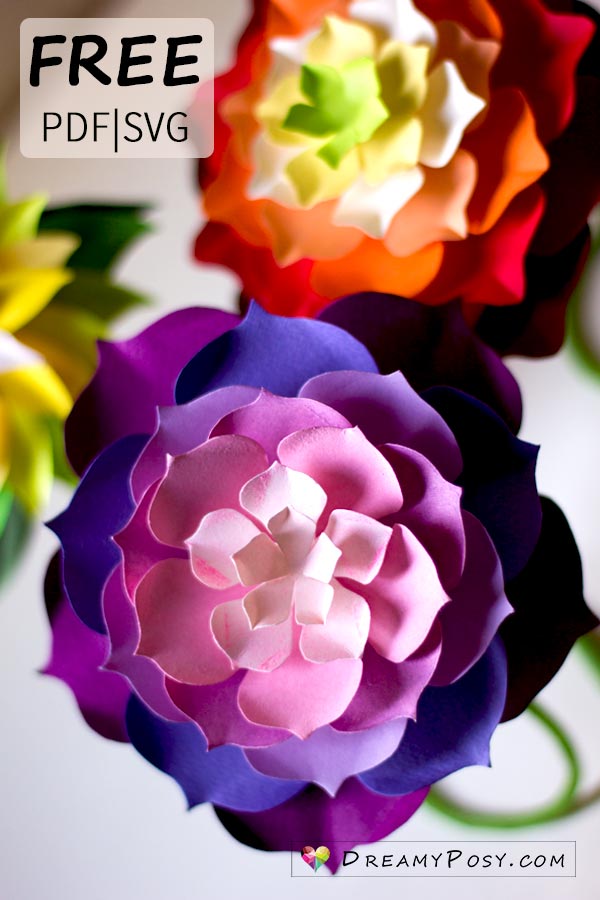 Then sandwich a double-sided tape circle between each layer to enhance the distance between them.
They are so simple, and not pretty enough.
So now I want to update 2 more easy methods to play with these old templates : folded petals and curled petals. Please see the video tutorial for clear instructions.
With this 2 methods and different size and number of layers, you could customized as many flower styles as you want.
So let's start with the step by step instruction belows
Step 1: Cut the templates
For handcut, please download the PDF files.
For cutting machine, please download the SVG|PNG|DXF files
The size of the flower is the size of the biggest layer template you cut. So please resize all the items in the template to keep the same ratio.
Depend on the flower style you want, we will have different number of layers to be cut.
I will explain the details below each flower photo.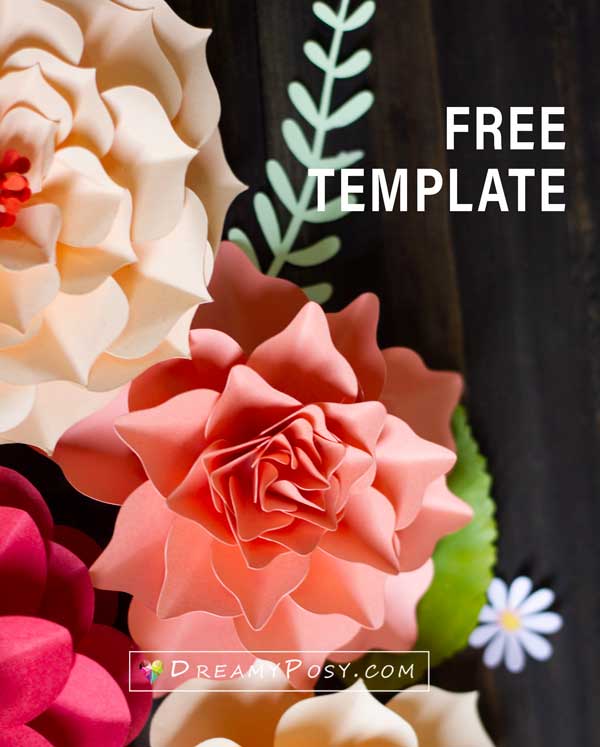 Template #1. I cut 7 layers with different sizes from #1 to #7 for the above flowers.
Folded petals applied.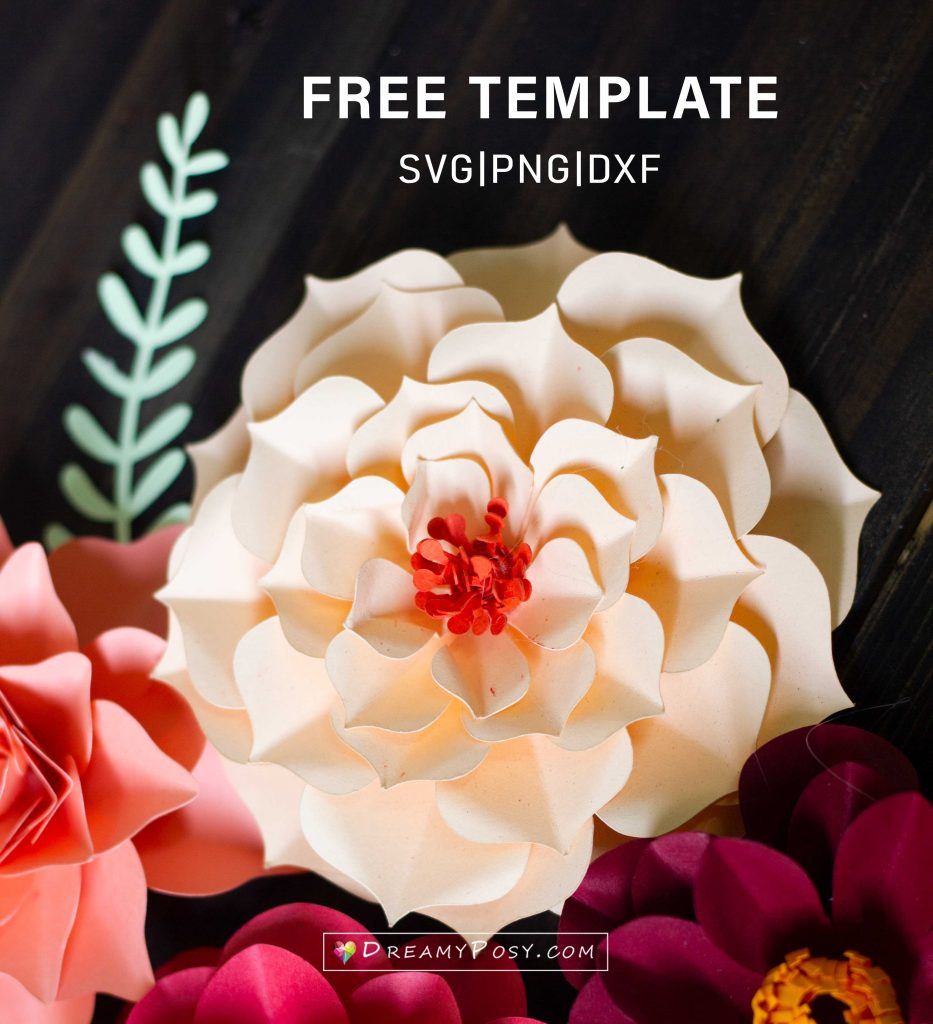 Template #2. 7 different size (from #1- largest to #7 ) layers and 1 center template.
Folded petals applied.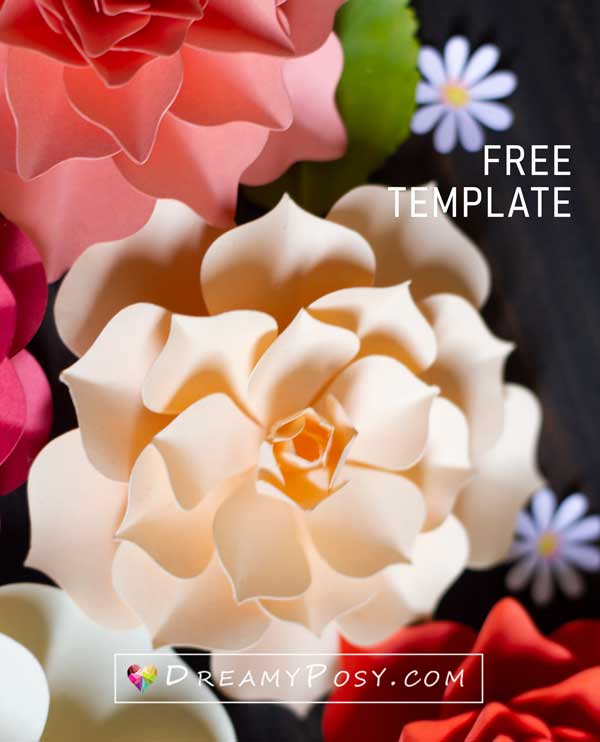 Same template #2. But I cut the size #1, #3, #5, #7, #9, #10.
The center was glue closely.
Folded petals applied.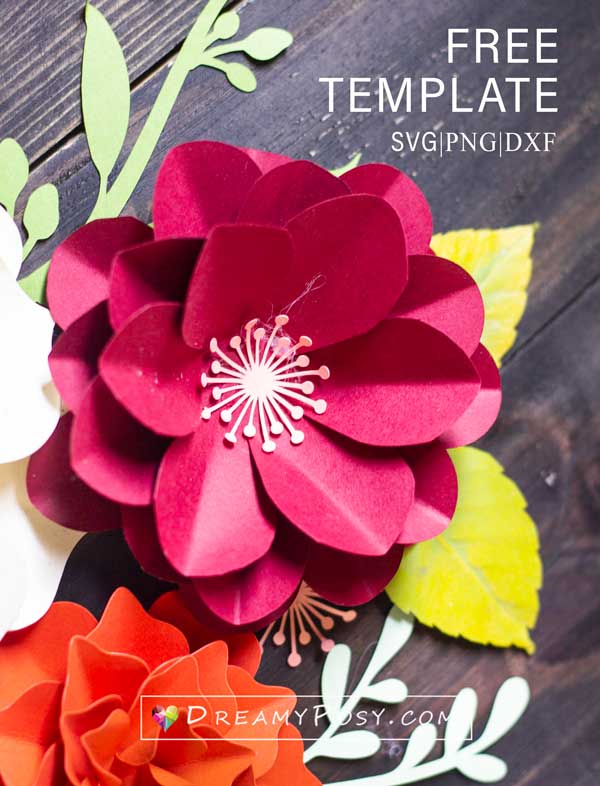 Template #3. Just 4 layers of of different 3 sizes and a flower center template.
Folded petals applied.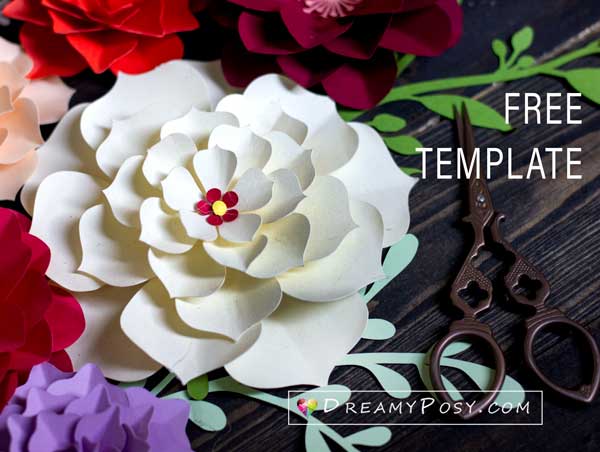 Template #2. I cut the flower size #1, #3, #5, #7, #9 and #10.
Curled petals applied.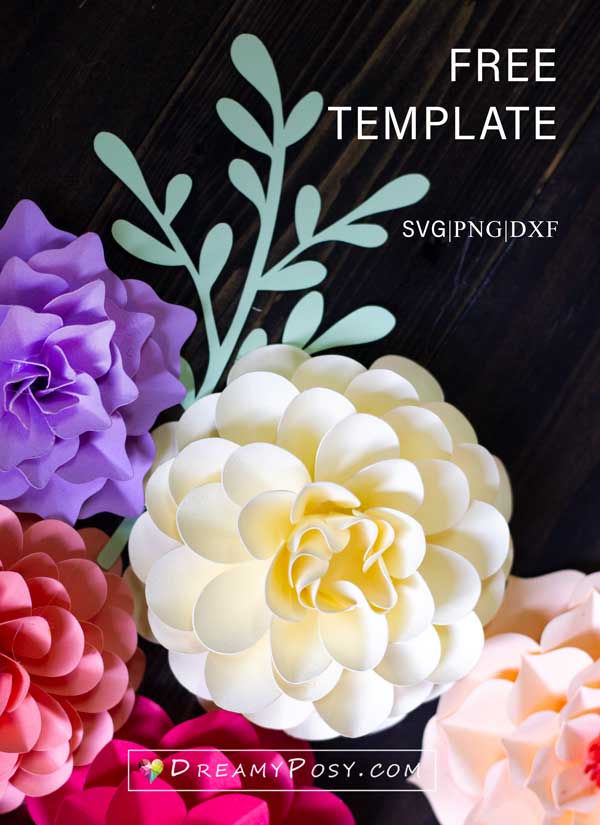 Template #4. I cut 1 piece size #1; 2 pieces of size #2, size #3 and size #4
Curled petals applied.
I hope that you will send me your own way to make the flowers with these free flower templates.
Step 2: Glue the flowers
If the petals are not formed and created spaces between the layers, the flower is flat.
So there are 2 ways to create the spaces:
The first way is using the foam double sided tape to glue between the flower layers, without adding much curves to the petals.
I triple the tape at the first layer (at the bottom), so it's about 6mm distance.
Double the tape for the next layers and just 2mm tape for the last one.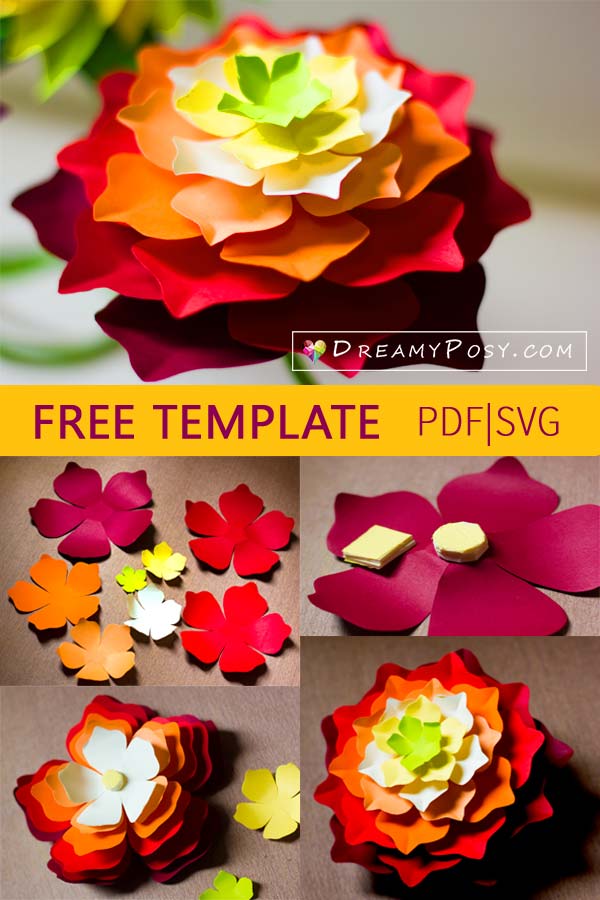 The second way is shown in the video tutorial: folded and curled petals.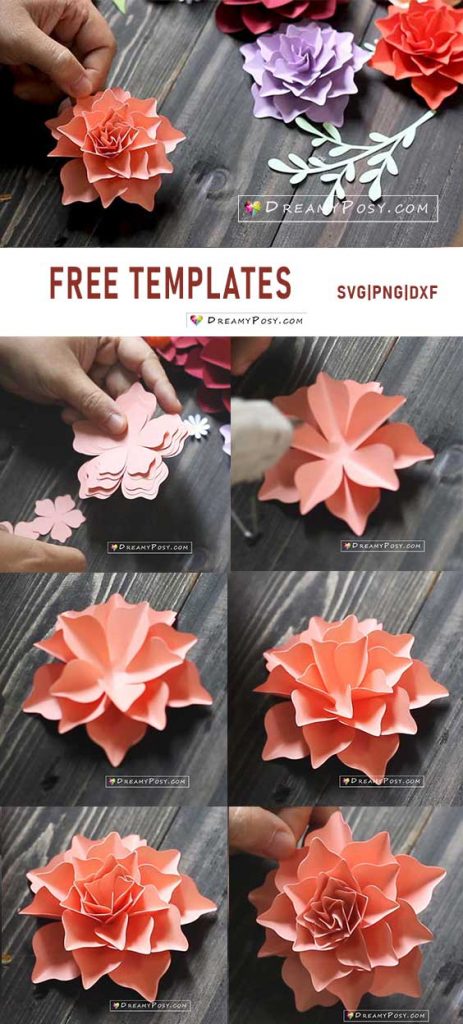 The purpose of this technique is creating deep spaces between the layers. So in the curled petals technique, please pay attention to the moment 4:14 in the video, when I squeeze the bottom of the petals.
Then slowly glue the layers consequently as instructed in the video tutorial.
You could chose 2 styles of flower centers as the below picture.
For the second flower center, I want the last layer be so natural without adding any glue, so I added some curves to the top petals and glue the next outer layer instead. This will help your flower form lasts long.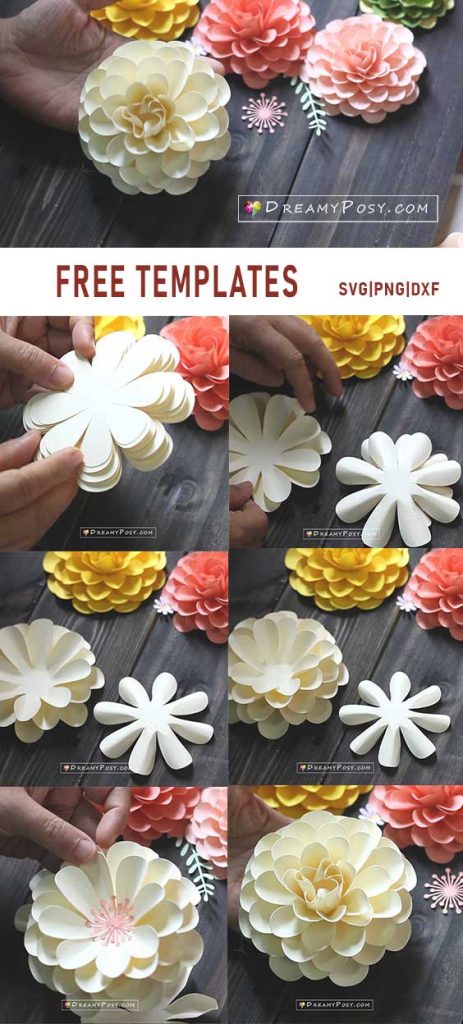 I am sure that you could create many many other styles from these free flower templates.
Please share or tag me. Thank you.
Step 3: Make the stem
This step is optional.
I use a wire gauge#20. Make a round curve at the top of the wire to easily glue to the bottom of the flower.
Cover the glue by a paper circle.
Insert the wire into a 3mm PVC transparent tube.
Wrap the tube with green floral tape.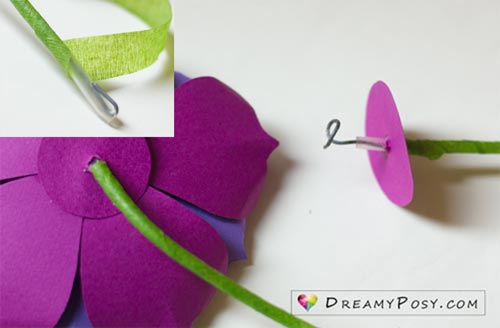 The templates
DO NOT SHARE MY TEMPLATEs DIRECTLY TO SOCIAL NETWORKs.
PLEASE REFER TO MY BLOG, SO THAT I COULD EARN MY LIVING FROM ADS and create more freebies for you all.
Templates are copyright and can not be copied and redistributed to others, including reselling, relicensing, redistributing, giving for free, or as part of a giveaway.
If you wish to resell your paper flowers/paper crafts from my templates, please buy this one-time-only licenses.
Giant Flower templates
I've just updated the free giant rose svg and pdf template as well as the vine leaves templates here.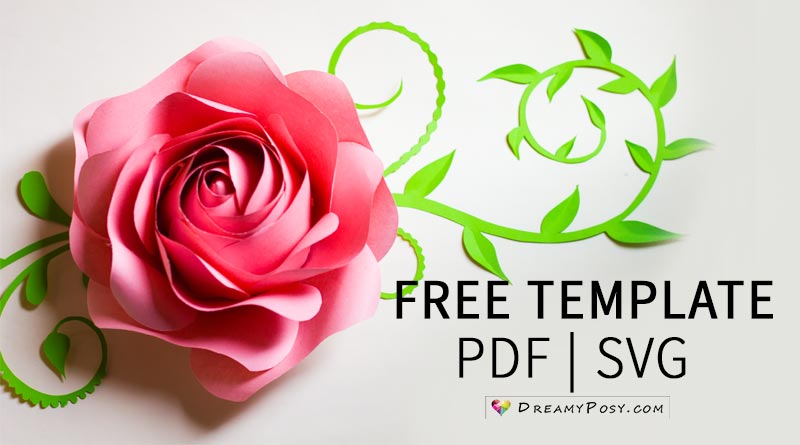 And this is the other cute giant paper flower template for Cricut, but you could cut with x-knife as there's PDF file, with full tutorial.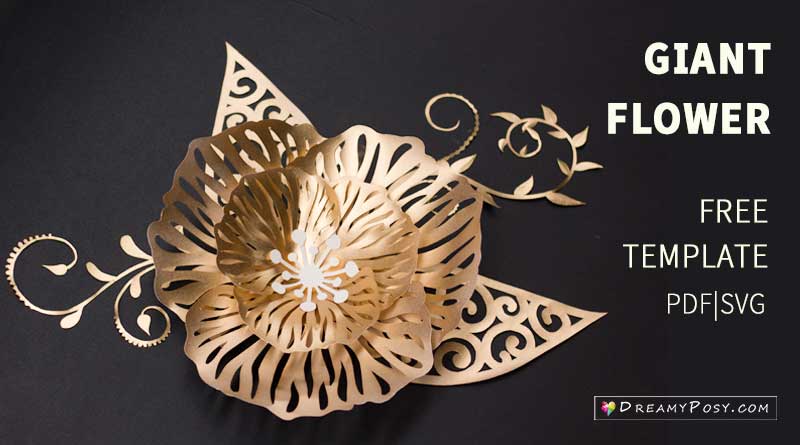 I will update further posts for these giant flowers. Stay tuned.
Paper leaves templates
Please find this post on free SVG paper leaves templates, which are usually used for backdrop paper flowers (giant paper flowers)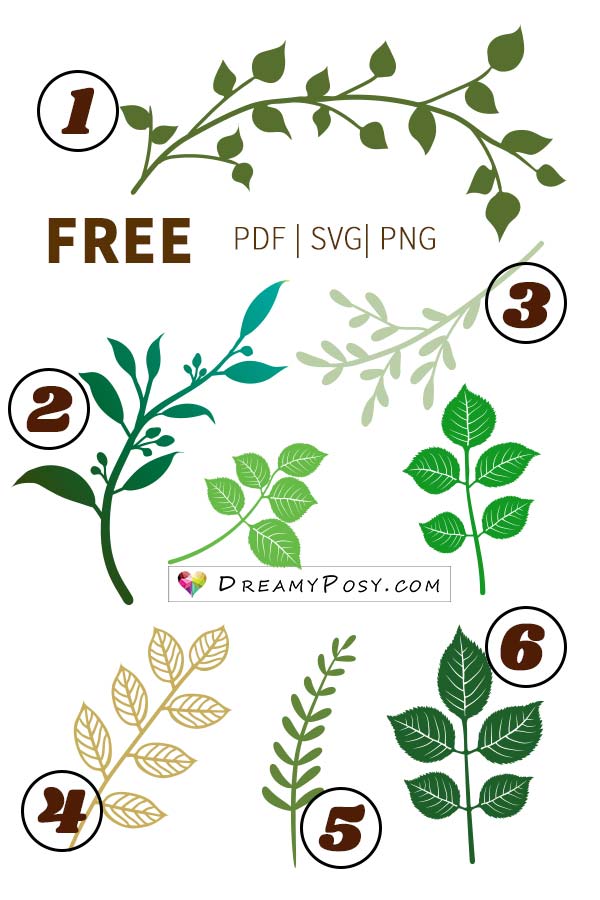 And this post on small paper leaves templates, which are used for paper flower bouquet.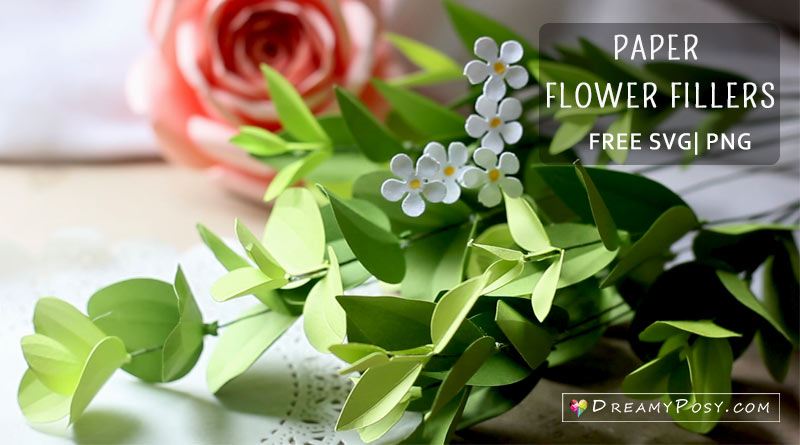 Keep playing and praying for our inner peace.
Lot of loves,
Ann.