Paper flower for beginners, FREE templates for tiny, small and giant flowers, free DXF|PNG|SVG.
Looking for paper flower templates for Cricut, Silhouette, or scissors cutting?
This huge collection of free SVG, PNG, and DXF paper flower templates is perfect for beginners. It includes step-by-step videos and written instructions that are easy to follow. The free templates are available in SVG and PDF formats.
Here are some of the features of this collection:
A variety of flower designs to choose from, including single-petal flower templates, rolled flower templates, and multi-layer flower templates.
A variety of flower sizes, including tiny paper flowers, medium paper flowers, and giant paper flowers and leaves templates.
Templates for both beginners and experienced crafters.
Step-by-step videos and written instructions
Free paper flower SVG files for Cricut and free printable flower template PDF files for your hand-cut.
To get started, simply download the templates you want and follow the instructions. You'll be making beautiful paper flowers in no time!
This post contains some affiliate links that we could get a small commission at no additional cost to you. Find out more here.
I originally created these templates a long time ago when I was just starting to learn about SVG and cutting machines. The templates were awful and the technique was simple.
I am now working on updating the tutorials with new techniques and ensuring that the old templates still work.
You will find that there are many different ways to make paper flowers. You can use one paper flower template to create different styles of flowers by varying the size, the number of layers, the curling and gluing techniques, etc.
1. Tiny paper flower templates
Template cutting:
For these tiny paper flowers, it's much easier to use a cutting machine like a Cricut. But you could use a small punch, or a die-cut instead.
What I share below are some SVG Cricut flower templates in tiny sizes, that you could upload to Design Space.
For these tiny flowers, use cardstock that is thinner than 65 lbs (180gsm), because it's more flexible, which can help you create more realistic flowers.
Instructions to make tiny paper flower templates
Making tiny paper flowers can be time-consuming, but it is worth it when you see the beautiful results with your beautiful paper bouquets, paper centerpieces, and other decorations. They can also be used to add a touch of whimsy to any project.
Tiny flowers can be fragile and difficult to assemble.
Cut a piece of floral wire gauge #24 to the desired length.
Use the mini-pliers to bend the end of the wire into a small loop.
Continue bending the wire until it forms a rounded head.
Once the head is the desired size, use the mini-pliers to flatten the end of the wire.
It's easier to use a fine-point glue gun to glue each tiny flower layer to the wire head like this to make a paper branch.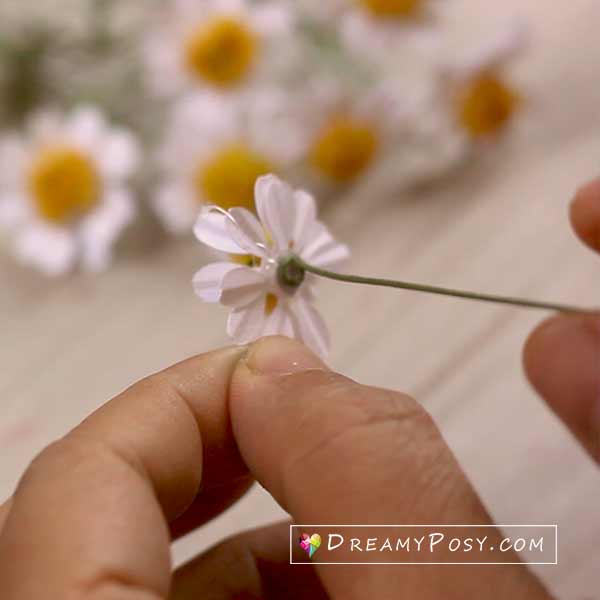 Templates
Here is the PNG template that you could save directly to your device and send to your cutting machine. I don't have PDF template for this as it is impossible to hand-cut these small flower petals.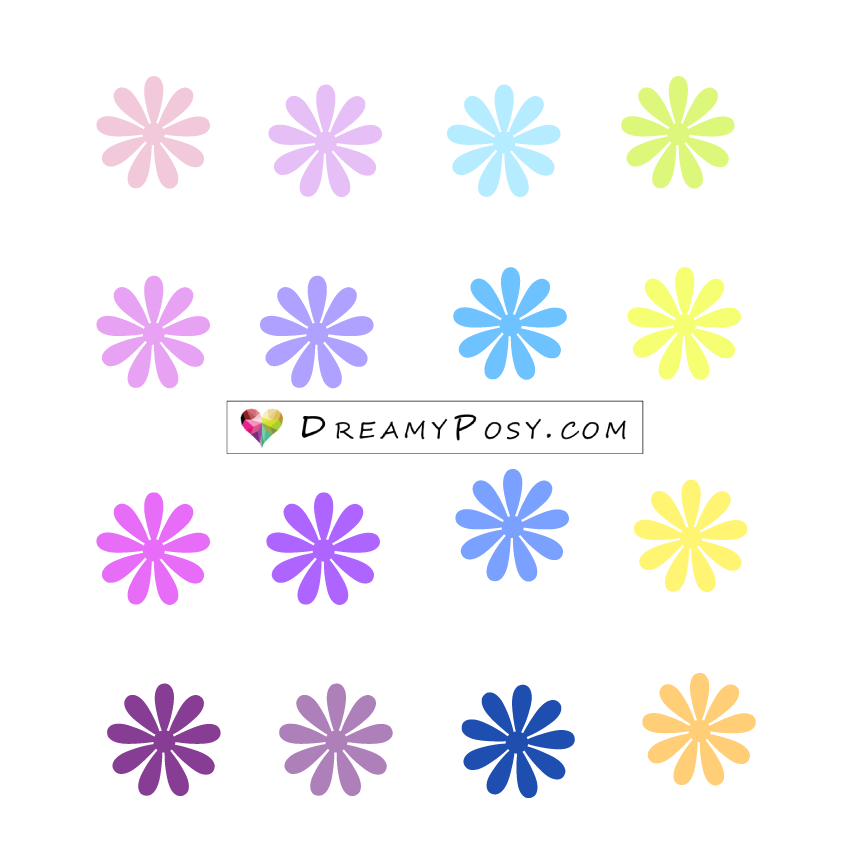 And click the button to get the SVG and DXF files.
Or you could find this tiny flower template in this paper flower fillers post.
I just use a felt pen/marker to color the center of these tiny flowers. So quick and simple.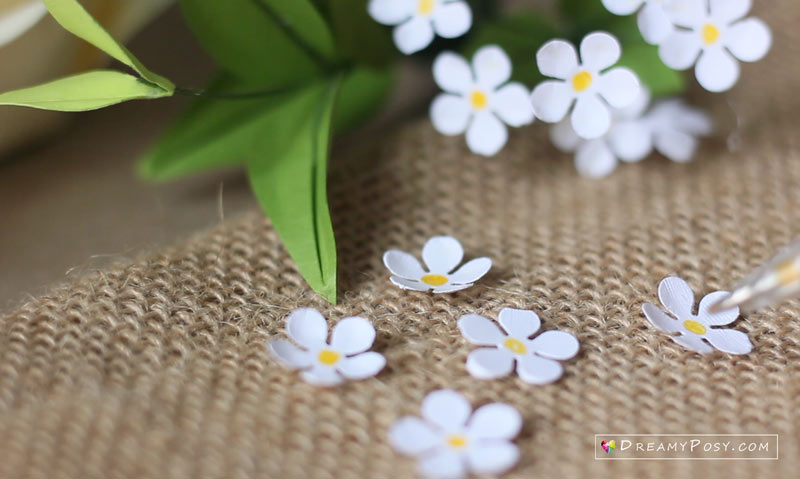 2. Rolled paper flower templates
We have a large collection of free rolled flower templates, as well as tips and tricks to help beginners succeed with their first project.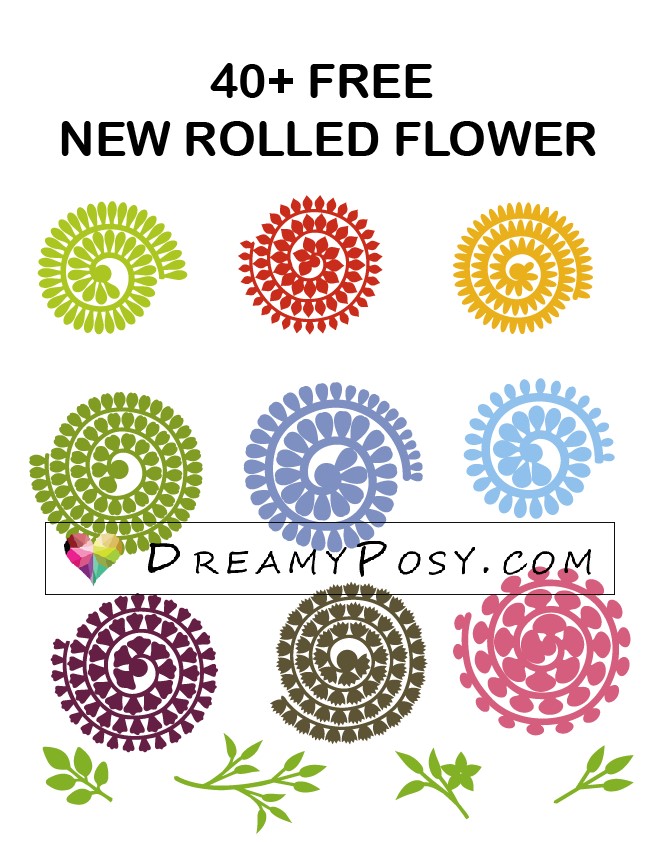 They are SVG flower free templates again.
But we also have the hand-cut printable rolled flower template, please enjoy the link.
3. Medium paper flower templates
Video tutorial to use these medium flower templates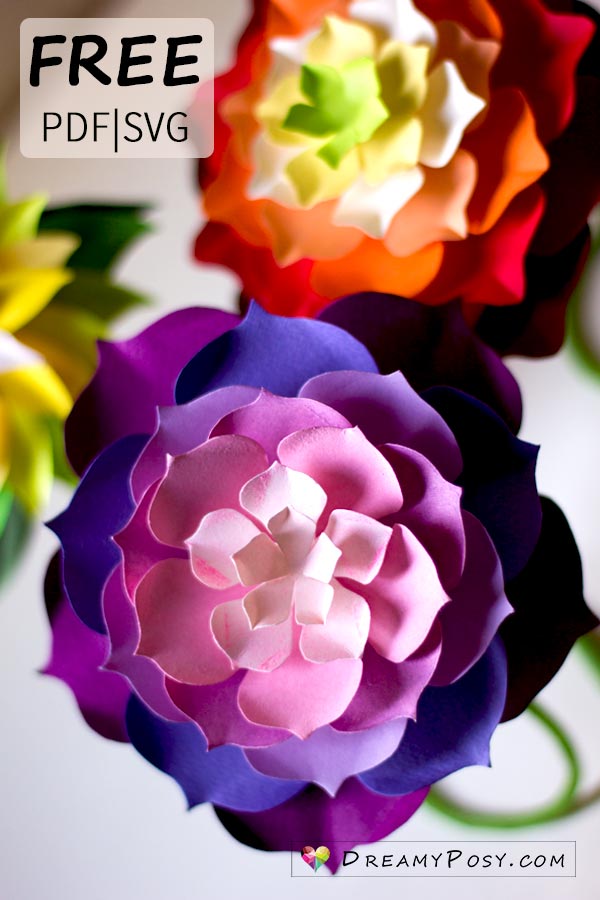 Here are some previous flowers I made using flower templates #1 and #2. I added a small fold to the top tip of each petal.
To prevent the 3D flowers from being flat, I sandwiched a double-sided foam tape circle between each layer to increase the distance between them.
I use different colors of paper to create a vibrant bouquet
But today I want to update 2 more easy methods to play with these old templates: folded petals and curled petals. Please see the video tutorial for a clearer step-by-step tutorial.
With these 2 methods and different sizes and numbers of layers, you could customize as many flower styles as you want.
Step-by-step instructions to use medium flower templates:
Step 1: Cut the templates
If you own a Cricut machine, you can easily cut our SVG files by uploading them to Cricut Design Space. Both the Cricut Maker and Cricut Explore Air are suitable for cutting these digital files.
If you prefer using scissors, you can download our printable flower templates and follow the instructions below to create stunning paper flowers.
It is important to select the appropriate paper type for your paper flowers, keeping in mind that the larger the flowers, the thicker the paper should be. For medium-sized flowers like these, we recommend using 65 lbs card stock.
The size of the flower will depend on the size of the largest layer template you cut. To resize the templates, make sure to maintain the same aspect ratio for all the items.
The number of layers required for each flower style will vary. Further details on each flower photo will be explained below.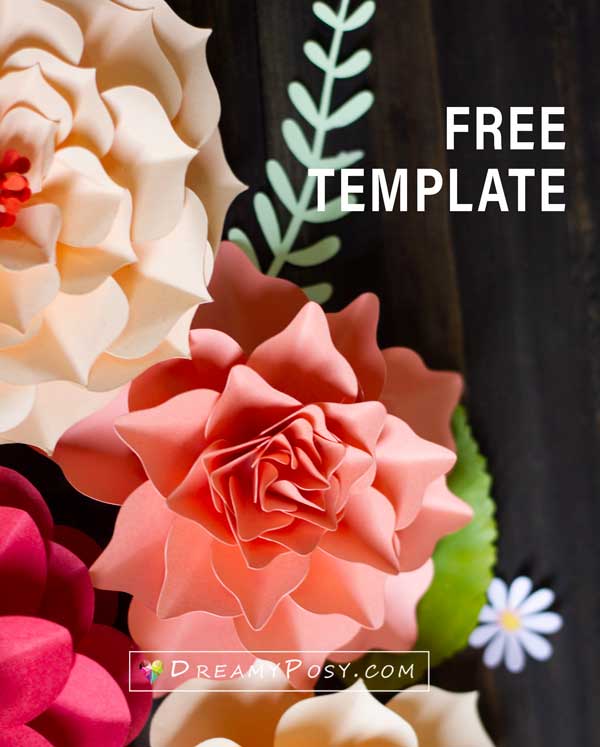 Flower template #1. I cut 7 layers with different sizes from #1 to #7 for the above flowers.
Folded petals applied. (Please watch the video tutorial to see the difference between folded petals and curled petal techniques)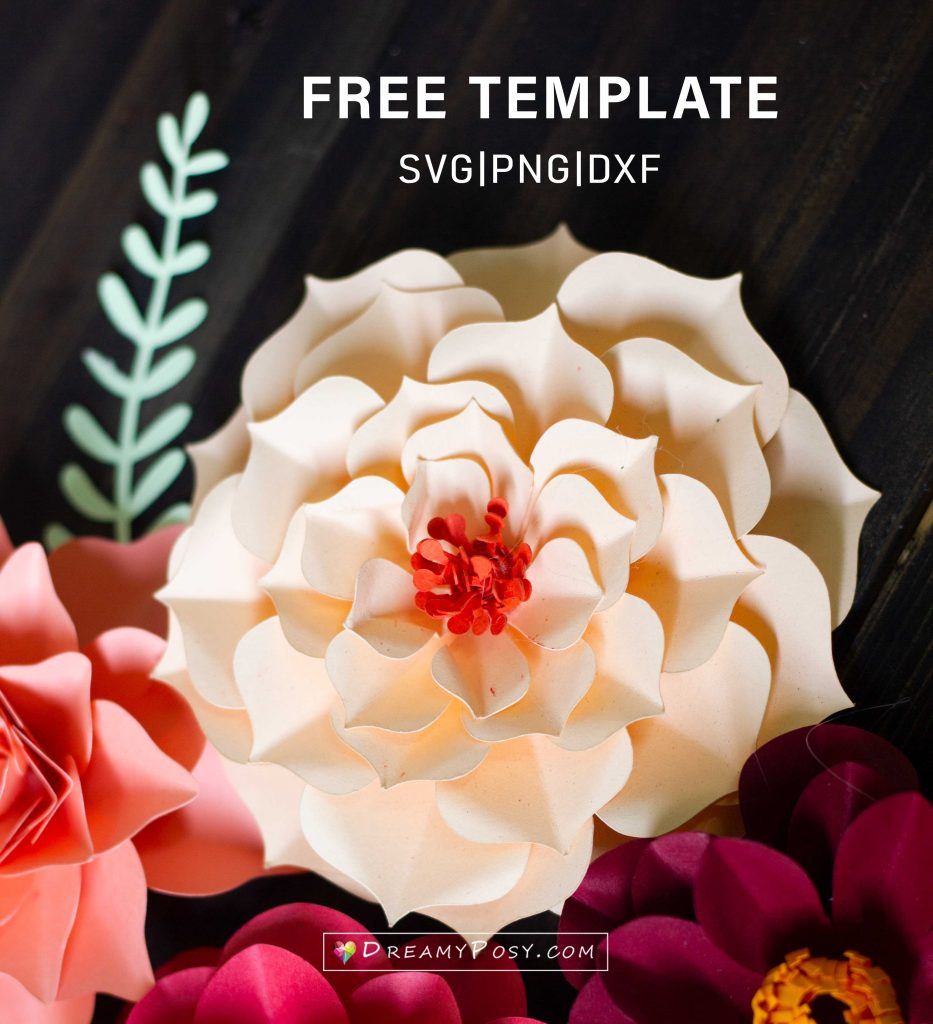 Flower template #2. 7 different sizes (from #1- largest to #7 ) layers and 1 center template.
Folded petals applied.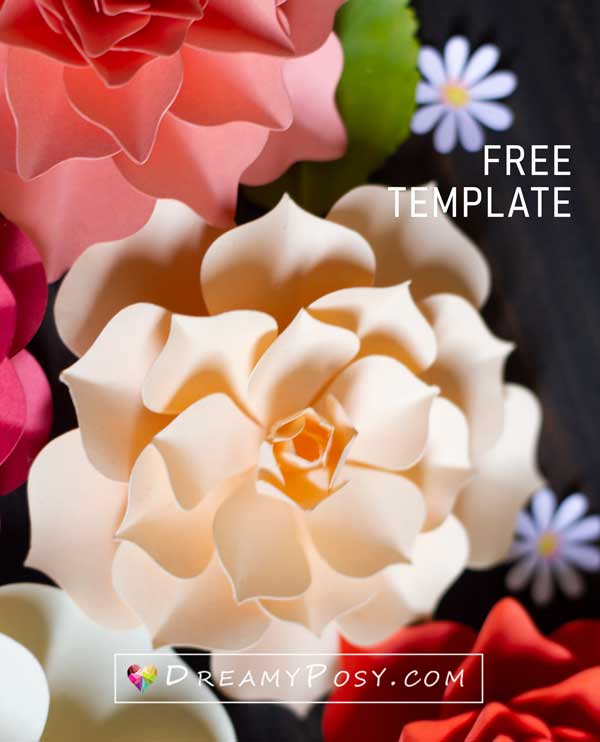 Same flower template #2. But I cut the size #1, #3, #5, #7, #9, #10.
The center was glued closely.
Folded petals applied.
What do you think? I love both types of flowers.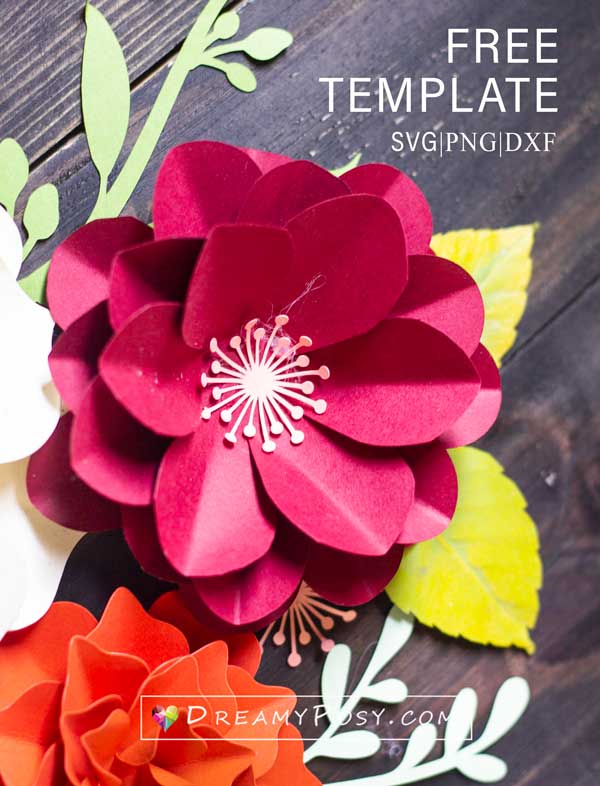 Flower template #3. Just 4 layers of different 3 sizes and a flower center template.
Folded petals applied.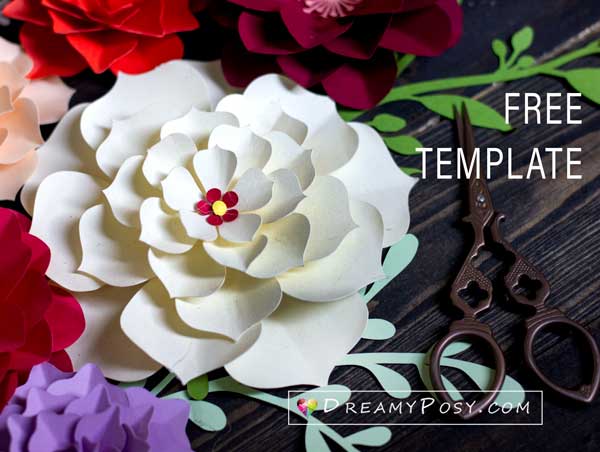 Template #2. I cut the flower size #1, #3, #5, #7, #9 and #10.
Curled petals were applied.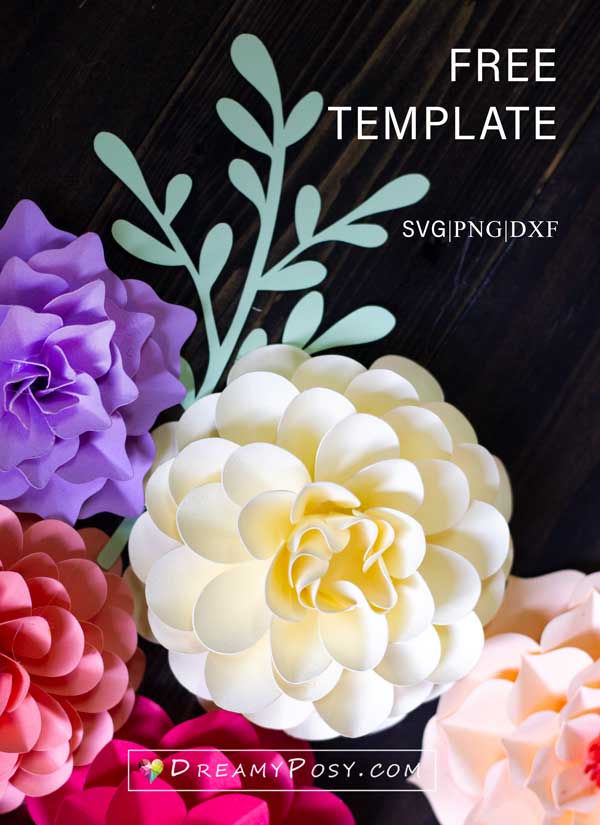 Flower template #4. I cut 1 piece size #1; 2 pieces of size #2, size #3 and size #4
Curled petals were applied.
I hope that you will send me your own way to make the flowers with these free flower templates.
Step 2: Glue the flowers
Some drop of hot glue is the best glue in this case.
Tips: To avoid the flower being flat, here are 2 ways to create the spaces:
The first way is using something (foam double-sided tape or beads) to insert between the flower layers, without adding many curves to the petals.
I triple the foam tape at the first layer (at the bottom), so it's about a 6mm distance.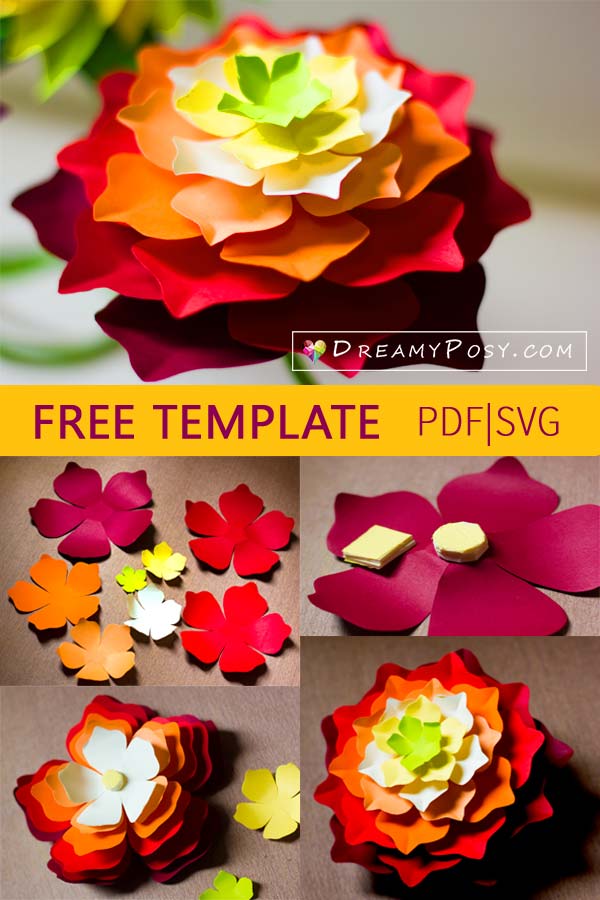 Double the tape for the next layers and just 2mm tape for the last one.
The second way is shown in the video tutorial: folded and curled petals.
The purpose of this technique is to create deeper spaces between the layers. So in the curled petals technique, please pay attention to the moment at 4:14 in the video, when I squeeze the bottom of the petals.
Then slowly glue the layers consequently as instructed in the video tutorial.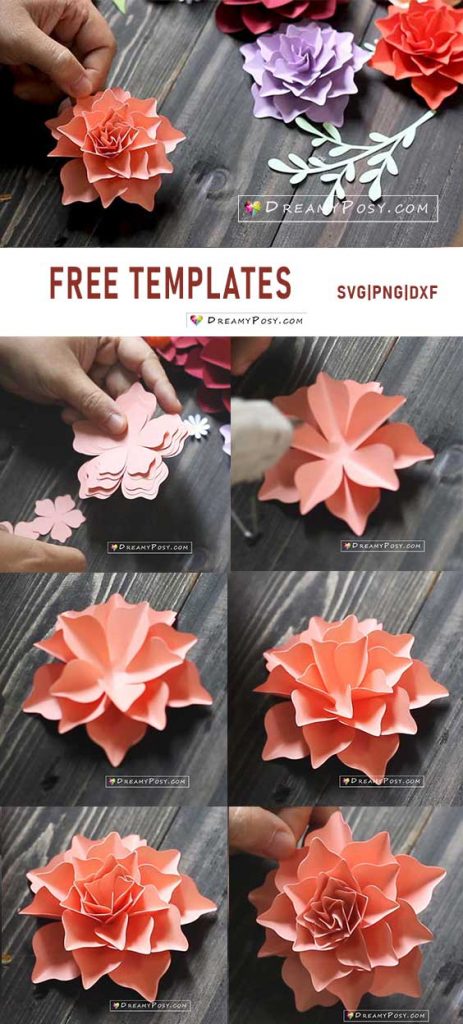 Well, look at 2 above flowers, even with the same template, different techniques can create different flowers.
You could choose 2 styles for the center of the flower as in the below picture.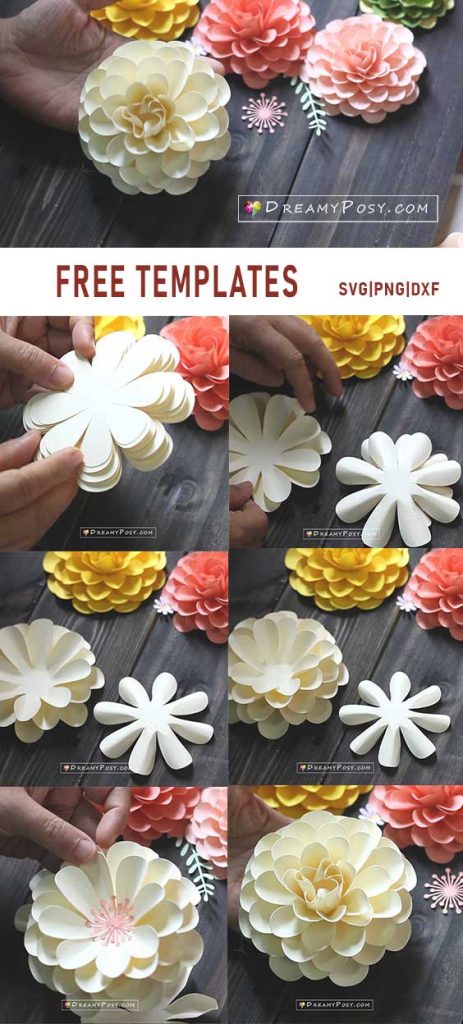 For the second flower center, I want the last layer to be so natural without adding any glue, so I added some curves to the top petals and glue the next outer layer instead. This will help your flower form last long.
Based on the tips I've just shared, I am sure that you could create many many other styles from these free flower templates.
And check out this paper roses tutorials for other free medium paper flower templates.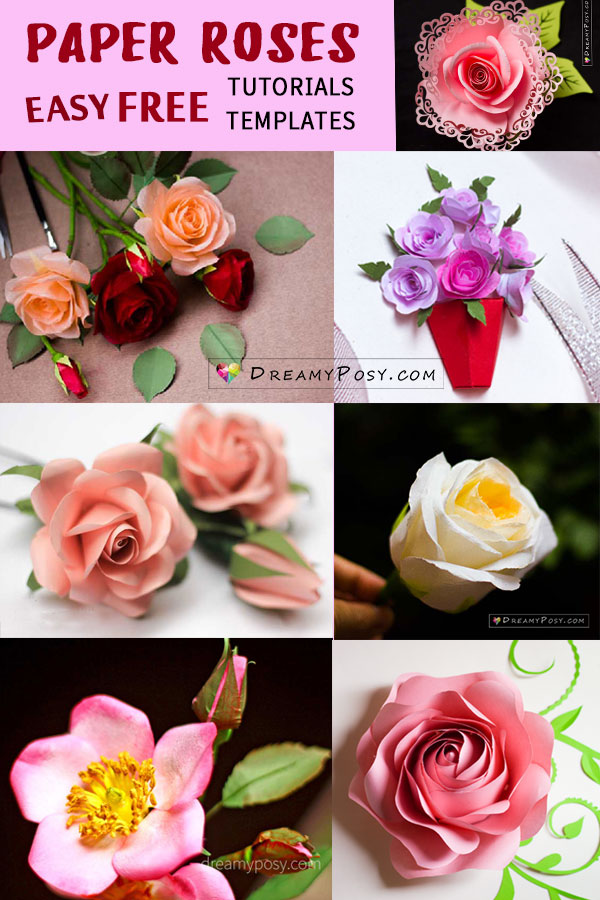 Step 3: Make the stem
This step is optional. The flower stem will only need if you want to make a flower bouquet or a flower vase.
I use wire gauge#20 for the flower branch and wire gauge#24 for the leaves. Make a round curve at the end of the wire to easily glue to the bottom of the flower.
Cover the glue with a paper circle.
Insert the wire into a 3mm PVC transparent tube.
Wrap the tube with green floral tape.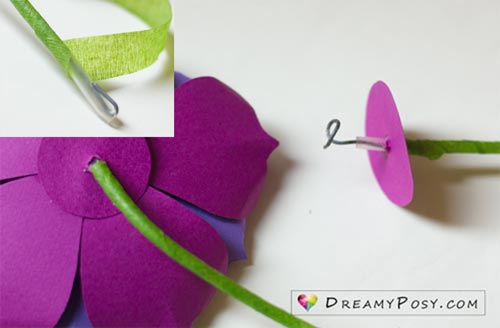 The medium flower templates
For personal use only.
DO NOT SHARE MY TEMPLATEs DIRECTLY TO SOCIAL NETWORKs.
PLEASE REFER TO MY BLOG, SO THAT I COULD EARN MY LIVING FROM ADS and create more freebies for you all.
Templates are copyrighted and can not be copied and redistributed to others, including reselling, relicensing, redistributing, giving for free, or as part of a giveaway.
If you want to resell your paper flowers/paper crafts from my templates, please buy this one-time-only licenses.
4. Giant flower templates
I've just updated the free giant rose svg and pdf template as well as the vine leaves templates here.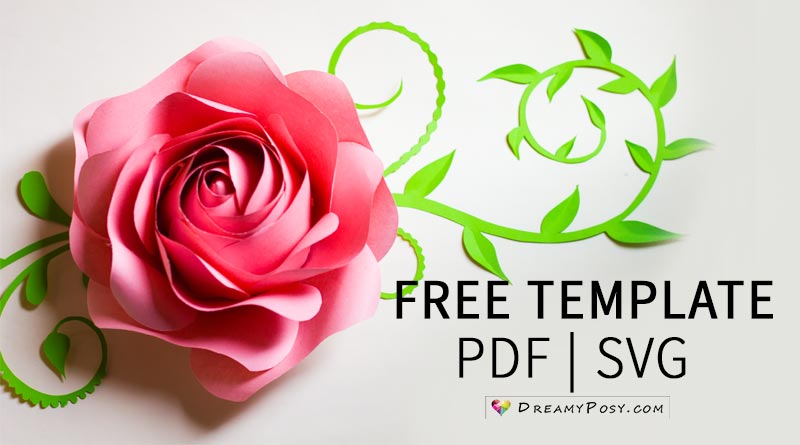 And this is the other cute giant paper flower template for Cricut, but you could cut it with an X-knife as there's a PDF file, with a full tutorial.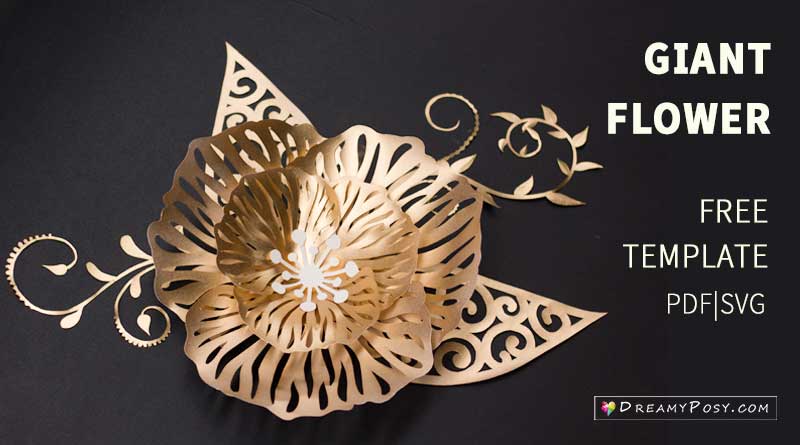 Giant poppy paper flower tutorial and PDF template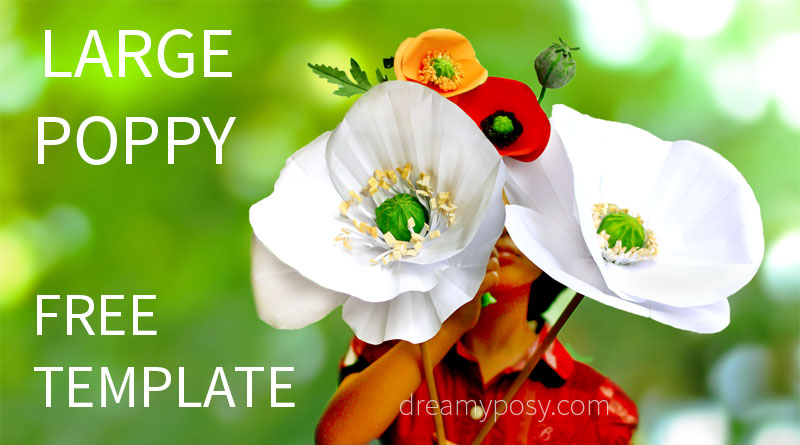 Giant Camellia paper flower and template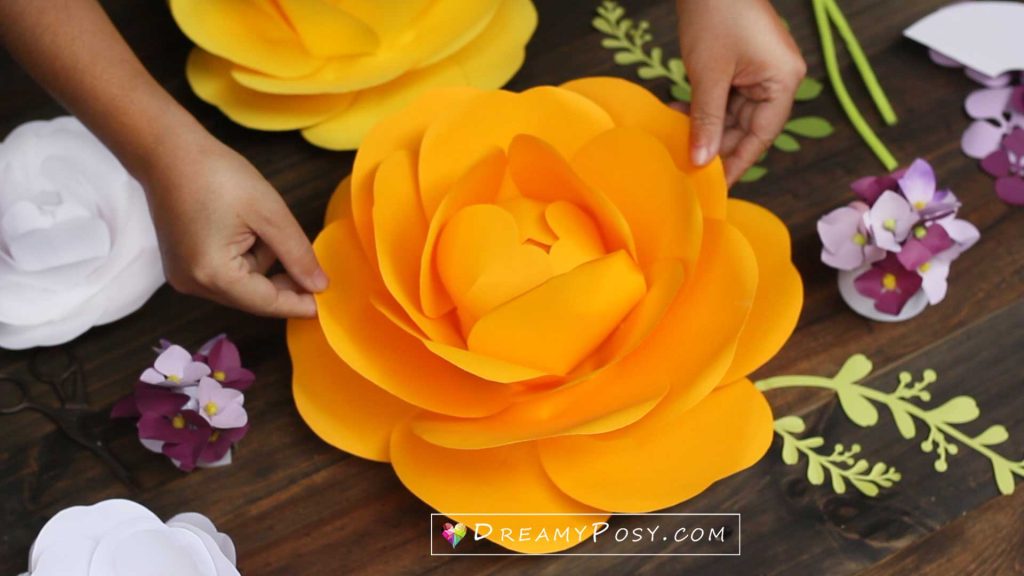 4. Paper leaves templates
Please find this post on free SVG paper leaves templates, which are usually used for backdrop paper flowers (giant paper flowers)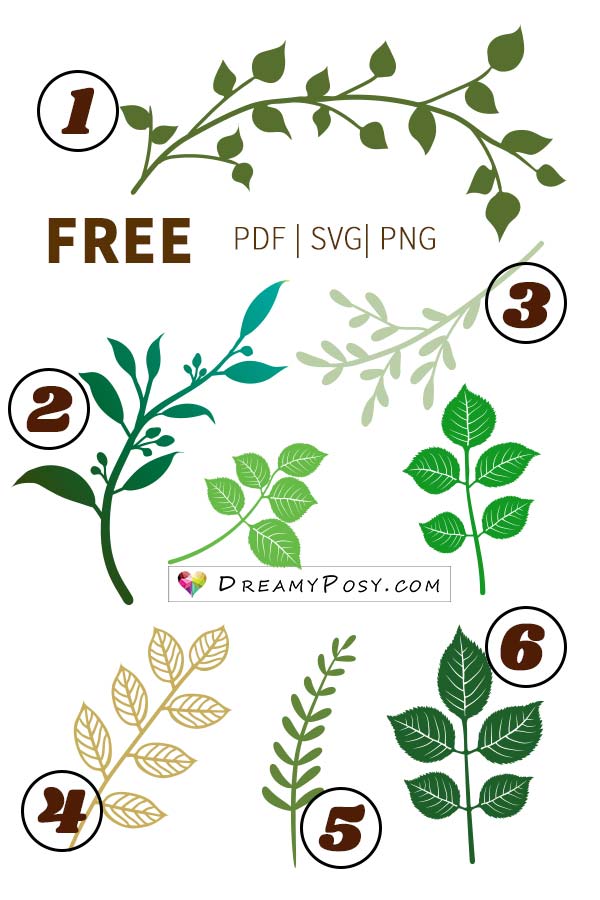 And this post is on small paper leaf templates, which are used for paper flower bouquets.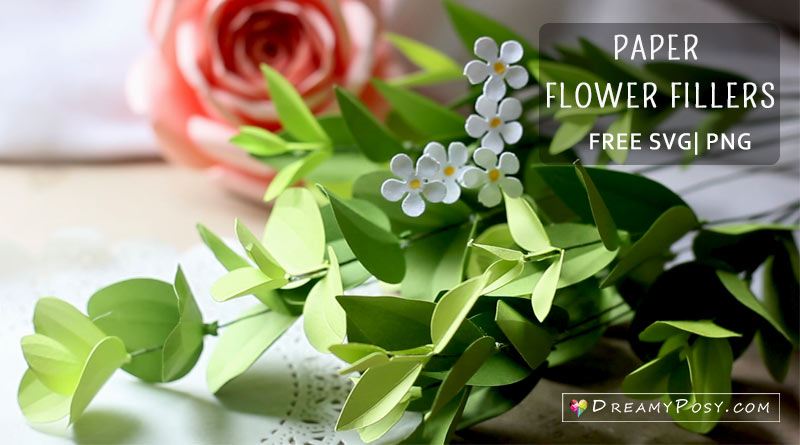 Each DreamyPosy flower template set also includes the leaf template, and there are more than paper flower tutorials and templates in my blog already. Please find them around.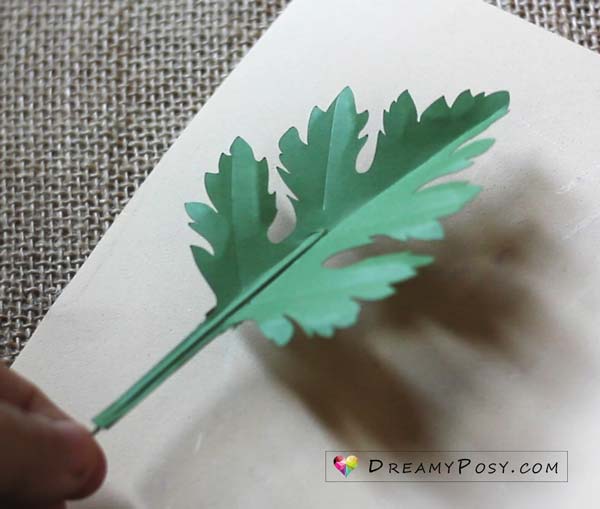 Here is our new leave template collection.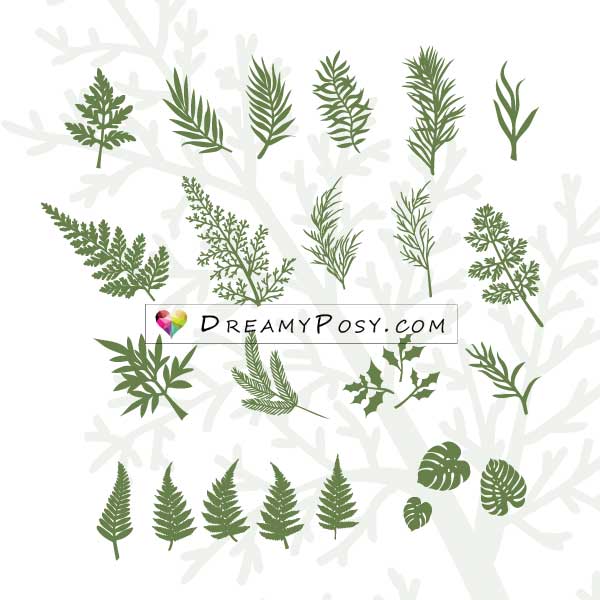 Some ideas to use these Cricut flowers in different projects
Paper flower bouquet
A paper flower vase or a centerpiece
Shadow boxes
Baby showers decoration
Cake toppers
Valentine's Day gifts
Mother Day's gifts
Happy crafting,
Ann.