Easy flower templates for tiny, small and giant flowers, free PDF| SVG
This is an easy collection of flower templates that you could use it for any project.
As usual, it's all free template.
And this time I try to make as easy as possible. If you want to find other 40+  paper flower templates and tutorials, please click and enjoys. It's free.
You just cut it, by manual or by your Cricut, and glue. No special tool or technique required so that anyone can make it.
Flower template for tiny flowers.
(affiliate links included)
For these tiny flowers, it's much easier to use a Cricut or a small punch to have the perfect cut.
These Forget-me-not flowers have so many adorable colors and it really harmony when combining with each other.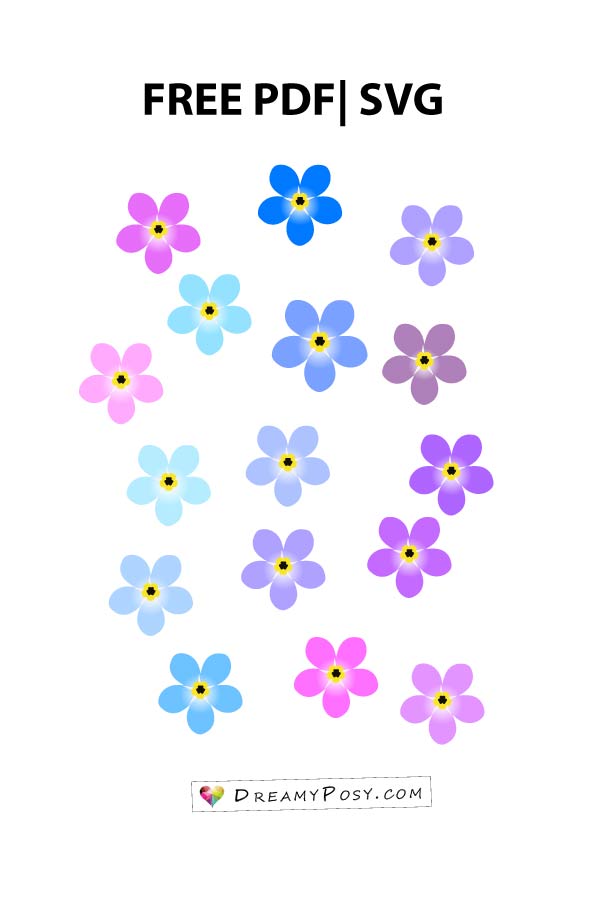 You could glue these tiny flowers to the wire gauge #26 like you do with the small flower below.
Here is the FREE TEMPLATEs in PDF files, SVG file and PNG file.
Flower templates for small flowers
Step 1: Cut the templates.
You could use your Cricut to cut the SVG file or use the scissors to manually cut the PDF file.
I have prepared for both color and plain template in case you want to change the palette.
Use the edge of scissors to curve the petals.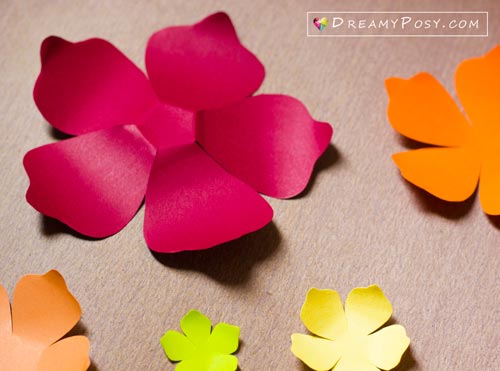 Step 2: Glue the flowers
I use the foam double sided tape to glue between the flower layers.
I triple the tape at the first layer (at the bottom), so it's about 6mm distance.
Double the tape for the next layers and just 2mm tape for the last one.
You could arrange your flowers in any way you like.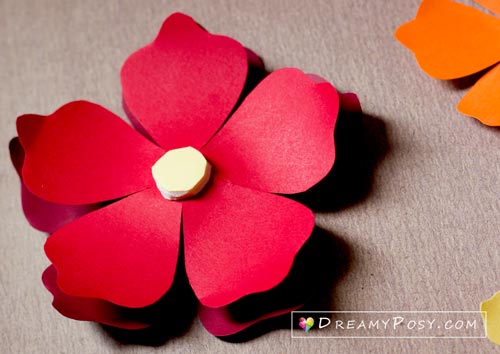 Step 3: Make the stem
I use a wire gauge#20. Make a round curve at the top that could easily glue to the bottom of the flower.
Cover the glue by a paper circle.
Insert the wire into a 3mm PVC transparent tube.
Wrap the tube with green floral tape.
Bend the wire at the bottom to settle it.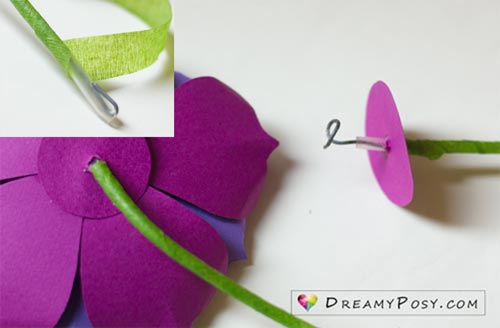 Here is the final flower.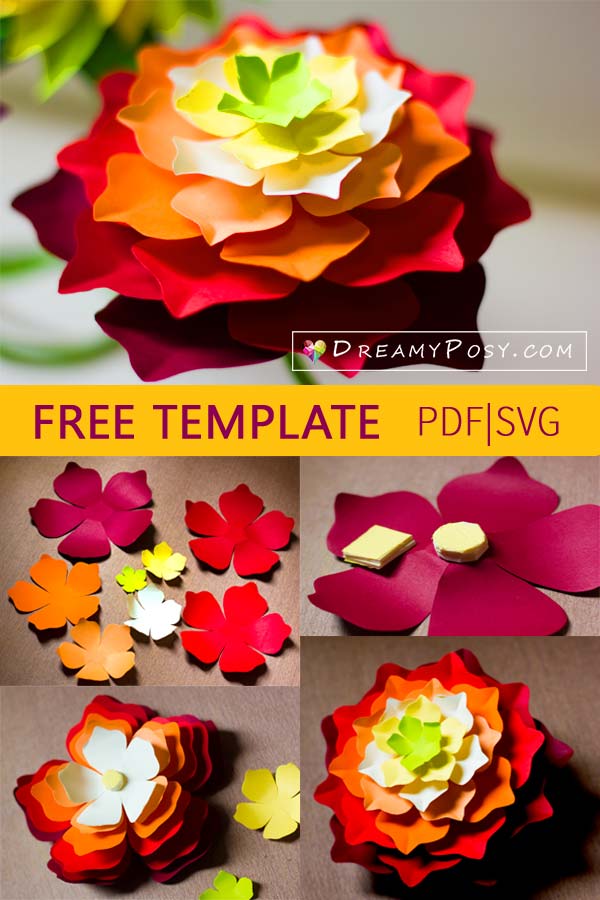 Here is the FLOWER TEMPLATE 1 (PDF plain file, PDF color file, SVG plain file, SVG color file)
Use the same technique for another flower template.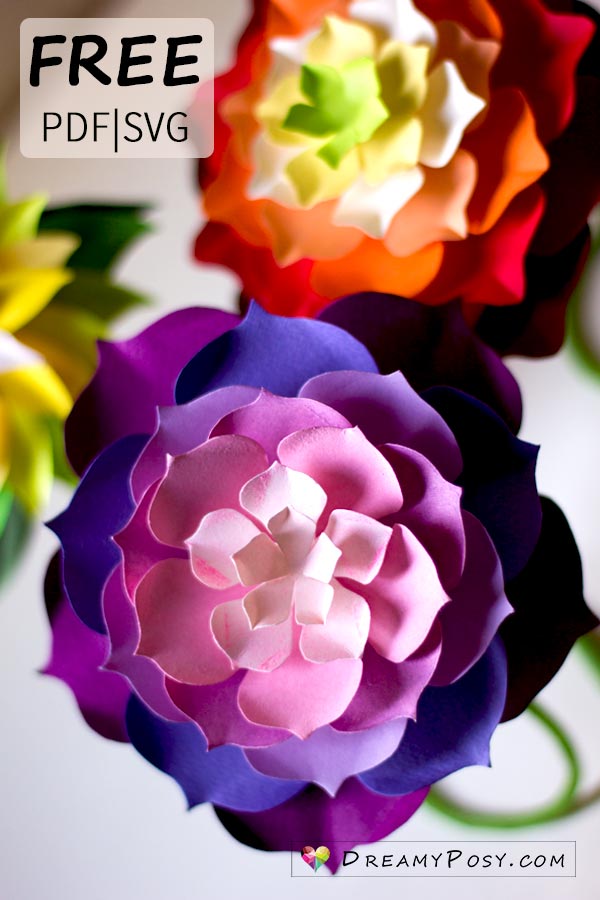 Here is the FLOWER TEMPLATE 2 (PDF plain file, PDF color file, SVG plain file, SVG color file)
Giant Flower templates
I've just updated the Giant rose template as well as the vine leaves templates here.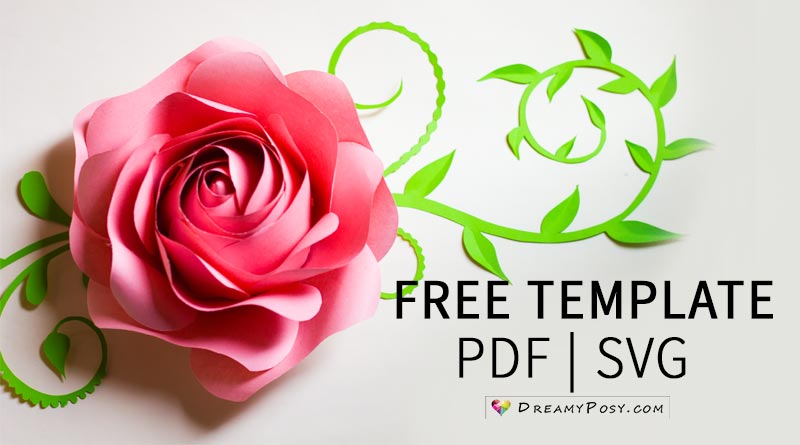 And if you want some cut-out giant flower template, here is the SVG TEMPLATE.
This gorgeous flower is made by Dale Stewart from my free SVG template.
This is the first time I learn to make such color and cut-out SVG flower templates.
If you find any error or mistake, please feel free to drop me a comment.
I'll be more than happy to receive your advice.
With lots of love
Ann.