Easy Giant Rose Tutorials (2 ways) for Beginners, FREE templates
Giant roses are a beautiful and unique way to add a touch of elegance to any event.
What can you use paper giant roses for?
Paper giant rose can be used to decorate a wedding, or birthday party, a paper flower wall backdrop for a baby or teen girl, a bridal paper bouquet with just a large rose, or any other special occasion to create a romantic atmosphere.
Giant paper roses come in a variety of colors and sizes, so you can find the perfect ones to match your or the receiver's emotions.
Here are some of the emotions that people may feel when they see giant paper roses:
Love: Giant paper roses are a symbol of love and romance. They can be used to express your love for your partner, family, or friends.
Beauty: Giant paper roses are simply beautiful. They add a touch of elegance and sophistication to any event or space.
Joy: Giant paper roses can bring joy to people of all ages. They are a reminder of the beauty of nature and the power of love.
Wonder: Giant paper roses are a work of art. They are sure to capture the attention of everyone who sees them.
Hope: Giant paper roses are also a symbol of hope. They remind us that even in the darkest of times, there is always beauty to be found.
One of my favorite memories is from when my daughter was about 8 years old. I made her a giant paper rose for her birthday. It was the most beautiful thing I had ever tried.
It was a deep red color, and it had so many petals. She loved it so much that she didn't want me to take any photos of it, lol, it was just for her only. She put it on her nightstand, and she would look at it every night before she went to bed. It made her feel so loved and special. I believe that giant rose also reminds her of the joy and happiness that she felt when she was a little girl.
They are also relatively easy to make, so you can create your own custom roses if you want.
I will try my best to provide clear and concise instructions, as well as helpful tips and tricks so that you can make your own giant paper roses.
Materials need to make giant rose
The materials you will need to make a giant paper rose will vary depending on the size and style of the rose you want to make. However, some basic materials that you will need include:
Cardstock or printer paper (choose your favorite color)
A hot glue gun and glue stick
A pair of scissors
DreamyPosy's petal templates (please scroll down)
The first tutorial to make paper giant rose from printer paper
Initially, I made this video tutorial to make a giant rose step by step from printer paper.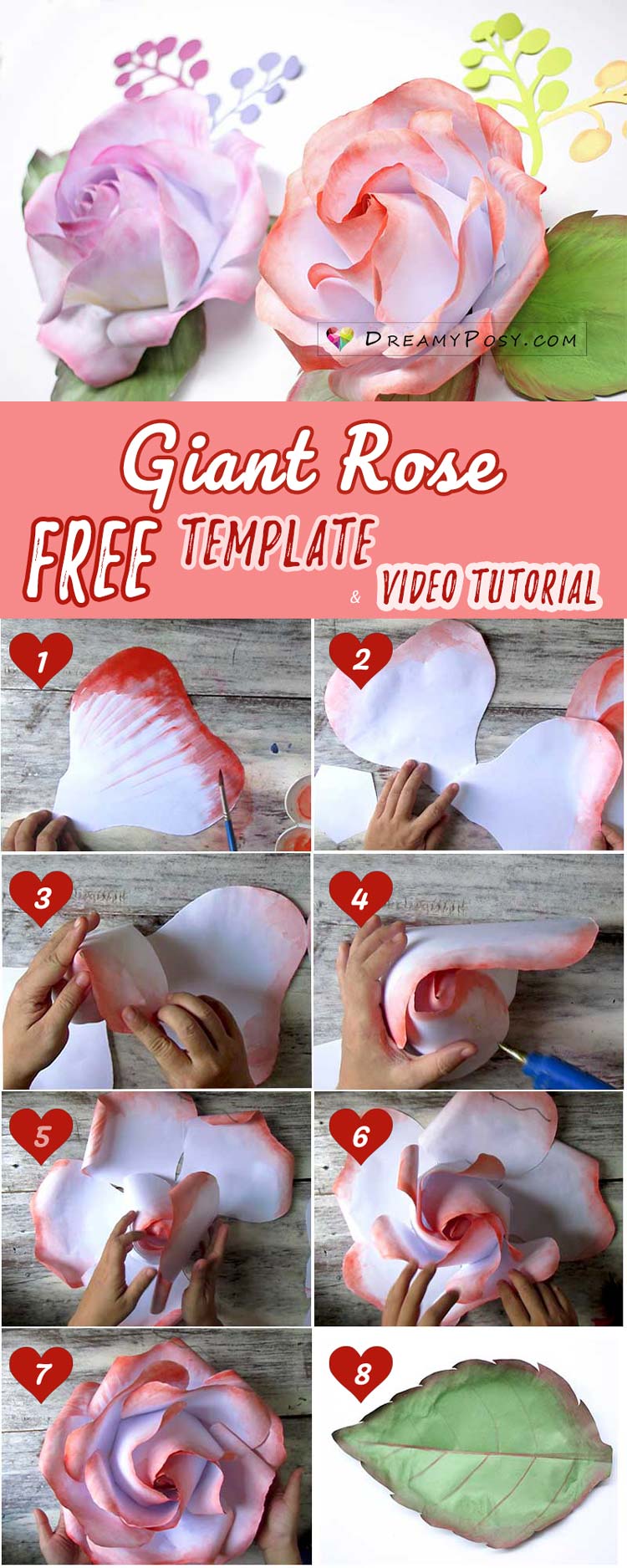 Please follow our step-by-step instruction on how to make a giant paper rose
Cut the petals from our giant rose free template.
We prepared both Cricut's SVG giant rose template and PDF giant rose template for your hand-cut here, please scroll down to the bottom of the post.
But we prefer to use scissors as we can cut 5 sheets at once, while Cricut can cut 1 sheet per time.
For a giant rose, you can adjust the size of the petal by printer setting (on your computer) or cutting setting on the cutting machine software. I cut the largest petal in the A4 paper size for both tutorials.
How many petals does a paper giant rose need?
You could cut just 5 petals and use the flower center template as the simplest giant rose.
But in the printer paper rose version, I cut 18 petals, 1 triangle, and 2 pentagons.
For the cardstock version, I cut 23 petals, 1 triangle, and 3 pentagons.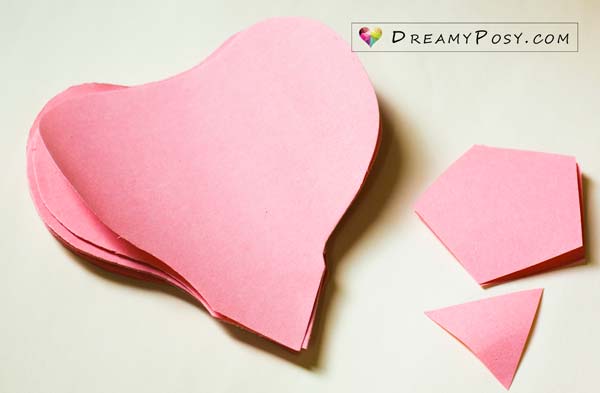 How I colored the paper flowers' petals?
In the video, I use watercolor for the orange flower and pastel chalk for the pink one, and I prefer the texture effect of watercolor.
If you use watercolor, consider drawing water first as it will help to blend your color easier.
You could also use a sponge for acrylic/ non-dilute watercolor.
How to glue the giant rose petals
Glue 3 petals with the triangle for the first layer. Use a stick to curve the petal and form these 3 petals for the center of the giant rose.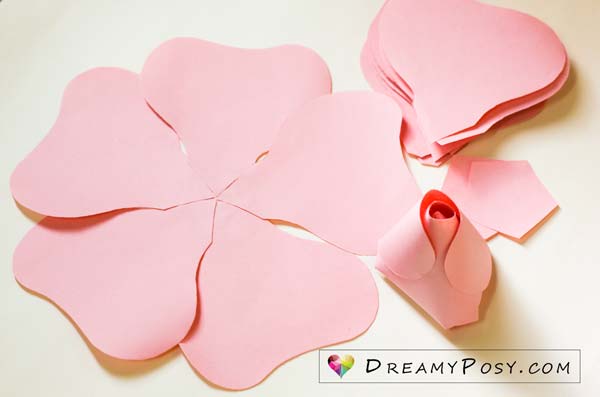 For the next 2 outer petal layers, glue 5 petals with the pentagon and use a glue stick to form the petal's curve.
Glue the 2 layers interleaves as the video shown.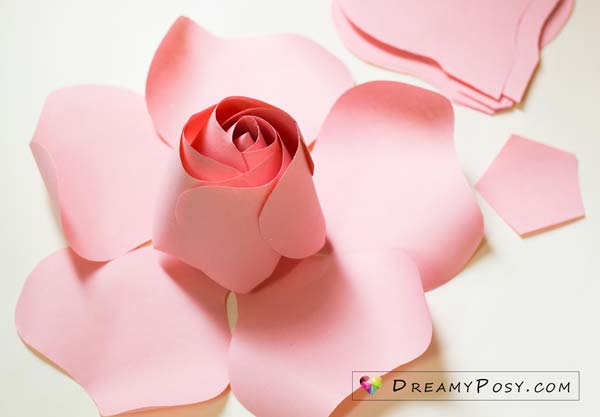 For the last layer, cut a line to divide the bottom of each petal. Then glue it to form a curved petal before gluing to the flower base.
Insert a string to the bottom of the bottom of the flower before covering by a large circle. This string will help you to hang the giant rose where you want.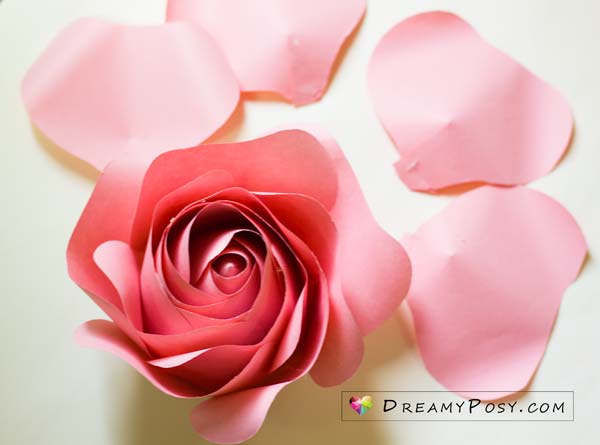 The second tutorial to make paper giant rose
For this updated version, I prepared the picture tutorial only.
I use cardstock 60lbs (165gsm) for this large rose, and you could see that it's still quite thin for such 12 inches width rose.
I applied the same techniques as the first tutorial, but just added 5 more petals (1 more layer) and the space between layers was much closer than in the previous version.
Well, what do you think? Same template, and the same technique, but they look different.
So now, I believe that, you could play around with templates and techniques, mix up a little bit, and you can create your own paper giant rose style.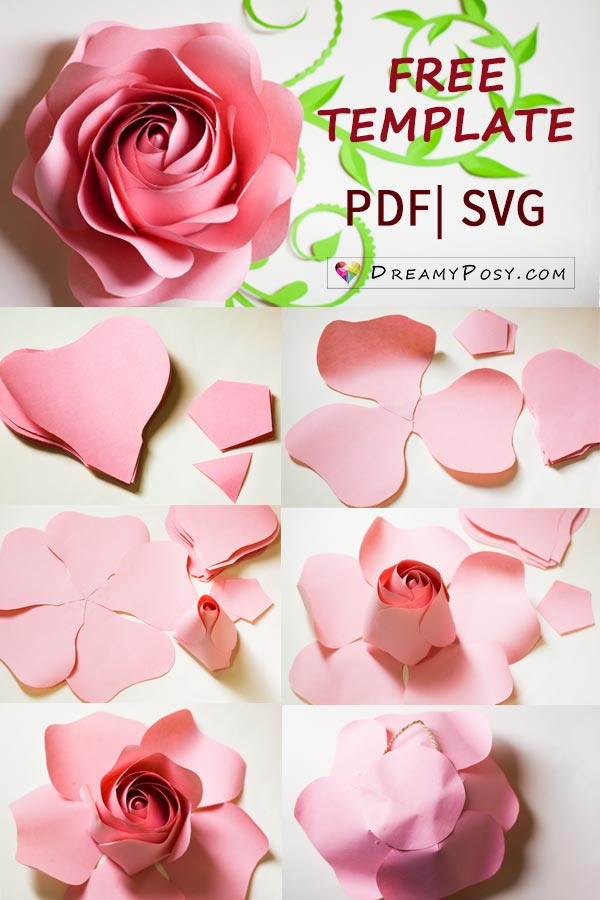 Tips and tricks to make a beautiful paper giant rose
What is the best paper for a giant rose?
You can use any type of paper, from printer paper or cardstock or foam, but remember that the larger the rose you make, the heavier paper you will need.
In short, as per our experiences, the best paper for making giant rose is this brand 65-80lb (176-250 gsm) cardstock.
Make sure it's solid cardstock (the one without white core).
The higher quality is the cardstock paper, the best results for your giant roses.
The space between petals and layers and the angle of the petals are important to your rose's form. Please pay attention to these.
You can use any color of cardstock paper you like to make your roses. We mean that you can use multi color in 1 rose.
Use a low-temperature glue gun (20w) to prevent a hot glue gun burn.
How to protect your paper giant rose?
Paper flowers can last forever if they are kept out of direct sunlight and water. Sunlight can fade the colors of paper flowers, while water can damage them. You can clean paper flowers by using a vacuum cleaner in a lowest setting or a blow dryer in a cool setting or by dusting them with a lint-free cleaning cloth or a soft paintbrush. If you want to protect your paper flowers from sunlight and dust, you can spray them with this UV protective spray.
Here are some additional tips for caring for paper flowers:
Avoid storing paper flowers in humid environments, as this can cause them to become damaged.
If you do get paper flowers wet, dry them off immediately with a soft cloth.
If you notice any damage to paper flowers, such as tears or rips, you can repair them with glue or tape.
With proper care, paper flowers can last for many years and bring you joy every time you see them.
These giant roses are usually hung on a backdrop, and it could not be pretty without the paper leaves. Use a x-actor knife
or cutting machine for these leaves templates.
For other free paper leaves templates, please click the link.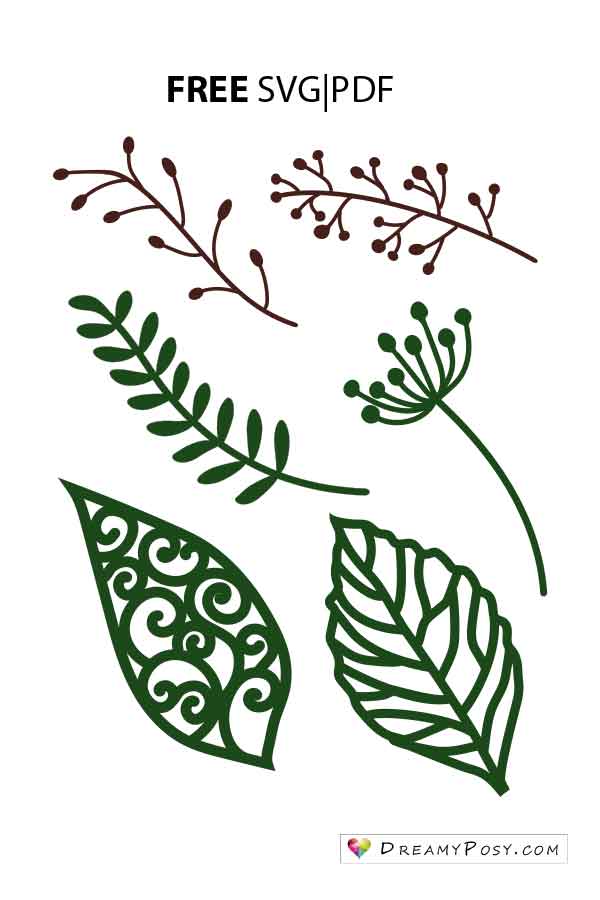 .
(Please do not share my templates directly. Please refer to my post to get it all free).
Loves,
Ann.