How to make Paper Iris flower, FREE template
Making paper Iris flower as a gift to display your love and respect is so easy, with my FREE template and step by step video tutorial.
In Greek mythology, Iris was the goddess of the rainbow, a bridge between heaven and earth. In the ancient time, the three petal segments were regarded as faith,
In the ancient time, the three petal segments were regarded as faith, wisdom, and valor.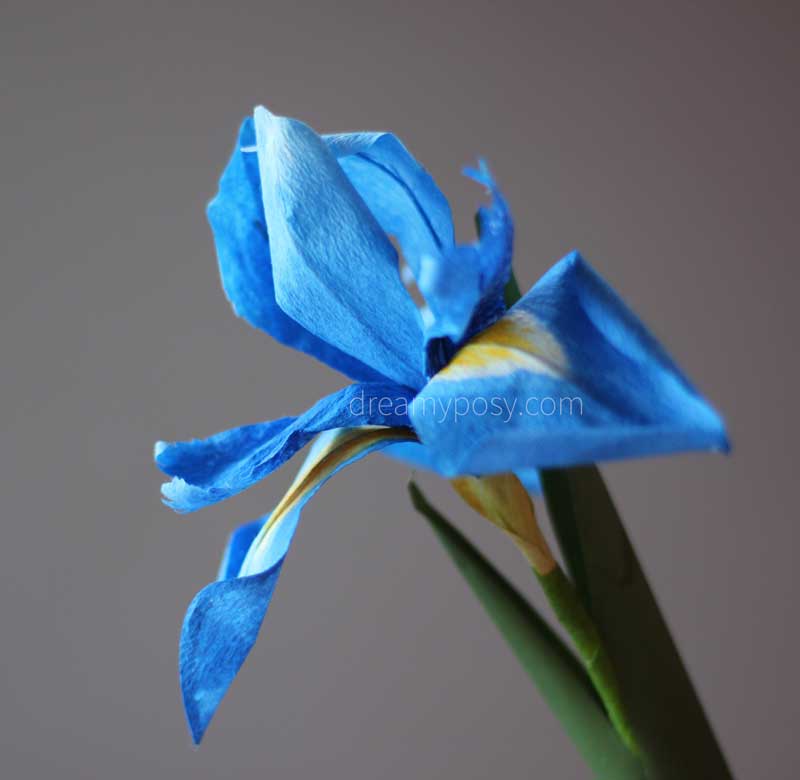 Iris has so many colors to express as your gift meaning, from blue (represent hope and faith) and purple (represent royalty, wisdom, respect, and compliments.) to white (for purity and innocence), pink, red, chartreuse, yellow (represent passion), brown and nearly black. You could easily create your favorite color by painting on coffee filter 🙂
Video step by step tutorial:





Instructions:
Grab the coffee filter paper and other materials and my FREE template
Cut the petal along the template, there are 3 kinds of petal.
Glue all the petals with wire gauge26.
Color each petal segment as video instruction.
Use your finger, the edge of scissor and a ball stylus to form the petals
Use the floral tape to wrap the petals together
Wrap with a wire gaure20
Glue the 2 small sepals
Insert the wire20 to the transparent pvc tube and wrap with floral tape.
Insert the tissue paper, use glue gun,  under the leaves to help the branch be more realistic.
What you will need


Coffee filter paper
Watercolor
Green floral tape
3mm or 6mm transparent pvc tube
Scissor
20w glue gun
Wire gauge20 and gauge 26
Tissue paper
DreamyPosy's template
Please help to support me by your subscribe, share, comment and like. Thank you.