DIY Zinnias flower from printer paper, FREE template
Tutorials of Zinnias paper flower with the FREE template, made from printer paper and pastel chalk, is a perfect summer craft for you.
Video tutorial to make Zinnias paper flower:
I got some requests to make zinnias paper, so I'm sharing it with you now. Zinnias are not kind of flower that you will love at the first sight, but if you will definitely love it as you have a close-up look, so brilliant.
Step by step instruction to make Zinnias paper flower:
Download the template and cut out with plain printer paper and green paper
Fold and cut the paper circle as video instructed. No worry if you cut the petal in different sizes, as the real petals have different sizes 🙂
Make the fringed center with 2 strips 1cmx 21cm, fold and cut as an eyelash. Use glue gun to attach with the wire to make stamen.
Keep the remaining of the above circles, then cut, color and glue for about 8 tiny flowers around the stamen.
Color the smallest petal layer with yellow and the bigger layers with orange (you can create your own favorite color here).
Shape the petals in different ways with scissor or stylus, as the video tutorial.
Cut the circle petal in half and glue it around the stamen.
Cut out a strip of ordinary tissue paper to make a sepal shape under the last petal layer. Around with my sepal template.
Use floral tape or green paper strip to wrap the  wire
Cut and use the scissors to make the leaves and finish it.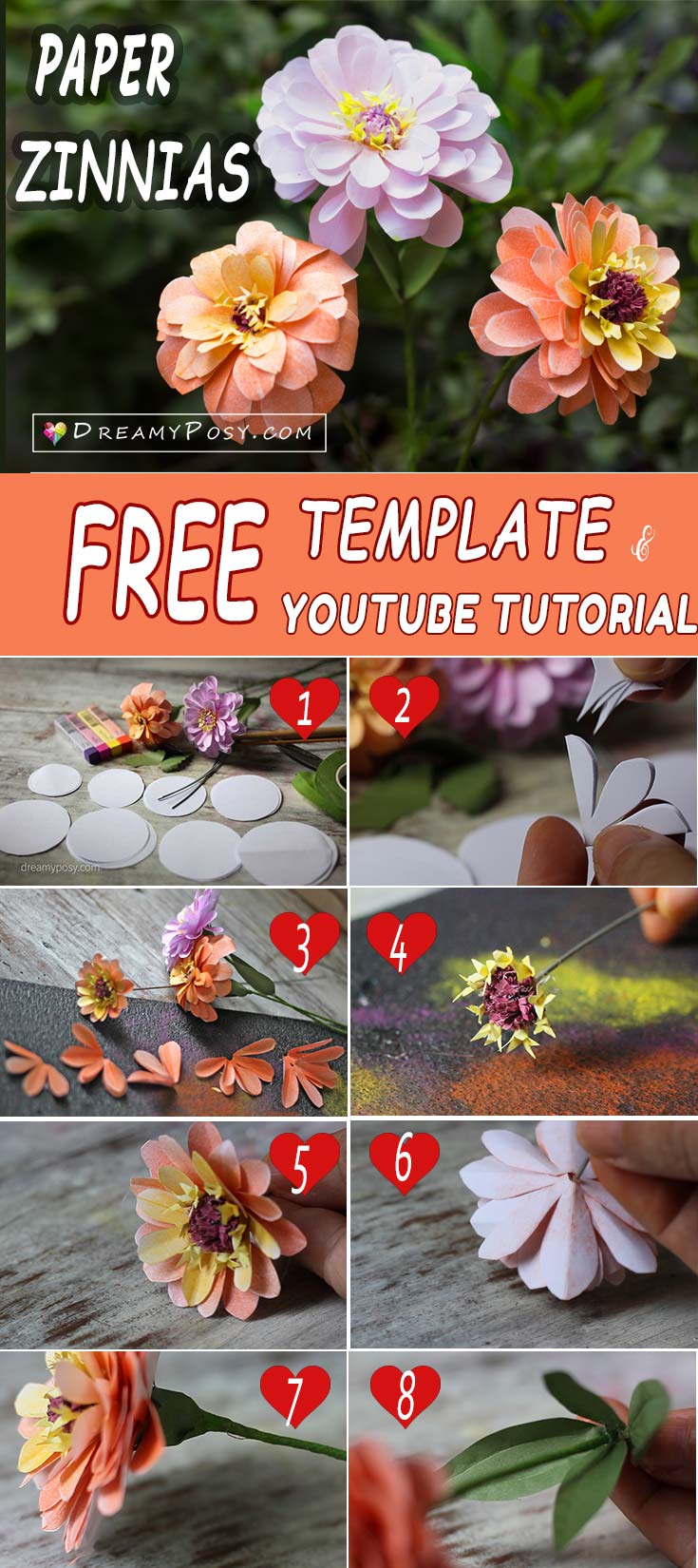 What you will need to make Zinnias paper flower:
(affiliate links):
Printer paper
Soft Pastel chalk or oil pastel
Green paper (optional as you could color the printer paper)
20W Glue gun
Wire gauge#20
Green Floral Tape
DreamyPosy's template
You might yourself how to make a paper flower, or how to make a printer paper flower?  There are many more free templates and tutorials to make flowers from printer paper here. Check it out.