DIY Orchid flower from printer paper, FREE template
With video tutorial and FREE template for Orchid paper flower and abstract paper vase. This paper orchid flower is perfect for your desk decor.
Video tutorial to make Orchid paper flower:
Step by step instructions to make Orchid paper flower:
Download the template and cut the printer paper along
Use pastel chalk to color (light pink, you could use your favorite color instead) the petals as instructed, use scissor to curve the petals
Glue the 4cm small wires (gauge#25) to the two middle petals
Color the stamen petal with dark pink and yellow, curve the stamen as instructed
Cut a 0.3cm strip of tissue paper to wrap and shape a small head of stamen, wrap again with small strip of masking tape, use a mix of white color +white glue to color it. Glue the head stamen with petal stamen.
Arrange the stamen, middle petals, and outer petals.
Color the bud petal and use the round stylus to shape it as instructed
Cut a 1cm strip of tissue paper to wrap and shape the round center for the bud, glue it with 3 bud petal. We has 3 sizes of bud in the template.
Use the 2 sided adhesive tape and a wire gauge#20 for making the leaf.
Mix green leaf color + white glue to color the leaf, as white glue will help the leaf glossy after drying. The more white glue we have, the more glossy leaf is.
I use a drink straw to make the branch has a realistic size, arrange the buds, flowers together …
Download the vase template and print it out with 180gsm paper, cut, fold and glue it with the instruction of the site ID numbers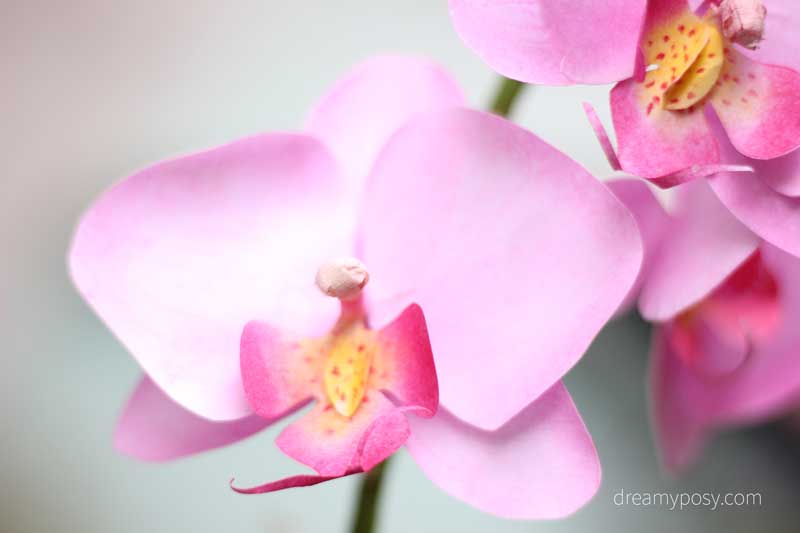 What we will need to make Orchid paper flower:
(affiliate links)
Please follow me to have more FREE templates and tutorials, just made from printer paper and ordinary paper.
Loves,
Ann.