DIY Paper Carnation Wedding Bouquet, QUICK and EASY, FREE template
Paper Carnation is the quick and easy to make for beginners, so I decided to share this FREE tutorial and template as the first paper flower in the series of DreamyPosy.com's DIY wedding paper flower tutorials.
Updated on 22 May:
I just found the new way to have more realistic petals: just twist the circle as hard as you can (in the small picture in the right corner below)
and when cutting the petal edge, please consider this image to help the flower more fancy.
Video tutorial:
The paper weight for this kind of flowers is equal or less than 80 gram per square meter, ( as you might know the regular printer paper is 80gsm).
I also tried to make paper carnation with regular printer paper here, so making a pure white bouquet is also a lovely choice.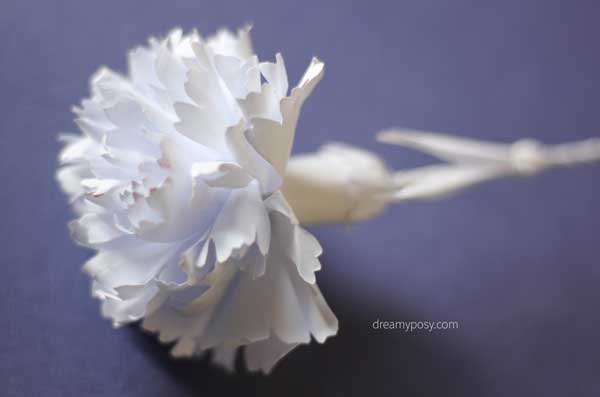 The paper carnation flowers will have at least 2 inner layers and 4 outer layers, although both diameters are the same, the outer will have lighter curves than the inner one.
Foliage will help to make the bouquet more beautiful, so I also share the easy way to make some paper greenery.
I also have shared the tutorials to DIY your boutonniere here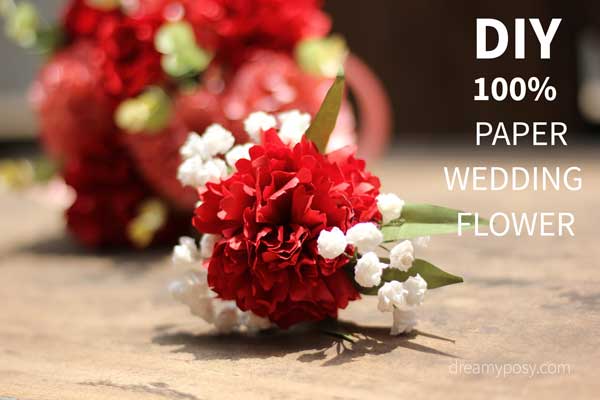 What you will need:


– Regular color paper ( thinner than 80 gsm is better), you choose the color you like
– Wire 20 gauge
– Wire 24 gauge
-Ribbon
– DreamyPosy's template
If you like it, please subscribe to have more DIY paper ideas.
Viva paper and scissor!!!