How to make tissue paper Tulip flower, free template
This tissue paper Tulip flowers are so realistic, as the colors of tissue paper are adorable.
So I would like to share another better tutorial and template, although I have made printer paper Tulip.
Video tutorial to make tissue paper Tulip:
Here is the tissue paper I bought:
You will find 2 methods to make Tulip flowers.
The first method will require the template.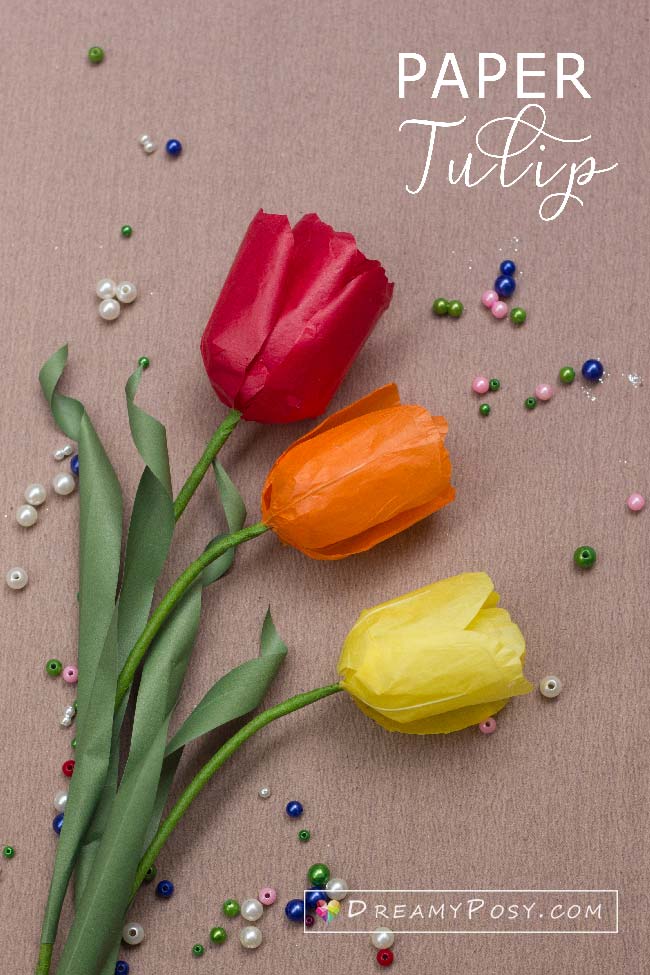 And the second method is so easy, no template needed.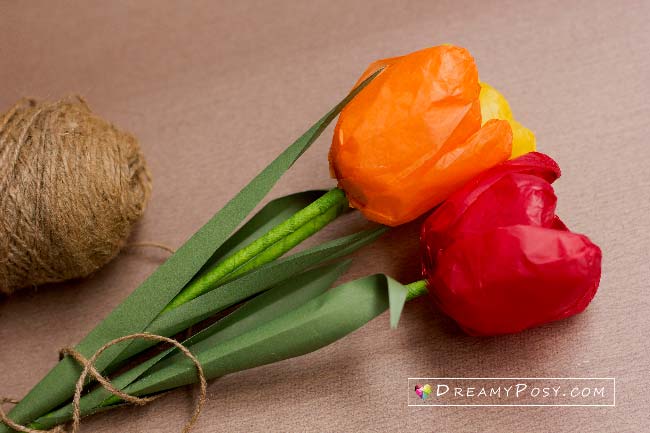 Step by step instruction to make tissue paper Tulip flowers:
Method 1:
Grab all the simple materials like tissue paper,  wire, glue stick…
Cut a 30cm x 18cm tissue paper. You could choose any color you like: pink, white, burgundy…
Fold it into 12 smaller rectangles. Use the glue stick to double the tissue paper, remember to insert wire gauge#26 to the center of each rectangle.
Cut those rectangles into 6 petals with my Tulip template.
Cut and glue the petal to form the tulip petal shape.
Wrap 3 inner petals, then 3 outer petals together, with floral tape.
Insert the wire gauge 20 into 3mm transparent PVC tube, then insert the flower to the tube before wrapping the branch by floral tape.
Cut the leaves and use the edge of scissors to curve the leaves.
Glue the leaves to the flower branch.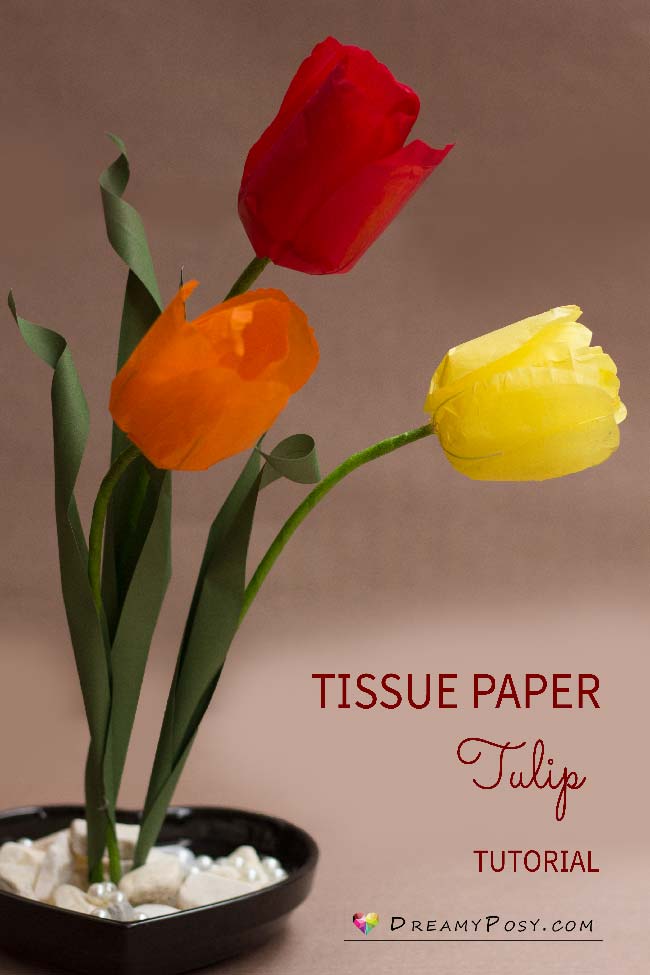 Method 2:
Cut 3 rectangles of 5cmx 16cm and 3 rectangles of 5cmx18cm.
Twist at the middle of the rectangles and double fold it to form the petals. Please see the video at 3:1 for more detail.
Cut a small circle from cardstock and use any round stylus to form the curve and glue it to the drinking straw.
Glue the 3 smaller petals on the topper of the cardstock circle and 3 larger petals to the bottom of it.
Wrap the straw with floral tape.
Cut the leaves and glue them to the flower branches by a glue gun.
More pictures: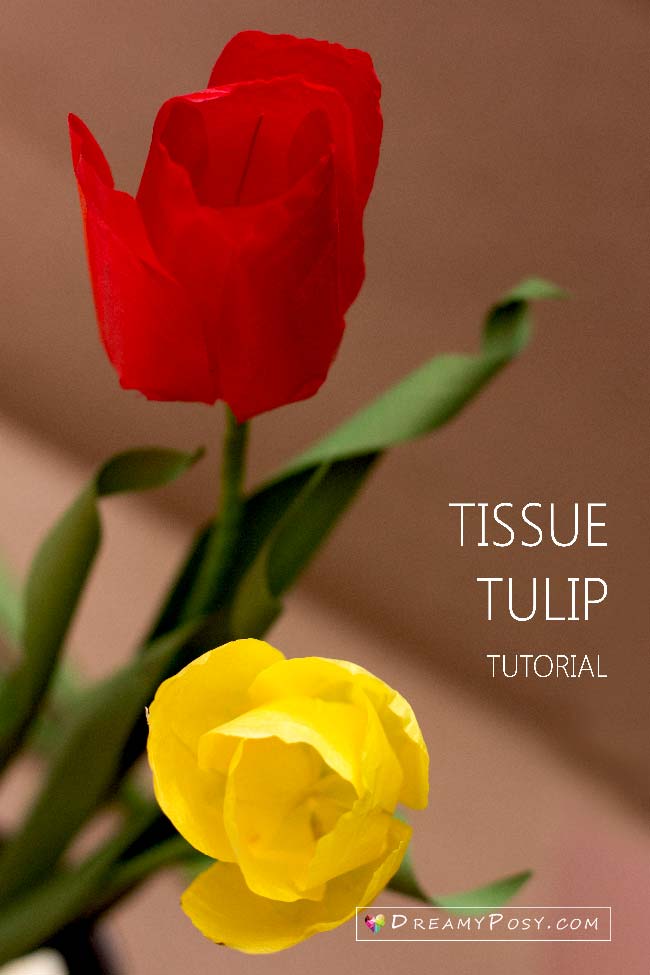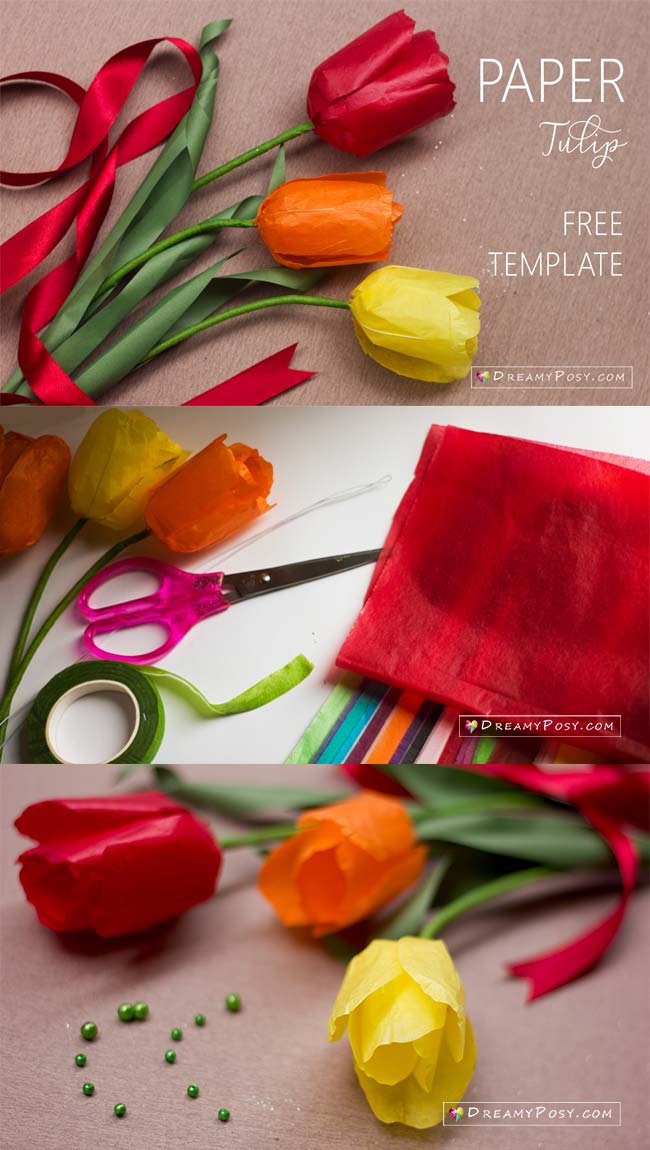 Materials needed to make:
(affiliate links included)
Green color paper
Glue gun
Glue stick
Scissors
Get the Paper Tulip TEMPLATE here
With lots of love,
Ann.