DIY paper Ranuculus flower, FREE template and video tutorial
DIY paper Ranunculus (or Buttercup) from a few coffee filters from my FREE template and step by step video tutorial.
It's a perfect as a gift with these little camellia-like flowers, her color ranges from pink to red, white to yellow to orange.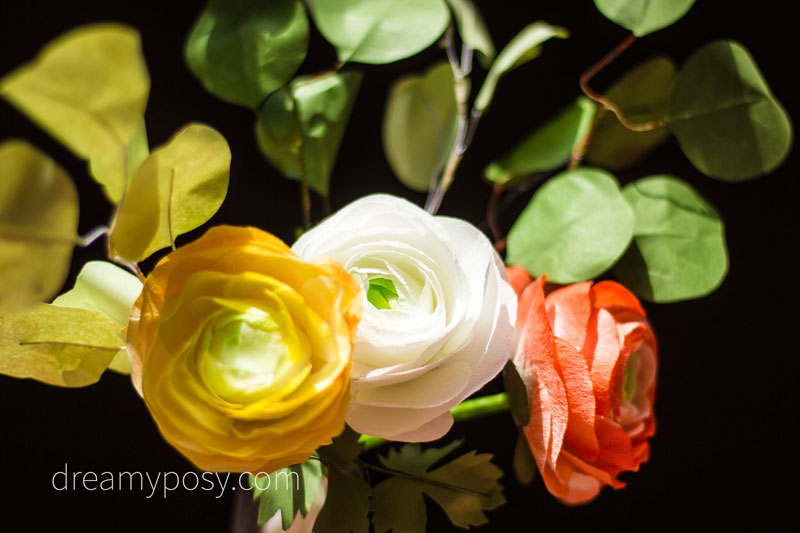 Step by step video tutorial to make paper Ranunculus flower:
Step by step instructions to make paper Ranunculus flower:
Grab the coffee filter paper and other materials and my FREE template

Cut the petal along the template, there are 5 kinds of the petal, cut the petals as template's instruction.

Color the petals. In the video I use watercolor after finishing the flowers, but it would be better to color the petals and let it dried before assembling, as the petal's form will not be droopy.

Use tissue paper to roll a ball of about 2.5cm diameter to the wire gauge20.

Use the round stylus and a ball to help form the petal on a styrofoam.

Glue all the petals accordingly as the video instruction.

Use the round stylus to form the sepal and glue the sepal with the flower.

Insert the wire20 to the transparent PVC tube and wrap with floral tape.

Cut the leaves and use the head of the scissor to create the vein.

Glue the leaves with wire gauge26 and curve the leaf and wire to help it more realistic

Insert the leave into the PVC tube.

If you want to use water color, please consider to color the petals and let it be dried BEBORE making it.
Material to make paper Ranunculus flower:
In the video tutorial, I used twisted paper but now it's hard to find.
So now I would recommend to use coffee filter paper or facial tissue paper (double the paper by 2 side tape)
Happy crafting with loves,
Ann.