How to DIY paper Cosmos flower, free template
I decided to make a most life-like Cosmos paper flower as I can, as I love how cosmos look in the summer, so light and breezy, but it doesn't last long.
Video tutorial to make Cosmos paper flower:
Step by step instruction:

I just made Cosmos flower tutorial from tissue paper and facial tissue: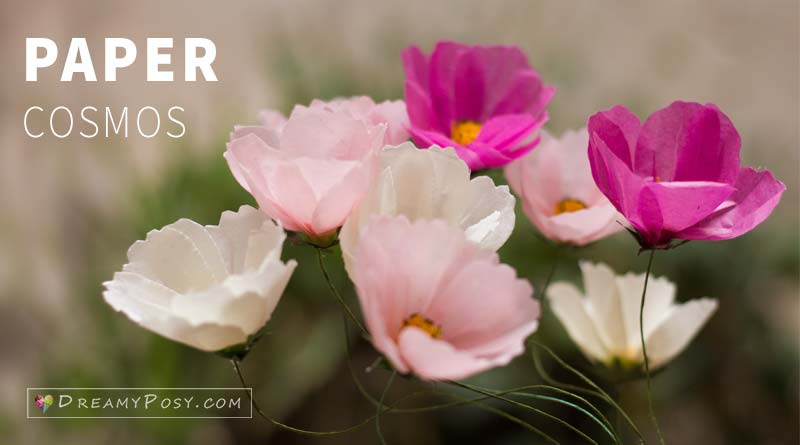 What you will need to make Cosmos paper flower:
(affiliated links included)
For the paper vase, I used 180gsm paper but I found it's a little bit of flimsy. This metallic 250gsm paper will be perfect.
Now I will recommend to use tissue wrapping paper instead of this 4mm twist paper for the Cosmos petals, please make sure that it 4mm rope so that it has about 11cm width to cut petals. The rope paper has many colors that you could any flowers you want. Plus, the color of rope paper is not fade away as crepe paper so that you could keep it fresh for years. ? I  found that using sprayed paint will have best color texture, the flower looks more realistic, but the paint will harden your flower petals, and I could not stand that smell. ?
I also shredded the yellow twist paper and use black watercolor for the stamen, but you could try oil color, acrylic color, sprayed paint …
For the flower buds, use twisted paper, toilet paper and glue only
Use  75gsm green color paper and cut out with the templates.
For the branch, I use the #24gauge paper wire, to ensure the breezy of the flower.
For glue: just white glue applied.
Please feel free to share, should you have any queries, please drop the comment bellows so that I could know how to improve my dream :)) Loves,Ann.