How to make Peruvian Lily paper flower, FREE template
Here is the tutorial to make Peruvian Lily paper flower from plain printer paper with my FREE template included, so simple yet beautiful
Video tutorial to make Peruvian Lily paper flower:
Instructions to make Peruvian Lily paper flower:
1. Download the template and cut along
2. Use the pastel chalk to color the petal as instructed in the video
3. Roll, press and curve the petals to help them be more realistic
4. Use a small paintbrush (#1) and watercolor or Copic markers to draw on the smaller petals
5. Use a 0.3cm strip of facing tissue to wrap on the white gauge#24 (5 pieces of 10cm long) to make the head of the stamen.
6. Grind the pastel chalk to powder and glue it on the head of the stamen as instructed.
7. Color the wire of stamen and wrap all with floral tape.
8. Glue the petals with the stamen, please try to observe the real flower picture to see how they are placed
9. For the leaves and branch, it's quite familiar with the leaves of Paper Zinnia tutorial here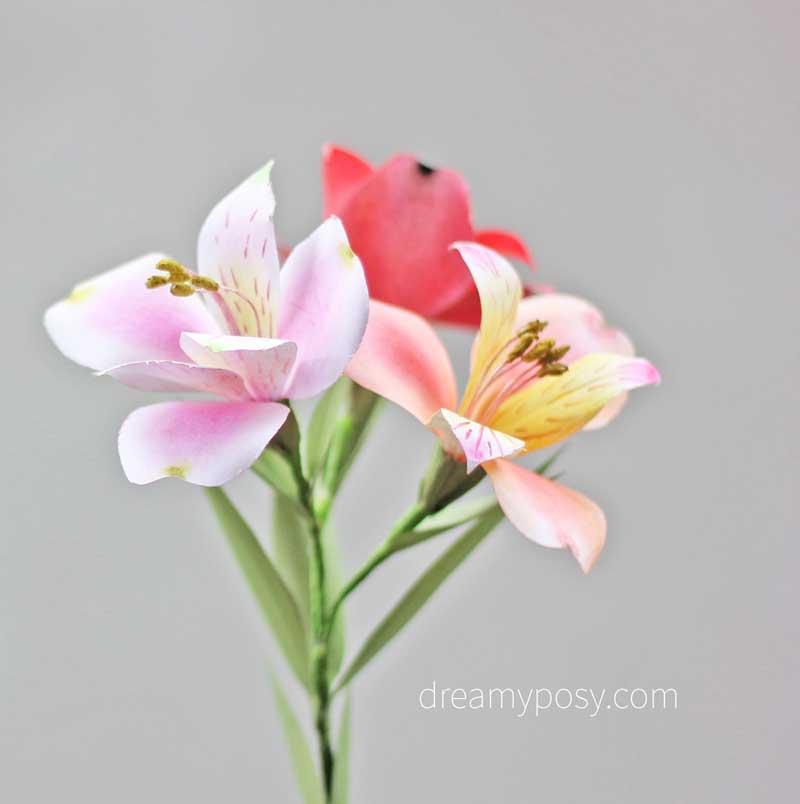 What you will need to make Peruvian Lily paper flower:
Plain printer paper
Ordinary Tissue paper
Soft Pastel chalk
White glue
20W Glue gun
Wire gauge#25 and gauge#20
Watercolor and small paintbrush/ Copic marker
Scissor
DreamyPosy.com's template

Please follow me to have more FREE templates and tutorials, just made from printer paper and ordinary paper.