How to make paper Magnolia from printer paper, FREE template
In this paper Magnolia tutorial, you can find step by step instruction in close-up video and free template.
Just practice your first paper flower with very simple materials and find your inner peace.
Magnolias are thought to be one of the first flowering plants to evolve on our planet. There are hundreds of Magnolia species, most seen are with white and pink petals, some species come in red, yellow or purple.
With my free template and tutorial, you could make any color you love. It's amazing to have a large bunch of paper Magnolia hanging over your window.
And Magnolia flowers are usually using as gifts from men to women, saying  "You are worthy of a beautiful magnolia."
Video tutorial to make paper Magnolia
Step by step instruction to make paper Magnolia
Step 1:  Download the template
Cut the petals along the template, each flower will need 6 petals
Step 2: Create the petal vein
Use a ball pen that run-out of ink, to create the petal vein
Step 3: Color the outside of the petal by pastel chalk or oil pastel
Step4: Use the white glue to attach the petal
Then use BBQ stick to curve the petals
Step 5: Make the stamen
Cut a strip of 1.5cm x 20cm and cut as an eye-lash.
Use lime green pastel chalk to color this eye-lash
Use the edge of scissor to curve the eye-lash and glue it with the wire to make the stamen.
Step 6: Glue the petals with the stamen
Step 7: Use floral tape to wrap the sepal
Step 8: Wrap up for a paper Magnolia branch.
I cut a dried branch from the backyard and use the floral tape to attach the flowers on.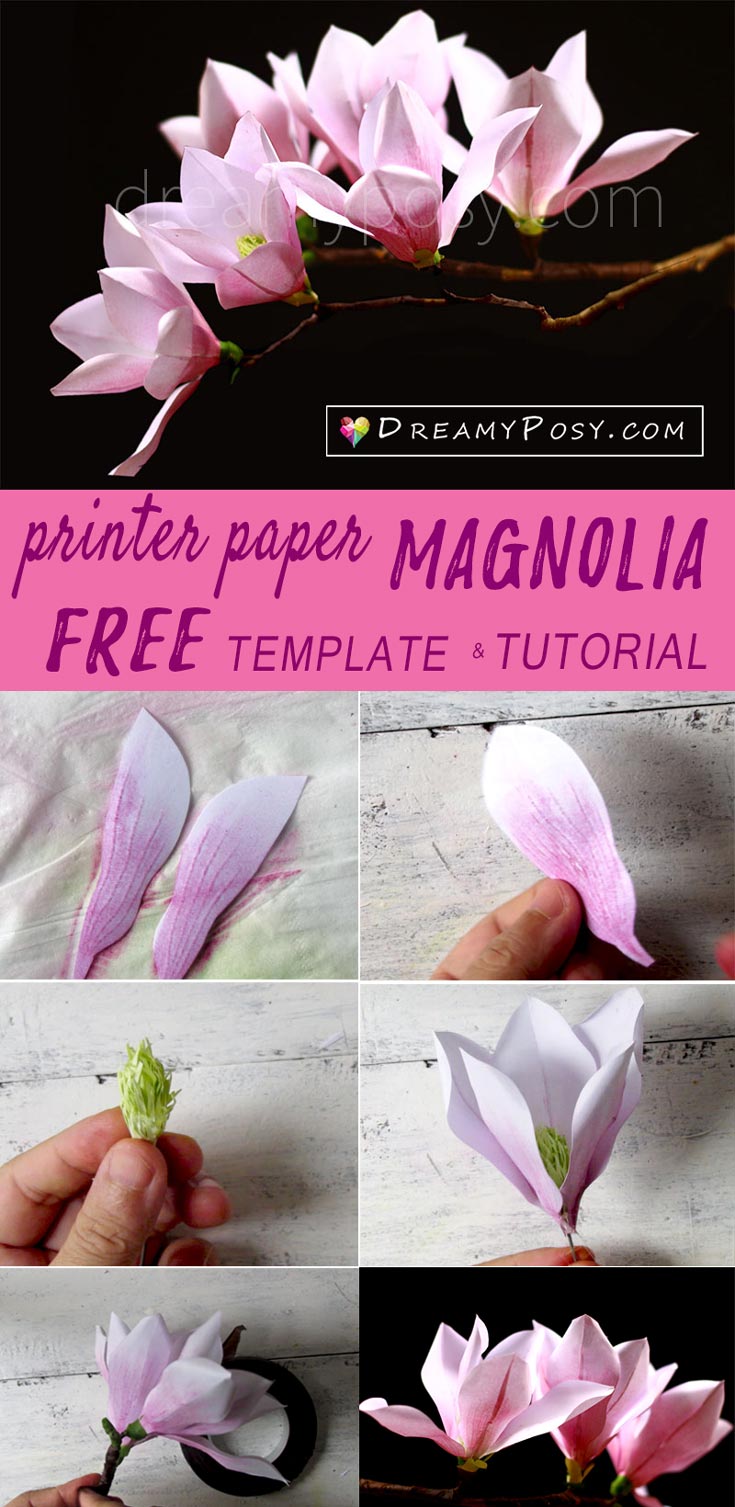 Materials to make paper Magnolia:
(affiliate links included)
You could find many other tutorials on how to make paper flowers from a4 printer paper here. Please ensure to check the page 2.
I love doing these simple crafts from my heart, and I would like to share it all with you for FREE.
Thank you and love you all.
Ann.