How to make Lisianthus paper flower, FREE template
It's so easy to make a beautiful Lisianthus paper flower bouquet, with my FREE template and full video tutorial here.
These paper Lisianthus flowers are perfect as a thank you gift, or a romantic gift.
It helps to show your appreciation, admiration, love, acceptance to the receiver, as symbolizing gratefulness and charisma.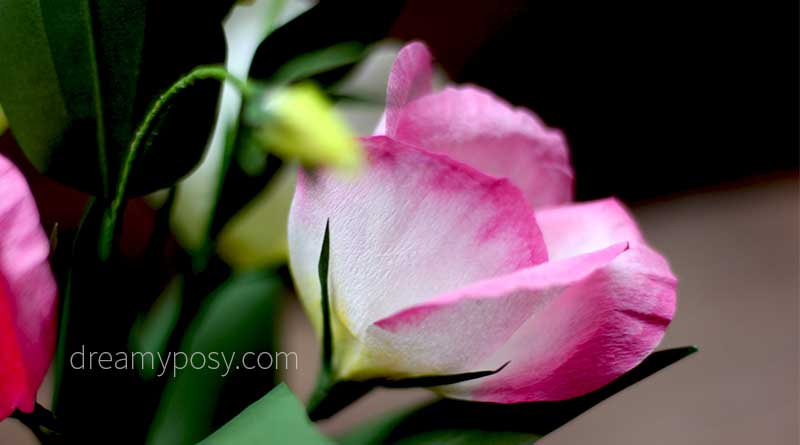 Paper Lisianthus flowers are the often featured in wedding flowers (along with other beauties such as peonies, ranunculus and paper roses).
You could also use Lisianthus for centerpieces in wedding arrangements, as well as in bridal bouquets, corsages, and boutonnieres.
Step by step video tutorial to make Lisianthus paper flower:
Step by step instruction to make Lisianthus paper flower:
For the flower
Download the template and cut out the petal
Use white glue to help shape the petal
Make your favorite flower colors using the watercolor or pastel chalk
Use the finger and edge of scissors to form the petal curves.
Use white glue to attach the petals to each other.
Cut a 2cmx3cm rectangle of yellow paper to cut out a 5-petals- stamen
Use glue gun to form a small head of the wire gauge20, wrap it with the green floral tape.
Glue the yellow stamen to the stamen wire first, then the petals and the sepal.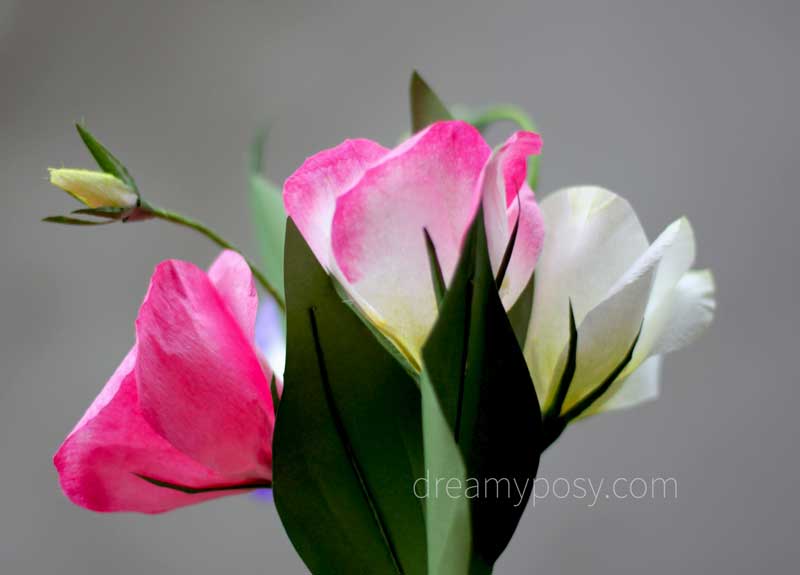 For the bud
Use tissue paper to shape a small bud shape.
Cover by 1 layer of coffee filter petals with white head
Use lime green color for the bud
Glue with the sepal
For the leaf
Cut out the green paper with leaf template
Attach the leaf with wire gauge24 or gauge26 by white glue
Use the edge of scissors to help create the leaf vein and curves.
Materials to make Lisianthus paper flower:
Coffee filter paper
Watercolor or pastel chalk
Wire gauge20
Wire gauge24 for leaf making
Scissor
White glue
20w glue gun
DreamyPosy.com's template
Follow the template instruction to cut
Happy crafting,
Ann.