Paper Anemone flower tutorial, FREE template
Making this beautiful Anemone paper flower with my step by step video tutorial and free template, it's so easy.
Anemone flower has the meaning of protection against evil and ill wishes, and the meaning of anticipation and excitement for something in the future. So I think it's a perfect gift for Get-well-soon, Good-luck or Congratulations tags. Do you think so?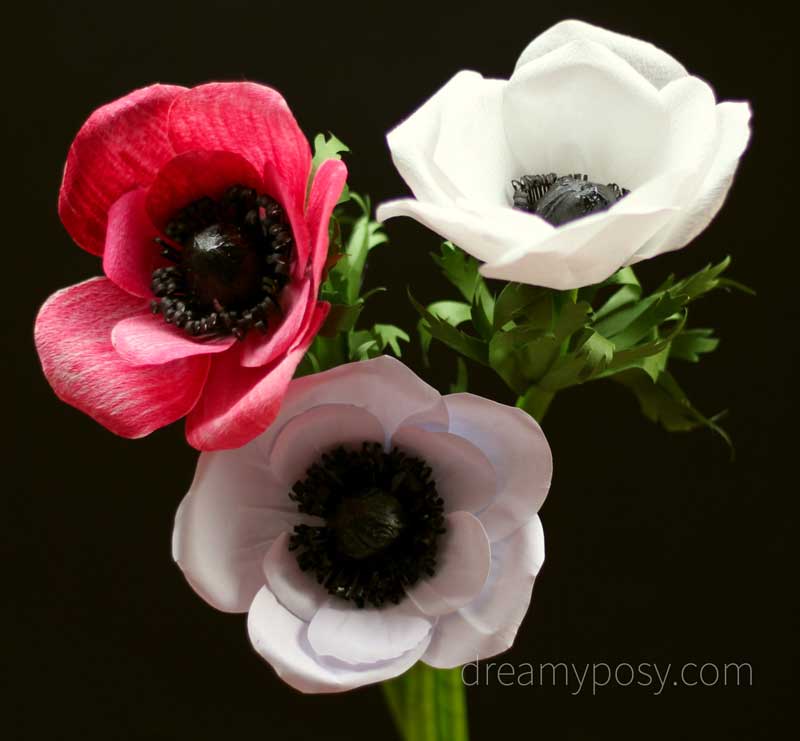 The prototype I made just from 100% printer paper, but after trying with coffee filter paper, I wish that I had tried the later sooner, hehe.
Video tutorial to make Anemone paper flower
Step by step instructions to make Anemone paper flower:
Grab the coffee filter paper and other materials and my FREE template
Cut the petal along the template
Cut a 12cmx 3cm of black paper to make the stamen. (I made the prototype's stamen from printer paper, painted with black acrylic color).
Use the glue gun and small stick to make a small roll in one edge of the stamen paper and cut it as an eyelash (the eyelashes' length is just about 1.2cm)
Use tissue paper to shape a small ball (about 2.5cm diameter) and color it with black, surrounded by the above eyelash by a glue gun.
Shape the petals by your finger and the edge of scissor as instruction in the video.
Glue the petal to the stamen, try not to be perfect as the real flower never has a perfect arrangement 🙂
I have to confess that I don't know how the sepal looks like, please correct and forgive me if this section is not right.
Use a translucent PVC tube to help the branch more realistic and wrap it with green floral tape
Cut 3 layers of leaves and put it while wrapping the floral tape.
What you will need to make Anemone paper flowers:
Coffee filter paper
Green and black paper color (optional as you could easily color the printer paper)
Green floral tape
6mm transparent PVC tube
Scissor
20w glue gun
Wire gauge20
Tissue paper
DreamyPosy's template
You might enjoy other coffee filter flower tutorials here.
Please help to support me by your subscribe, share, comment and like.
Thank you,
Ann.