DIY paper tulip bouquet from printer paper
DIY paper tulip bouquet is so easy with my free template and tutorial here.
It's perfect for your wedding, for a gift or for your room decor, just from very simple materials.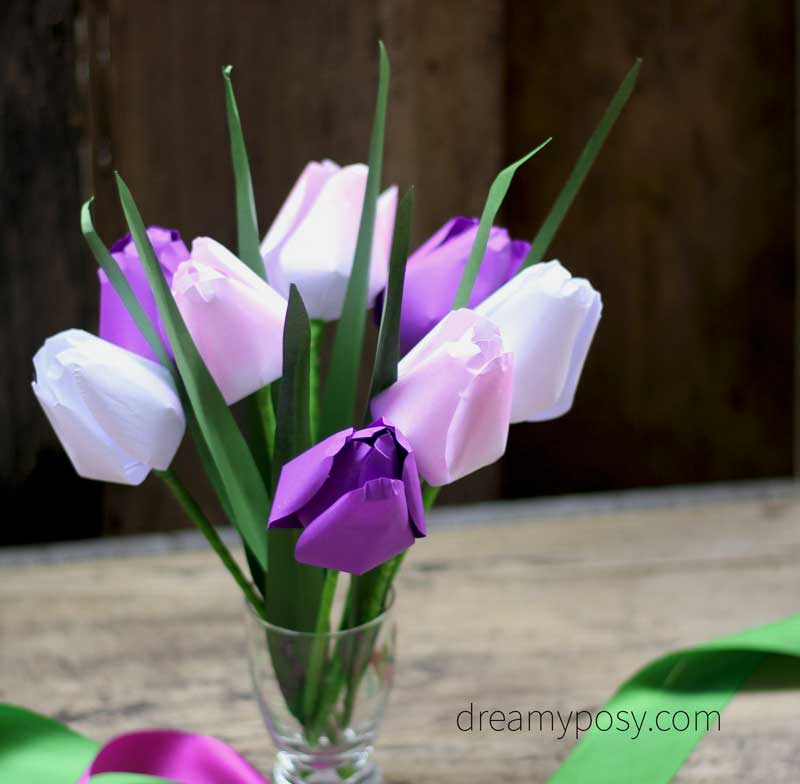 Video tutorial to make Tulip paper flower:
Step by step instruction to make Tulip paper flower:
Grab the printer paper, straw, and color, glue
Download my template and cut along. We will need 6 petals for each flower.
Use the pastel chalk or water color for your petal, you could create your dreamy colors here 🙂
Use the white glue to shape the petal as instruction.
Curl the petal by using the small stick or toothpick to
Glue the petal to the drinking straw, 3 petals for each layer.
Use the green floral tape to wrap the straw
Glue a small leaf to the flower 🙂
What you will need to make Tulip paper flower:


Printer paper
Green color paper (optional as you could color the printer paper)
Pastel chalk or watercolor
Drinking straw 🙂
Glue gun
DreamyPosy.com's template
DreamyPosy.com focuses on making craft from printer paper and simple material, pls stay tuned with me.
Happy crafting.