Free Christmas tree SVG and printable templates
Get Ready for the Holidays with These Free Christmas Tree SVG Templates!
The most wonderful time of the year is just around the corner, and what better way to get into the festive spirit than by decorating your very own Christmas tree? Whether you're a crafty DIY enthusiast or just looking to add a personal touch to your holiday decor, we've got you covered with these fantastic free Christmas tree templates.
Here are some creative ideas for using free Christmas tree SVG templates:
Adorn Your Christmas Cards: Print out smaller versions of the tree templates and use them to create charming and personalized Christmas cards. Decorate them with glitter, sequins, or even tiny ornaments for a festive touch.
Christmas tree Garland: This beautiful Christmas garland is made from some of our star templates and heart templates. Hang it on your mantel, staircase, or across a wall for a whimsical decoration.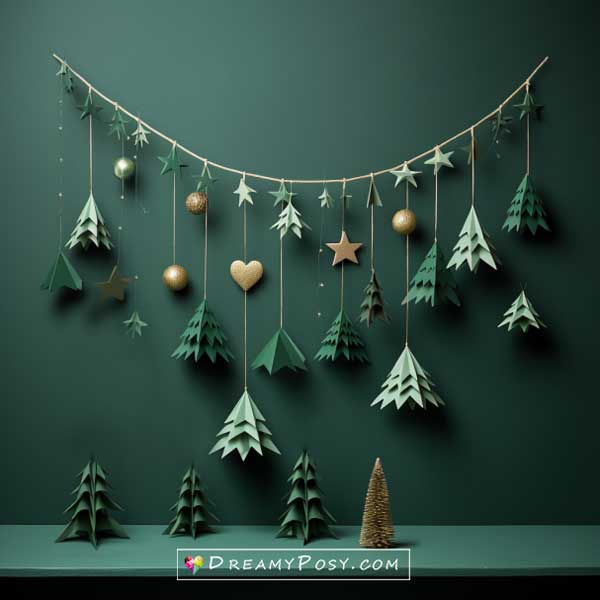 Fireplace Tabletop Tree: Short on space? No problem! This adorable tabletop tree template is perfect for small apartments or cozy corners. Customize it with miniature ornaments and a tiny star on top for a heartwarming touch.
Table Centerpiece: Cut out larger versions of the tree templates and create a stunning centerpiece for your holiday table. Add some battery-operated LED lights and a sprinkle of faux snow for a magical ambiance.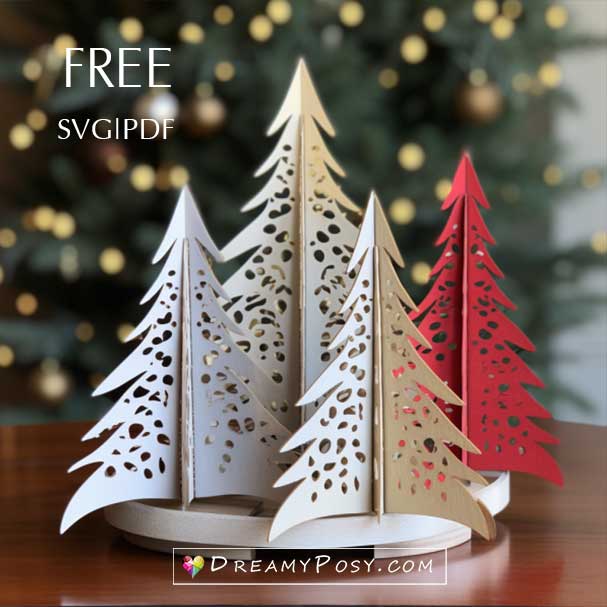 Window Decor: Trace the outline of a tree template onto window cling material or static cling vinyl and cut it out. Stick these festive tree shapes on your windows to spread holiday cheer both indoors and outdoors.
Ornaments Galore: Cut out tree templates on different types of paper (colored, patterned, metallic) and draw some simple lines with a gold metallic pen. Add ribbons, strings, or hooks to transform them into unique ornaments for your Christmas tree.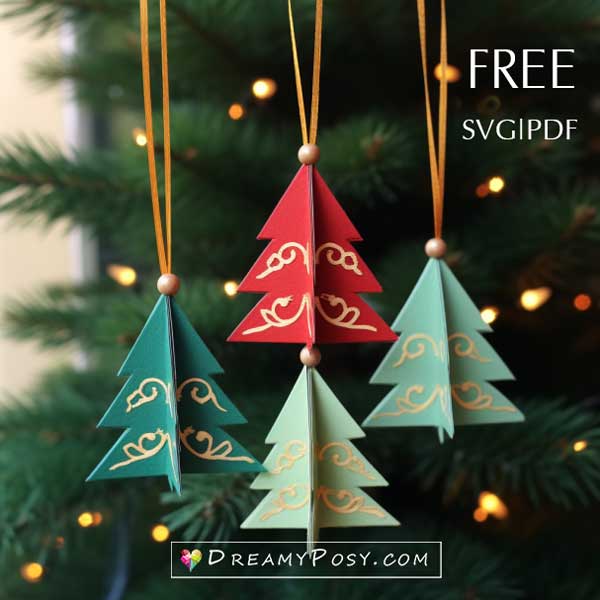 Kids' Craft Corner: Provide kids with templates and a variety of craft supplies like colored paper, scissors, markers, stickers, pom-poms, and glitter. Let them decorate the trees in their own imaginative ways.
Look at this, how happy the kids are…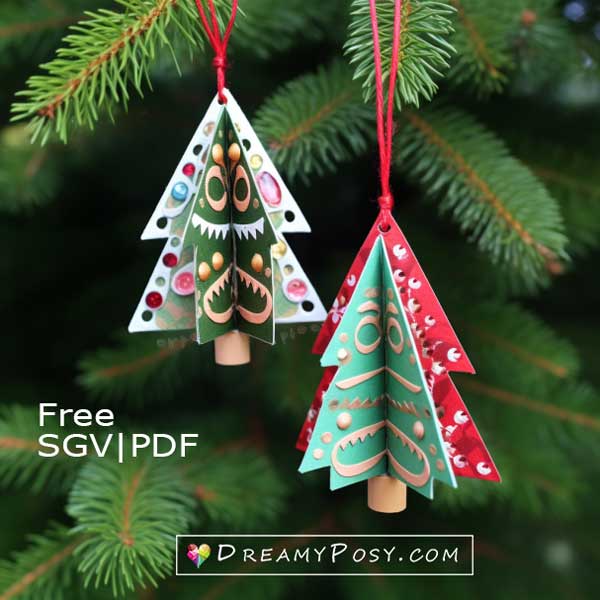 Gift Tags: Cut small tree SVG templates by your Cricut with 65 lbs cardstock. Use them as stylish and personalized gift tags for your presents.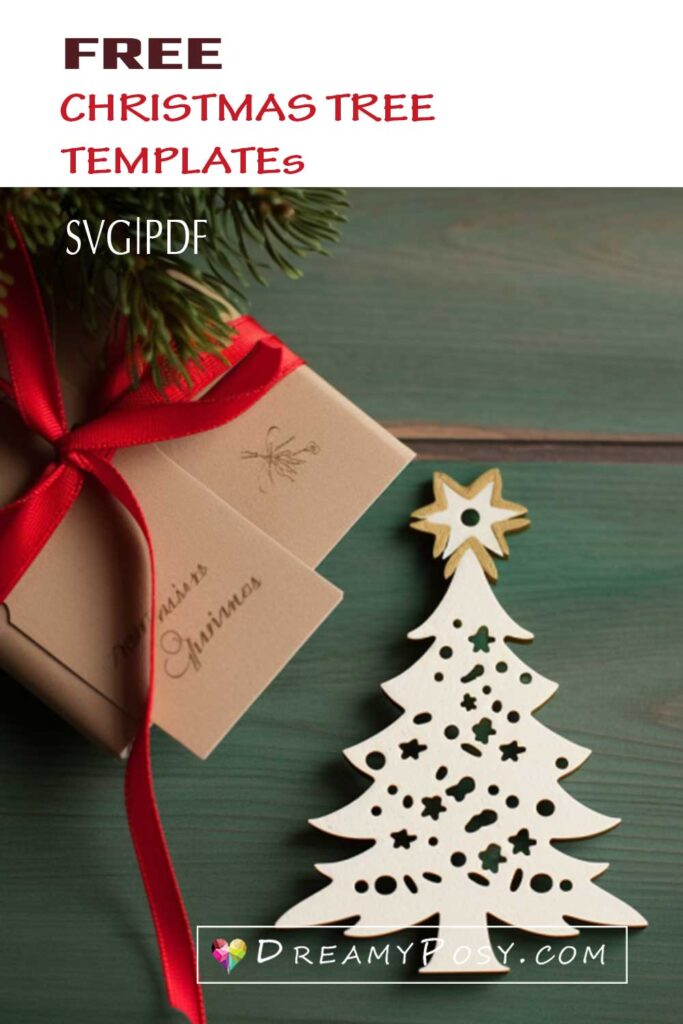 Table Place Cards: Fold a larger tree template in half and write the names of your dinner guests on the front. Place these folded trees on each table setting to add a personalized touch.
We also prepared many 2D and 3D free star SVG templates here, so that you could recreate your own styles.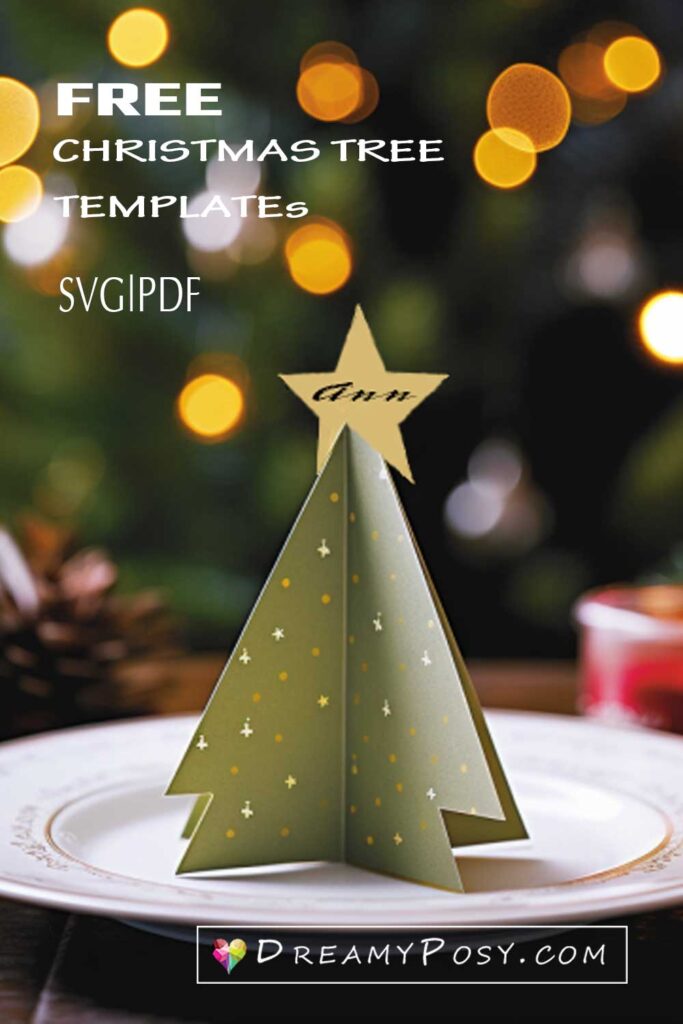 Tree-shaped Treats: Use a tree template to create stencils for cookies, cupcakes, or pancakes. Decorate your treats with icing, sprinkles, or powdered sugar to mimic the look of a Christmas tree.
Seasonal Wall Art: Enlarge a Christmas tree template and print it as a poster. Frame it or attach it directly to the wall as a temporary festive art piece.
Window Clings: Trace the tree template onto transparent plastic sheets or use window cling material. Add festive colors and details to create removable window clings that celebrate the season.
Santa's Workshop Tree: Get the kids involved with this fun and imaginative template. Decorate your tree with mini presents, Santa's sleigh, elves, and other delightful characters to bring the enchanting world of Santa's workshop to life.
Remember, these ideas are just a starting point. Feel free to mix and match different templates, materials, and techniques to create a holiday wonderland that's uniquely yours.
Remember, these templates are just a starting point – let your creativity shine and make each tree uniquely yours. Whether you opt for a classic design or something more whimsical, these free templates will surely help you spread holiday cheer and make cherished memories.
Coloring Christmas tree: Unleash your inner artist with a coloring book-style tree template. Whether you prefer vibrant hues or subtle shades, grab your favorite markers, colored pencils, or crayons and make this tree your own masterpiece.
You could get tons of those coloring Christmas tree from Homemade gifts made easy and I heart crafty things.
Free Christmas tree outline templates:
Embrace the timeless beauty of the traditional Christmas tree with this elegant template. It's perfect for coloring, painting, or adding embellishments like glitter and sequins to create a stunning centerpiece for your home.
This free outline Christmas tree SVG and PDF template collection includes 15 tree shapes.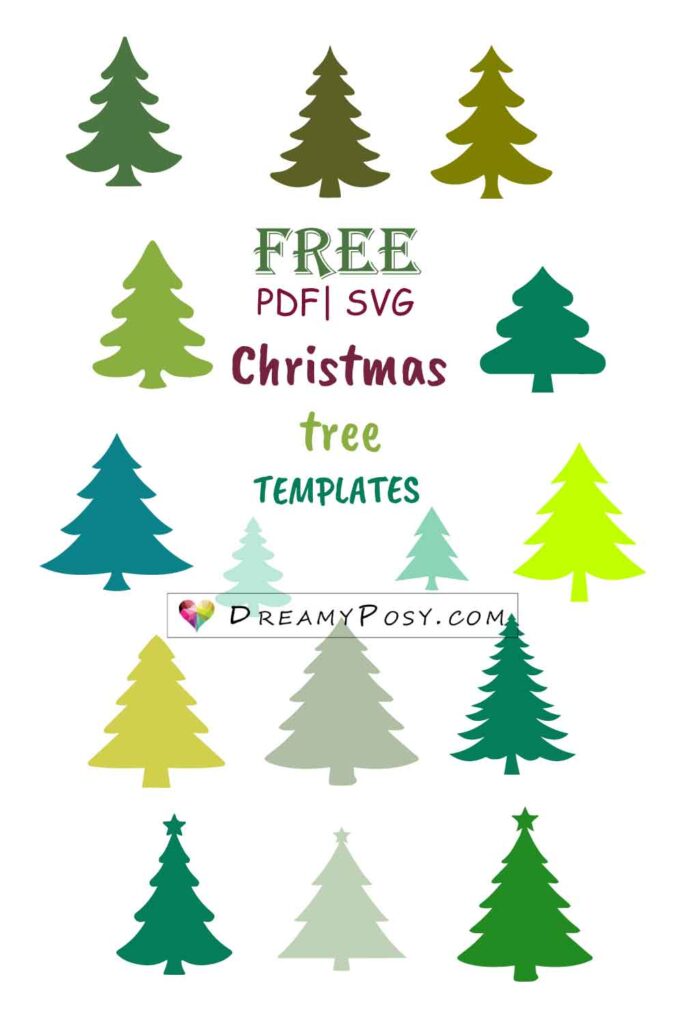 Free Christmas tree templates – whimsical cut-outs:
If you're a fan of paper crafts, this template is for you! Simply print and cut along the lines to create delicate paper tree ornaments. Hang them on your actual tree or use them to adorn your walls and windows.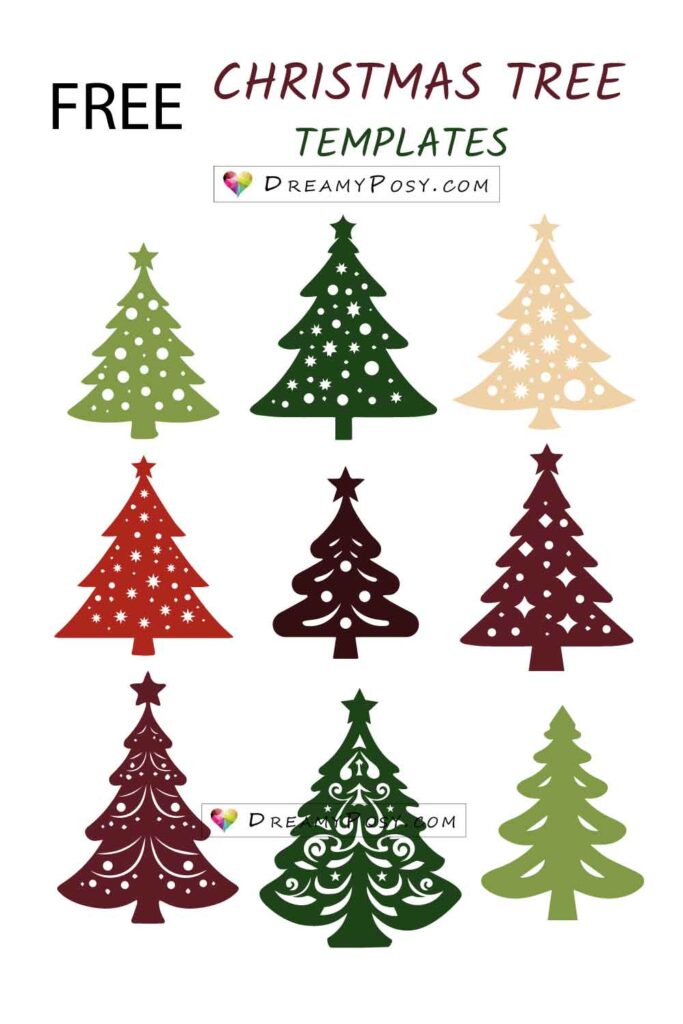 Layered Christmas tree templates:
We prepared 5 layers of templates:
Layer 1: The base layer provides a solid foundation for your Christmas tree design.
Layer 2: Add some dimension to this layer, featuring intricate patterns and details.
Layer 3: This layer introduces a pop of color or texture to make your tree stand out.
Layer 4: Create depth and visual interest with this layer as being the base foundation for ornaments or bows.
Layer 5: The top layer completes your tree, adding a festive touch with ornaments and bows.
Combine these templates to create a unique and eye-catching layered Christmas tree decoration that will impress your guests and bring holiday cheer to your home.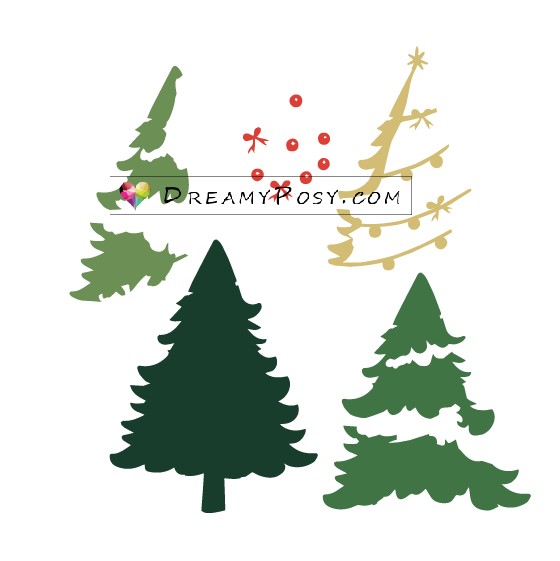 These layered Christmas tree templates are perfect for creating beautiful and intricate decorations.
By combining the five different layers, you can easily make a unique and eye-catching Christmas tree decoration.
To get started, upload the SVG Christmas tree template to Design Space.
Then, cut each layer using different colors of cardstock as suggested or according to your preference.
Once you have all the layers cut out, use foam double-sided tape to securely glue them together.
The result will be a stunning multi-layered Christmas tree that you can easily insert into your handmade Christmas card.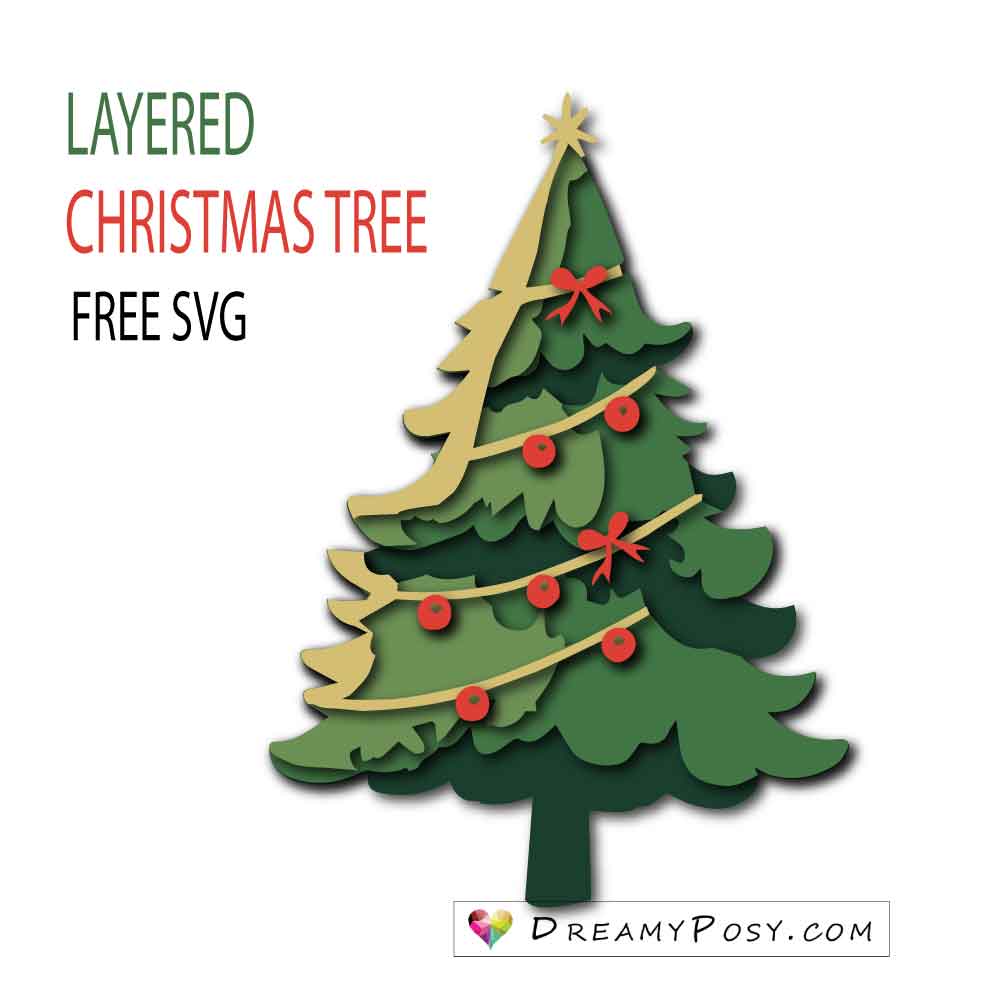 3D Christmas Tree Template:
Want to take your Christmas decor to the next level? Try out this 3D tree template that can be assembled easily.
Add a touch of sparkle with some adhesive gems or tiny LED lights for a magical effect that will mesmerize your guests.
This is a honeycomb ornament that you could quickly DIY from our basic Christmas tree template.
 And you could find the tutorial to make easy 3D Christmas tree like the below picture.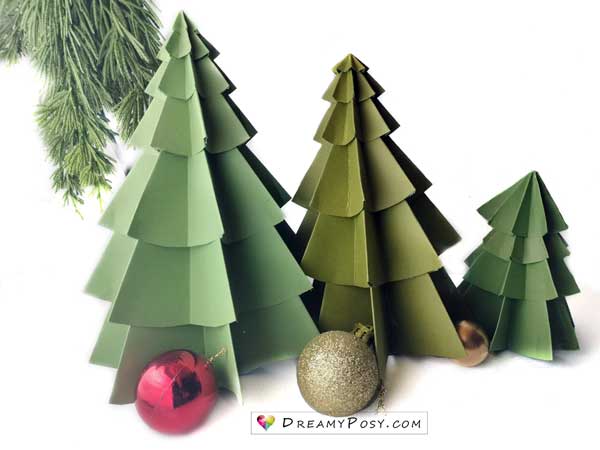 Download your favorite templates, gather your crafting supplies, and let the holiday crafting extravaganza begin! Happy decorating, and may your Christmas be merry and bright!
Happy holidays,
Ann.