5 Christmas gift topper tutorials, FREE template
These are 5 Christmas gift topper that you could easily DIY with my free template and tutorial. Personalize your gifts with these easy decoration, you could change any color paper you love.
Video tutorial to make Christmas gift topper
Step by step instruction to make Christmas gift toppers
Cut the 2 layers of color paper and deco paper with my templates
Score the papers with the template lines
Glue 2 layers with each other
Use the round stylus to curve them
Use the circle punch to create small round papers from the ones you use for bow and banner, to decorate the gift boxes.
For the paper holly leaves and berries:
Cut the holly leaves with my templates
Attach the leave with wire by instant glue
Attach the pearl bead with the wire by glue gun
Color the berry by nail polish
Wrap the berries and leaves by floral tape
Decorate those leaves and berries on the gift boxes.
For the cut through wrapping paper:
Score your wrapping paper with the gift box size
Cut the template of holly leaves and put it on the front of the wrapping paper
Use the x-factor knife to cut the leaves like video instruction
Wrap the paper around the green base
Use the circle punch to have the small paper berries to decorate on the gift box.

Here are the gift toppers that Ann Martin from allthingspaper.net has completed with my templates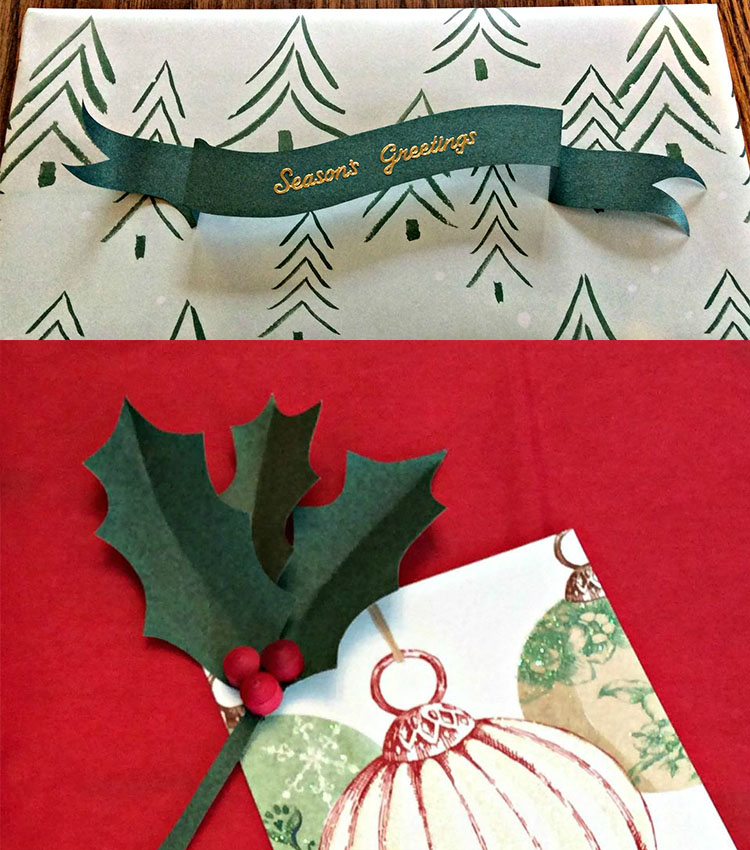 What you will need to make Christmas gift toppers
Wrapping paper (I used cream cardstock)
Scissor
Glue stick
DreamyPosy.com's template for the paper banner, paper bow, paper holly leaves, paper small leaves.