How to DIY paper calla lily flower, free template




Finding an easy DIY room decor or just a lovely gift idea?
Please have a look on this tutorial video:

Simple materials to use:
For paper vase, I used 180gsm color paper but I found it's a little bit of flimsy. It's better to use metallic 250gsm paper  , or glitter color 250gms paper, or pearl color 250gsm paper here.
For pental of paper calla lily flower, I used ~0.3mm white foam paper for flower, you can buy it from Amazon here, I could not find the thin <0.5mm foam paper in AliExpress for your  reference, please make sure that it's the thin one (<0.5mm)
I use water color  for the pental, but you could try oil color, acrylic color, sprayed paint…  I found that using sprayed paint will have best color texture, the flower looks realistic, but I could not stand that smell 🙂
For the paper calla lily flower stamen, I used soft paper to form the shape, put a lot of glue around for ground rice covered. The natural color of rice is quite similar to the natural white stamen cala lily, after trying with yellow stamen, I prefer the white one :).  For those 7 flowers, I have tried many ways to imitate the original stamen, this is the best and the last one, so I share this way only.
For the paper calla lily flower pedicel, I use a small 6mm water pipe (you can buy it from Amazon here, or from link Aliexpress here, and wrap it with green flower tape , or you can wrap it with strips cutting from  <80gms green color paper.
For glue: white glue and glue gun was used
These DIY paper flowers could be arranged in the vase or you could make it as a beautiful wedding posy :).  The Calla Lily has so many other colors that you could try with other color foam paper, or you can color it with spray paint.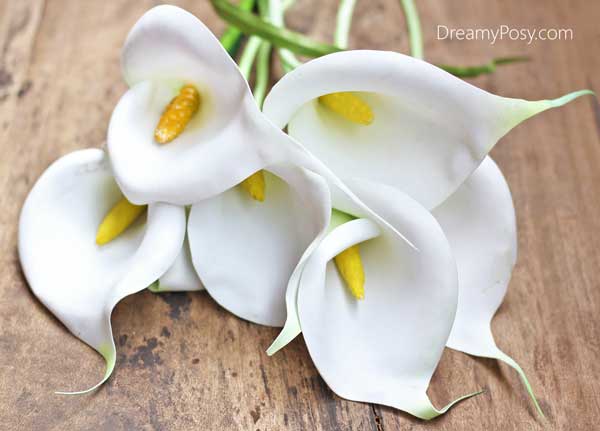 Please feel free to share, should you have any queries, please drop the comment bellows so that I could know how to improve my dream :))
Please download the FREE templates here:
Calla Lily petal
Paper vase
If you like it, please be friend with me to get more interesting tute at Youtube, Facebook, Pinterest, Instagram, Twitter